American singer and songwriter Bruno Mars, known for his blending of genres and his unique R&B sound, initially faced some trouble in getting record companies to accept the kind of style that he brought to the table. How did becoming Bruno Mars help to get around the problem?
Peter Hernandez changed his name to Bruno Mars to avoid being stereotyped as a Latino artist by the music industry. A lot of the pressure came from the fact that the Latino style of music was particularly popular at the time.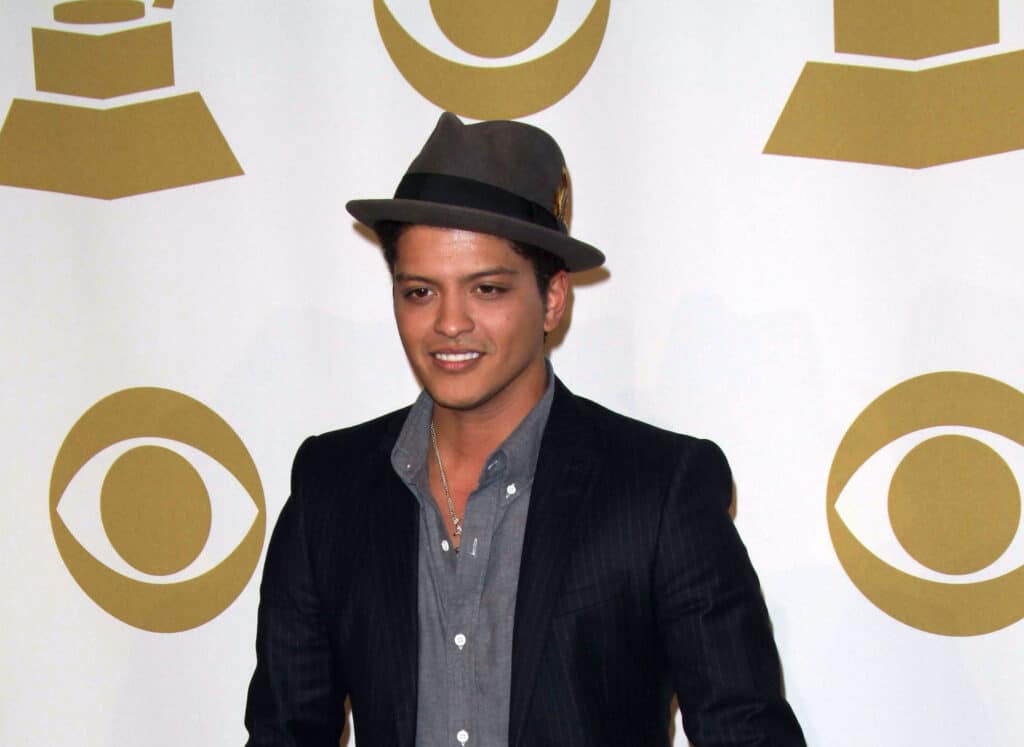 Changing your name, your style, or your sound is a situation that's all too common to those attempting to break into the entertainment industry, no matter what particular avenue you are trying to pursue. In the case of Mars, he would rather change his name than compromise his originality and his music.
Freshly Arrived in LA
Although he had been performing and writing music for some time before arriving in LA from his home city of Honolulu, Hawaii, Mars had yet to dive into the kind of music industry that LA would offer.
Aside from some troubles making ends meet, one of the first issues that he would encounter with the music scene in LA was the fact that it wanted him to be something that he wasn't. Thanks to his surname, Hernandez, people working in the industry were making some presumption suggestions to the singer.
Although there definitely sounds like there's an edge of sarcasm to it, Mars claimed that there were recommendations he sang in Spanish, and tried to adopt a Latin style of music, thinking it would be a good mesh with his surname and heritage.
As it turns out, any gimmick or embracing a fake identity for the sake of selling to a demographic was the last thing that Mars would ever have to do to have a successful career.
Although it took him some time, perfecting his craft of songwriting, the talented multi-instrumental musician had near-instant success when he put on his first studio album and singles, managing to snag the number 1 spot in multiple charts.
Sticking to the unique style he possesses, and trusting in his own skills, Mars managed to carve out success on his own terms. Mars always has a positive message about hard work and perseverance when it comes to his success in the music business, so he was unlikely to be deterred by any requests to change who he was.
For example, on The Ellen Degeneres Show, Mars fully voices his beliefs in what's key to success in the music industry, giving a heartfelt speech about following your dreams.
Other Reasons
Although the aforementioned issues dealing with record labels and the industry, in general, is probably the most truthful, Mars has given an alternative reason for his name change, one that's far more in line with his personality.
He has joked in the past that women he had been with had claimed he was "out of this world", so he found it fitting that he names himself something that would represent that.
Whatever the reason may be, it's a line of work where showing off a little bit of creative flair with your alias is more than just appreciated, and can even prove to be beneficial to your image and the kickstarting of your career.
With Mars, for example, his new moniker is certainly catchier than his full name of Peter Gene Hernandez – not that there's anything wrong with his birth name!
Why Bruno Mars?
We've already got a few reasons for the surname that he picked, both colorful and believable, but what inspired the change of forename to Bruno? Does going with his original forename of Peter just not have the same ring to it?
To understand how he picked up the forename Bruno, we have to go all the way back to Mars' childhood.
Any old-school wrestling fans out there might recognize the name of championship wrestler Bruno Sammartino. He was an Italian-American wrestler, both heavy with muscle but also quite short, giving him a stocky, chunky appearance.
Mars reminded his father of the legendary wrestler when he was still a baby, so his father took it upon himself to bestow the nickname of "Bruno" onto his son.
The resemblance must have been lost over the years!