The ballad that is Queen's 'Bohemian Rhapsody' is considered one of the greatest rock songs of all time. So who is it about?
Queen's 'Bohemian Rhapsody' is not about any one person or event that is known. Freddie Mercury composed the song and never told anyone the meaning behind it. Members of the band have maintained that the lyrics are self-explanatory, leading many to believe it's about a young man who murders someone and then sells his soul to the devil.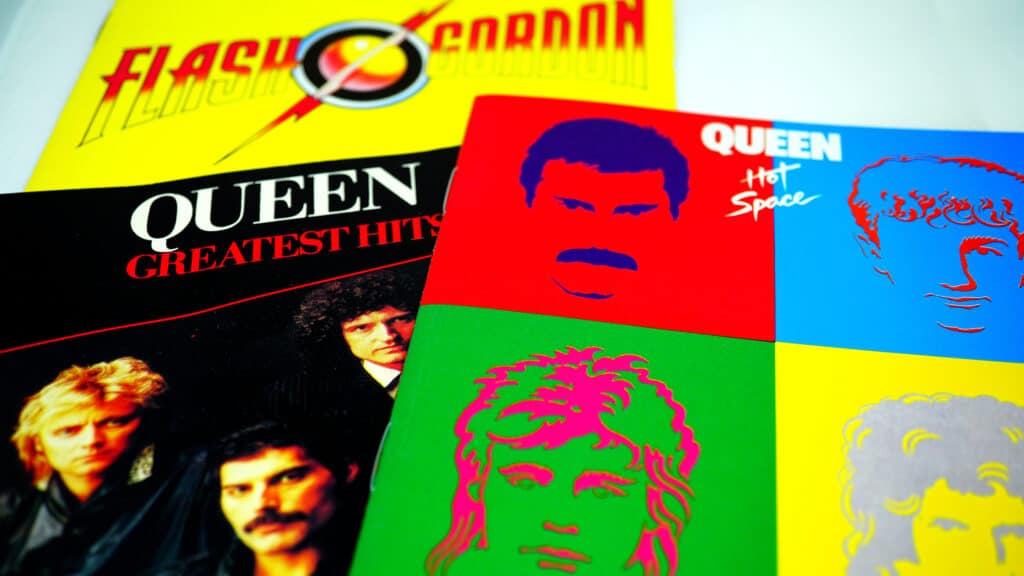 You can read more below about how the song was composed and some of the theories behind what the lyrics and song are about.
Queen Composes 'Bohemian Rhapsody'
The song 'Bohemian Rhapsody' was composed for Queen's fourth studio album titled A Night at the Opera. That's a pretty fitting title for the album that this song was a part of.
Brian May, Queen's guitarist has recalled on multiple occasions that the song just sat in Freddie's head, there was no demo, and he would use little pieces of paper to make musical notes for the song.
The entire framework for the six-minute ballad just sat in Freddie Mercury's head.
It was in the summer of 1975 that the band really started to work on the song. While they spent a month at Ridge Farm Studio in Surrey, the group rehearsed and worked on new material.
It was in August of 1975 that they started recording the song at Rockfield Studio 1 and then ended up using four other studios for the recording of the song as well, Roundhouse, Sarm East Studios, Wessex Sound Studios, and Scorpio Sound.
That's a total of six studios being used to record one song.
Freddie also instructed the band on how to play their parts of the song until the whole thing came together in the studio. Even the guitar riff that Brian May plays so well was first played by Mercury on the piano.
What resulted was a six-minute 'mock opera' which featured six different sections of an intro, ballad, guitar solo, opera, hard rock, and an outro. On top of all of that, the song stood out for its strange lyrics.
You can watch the scenes from the 2018 biopic film Bohemian Rhapsody where Freddie Mercury (played by Rami Malek) is composing the song at Ridge Farm Studio below. While not entirely accurate, it is still entertaining.
It was Mercury's vague description of the meaning and the unique lyrics that have led to tons of different interpretations of the meaning of the song.
Theories on the Meaning of 'Bohemian Rhapsody'
In an interview, Freddie Mercury once said of 'Bohemian Rhapsody' that "It's one of those songs which has such a fantasy feel about it. I think people should just listen to it, think about it, and then make up their own minds as to what it says to them…"
That was the most that anyone would get out of the composer about the song. His bandmates have even all said that they have no idea what the song is about and said that it is pointless to try and figure it out.
Still, that hasn't stopped countless people from coming up with their own theories on what the lyrics are trying to convey.
Lesley-Ann Jones who wrote Freddie Mercury: The Definitive Biography has maintained that she believes it was Freddie's coming out song. Saying that lyrics were a reflection of the fact that he was a gay man who felt trapped in the closet.
Others have said that the song is an ode to the trauma he and his family faced when they had to flee his home of Zanzibar, Tanzania when he was only eighteen.
While there is yet another theory that was well put by this BBC article. That theory is that it's about a man who confesses a murder to his mother, is put on trial, pleads poverty, and then has to accept his fate.
Whatever it is actually about, it is filled with fantastic allusions to The Barber of Seville, commedia dell'arte, Italian astronomers, and the Qu'ran. Mercury even makes reference to 'Beelzebub' which is another term for the devil.
It's clear that Mercury put a lot of thought and research into the song 'Bohemian Rhapsody.' He even said so in some interviews.
Our conclusion is that the song is more likely to be about a man who committed murder and less likely to be about Mercury's sexuality because he meant it to be a 'mock opera.'