Queen. Do we really need to introduce this band? A band who's a household name all over the world, and you only need to clap twice and bang the table once to get everybody up on their feet, and Will We Rock You stuck in their heads for the rest of the day. Quick question though, which member of the band made the most money?
Brian May is the wealthiest member of Queen, clocking in with a net worth of over $175 million. The rest of the band then follows with Roger Taylor, $170 million, John Deacon with $125 million, and then Freddie Mercury, with $50 million.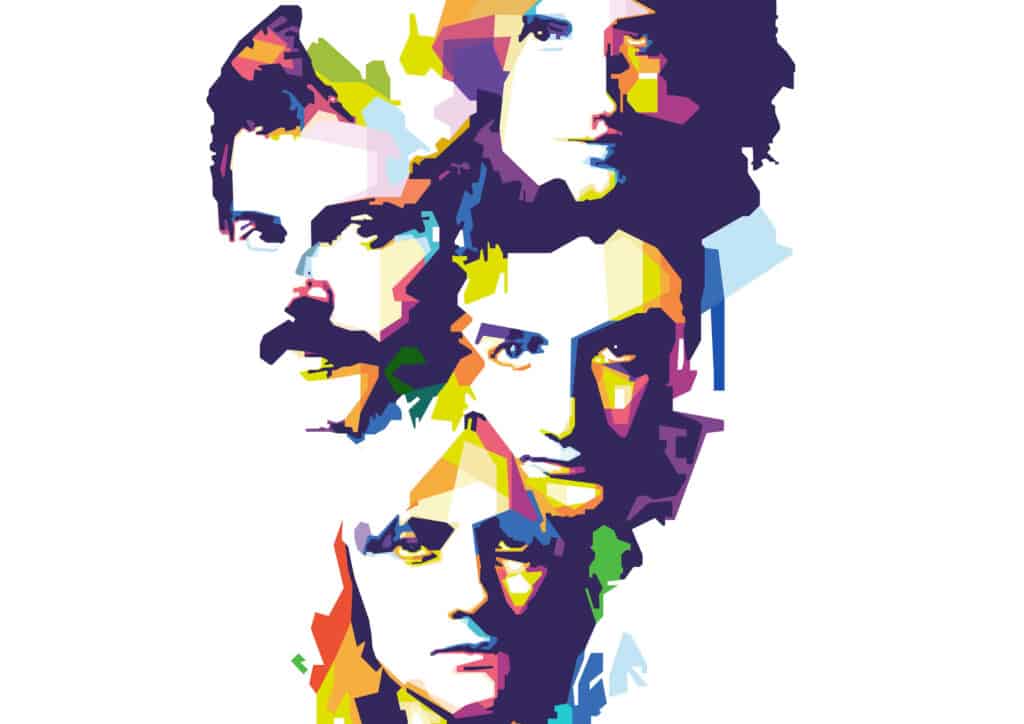 Interested in finding out just how much money Queen has made over the years, for the decades that they have been around, and how it all breaks down? Today, we're looking into the lasting success and legacy that Queen has. Let's go.
Queen: Redefining Music
Do you really need us to tell you that Queen is one of the greatest, best-selling rock bands, scratch that, bands, of all time?
Formed back in 1970, the band was formed with lead singer Freddie Mercury, Brian May on guitar, Roger Taylor on drums, and John Deacon on bass, with all of them providing vocals in tracks as well.
As of 2019, The Sun reported that the surviving members of Queen, Brian, Roger, and John, have a collective fortune of around £445 million ($616 million), which makes them richer than the actual Queen of England. It's hard to put this all into perspective, simply because of how diverse the entire Queen legacy is.
For example, do you remember the bio-documentary bought out back in 2019, titled Bohemian Rhapsody, a documentary that followed the lives of the surviving Queen members and what they were up to these days? If not, here's a trailer.
The movie itself made over $903 million worldwide, a staggering figure, and The Sun reported that music sales generated from the movie would have bought another $25 million extra to each Queen member. However, from the movie itself, the members of the band didn't even see a penny.
In an interview with BBC Radio, Brian May shared;
"I had to laugh, actually, the other day, because there's a thing in the paper saying that we were getting rich off this movie. If they only knew. We had an accountant in the other day, and we still haven't earned a penny from it. Isn't that funny? So how successful does a movie have to be before you make money?"
But these were early days. A Vanity Fair article goes on to say that the movie was 12 years in development, and with so many people involved, lots of people had to get paid perhaps before the Queen members themselves were paid. Again, with the records that came as a result of the movie, it's safe to say Queen got rich.
Overflowing with awards and endless number one hits from across the decades, there's no doubt Queen is here to stay. Even with the movie's release, Bohemian Rhapsody reentered the charts and spent an incredible 32 weeks at the top, even 20 years after it was originally released.
Music Sales Like No Other
Does it surprise you that Queen was one of the best-selling bands of all time?
Having sold over 61 million unit records and over 95 million records since their debut release back in 1973 and with endless touring since, the band has reportedly earned over $200 million just in sales, tour ticket sales, and other special concerts. And this was back in 2013
And it's incredible to see that the band is still active today.
Back in 2016, Queen toured across both Europe and Asia alongside musician Adam Lambert with their Summer Festival Tour and performed as the closing band at the Isle of Wight Festival. They then toured as the same collective in 2017 and 2018 across North America and across Europe once again.
In 2019, they toured North American, Japan, South Korea and started touring Australia and New Zealand in 2020, but the COVID-19 pandemic put a halt to future tour dates. Instead, they recorded a new album with Adam Lambert, which was released back in October 2020.
Amazing that after nearly 30 years, the band is still as active as they are and are performing to audiences and fans literally all over the world.
The fever for Queen has never really died, and the chances are it will continue to reign strong for many years to come, and even when the band retires, Queen is always going to remain in our hearts as one of the best bands in human history.