Keanu Reeves is an award-winning actor who was single for so long that he unofficially became "the internet's boyfriend". But it turns out that Keanu Reeves is the boyfriend to a real-life person, so who is the lucky lady, exactly?
Keanu Reeve has been dating American visual artist Alexandra Grant since sometime in 2017 and the pair took their relationship public in November of 2019. Since then, they've published two books together and formed their own publication house.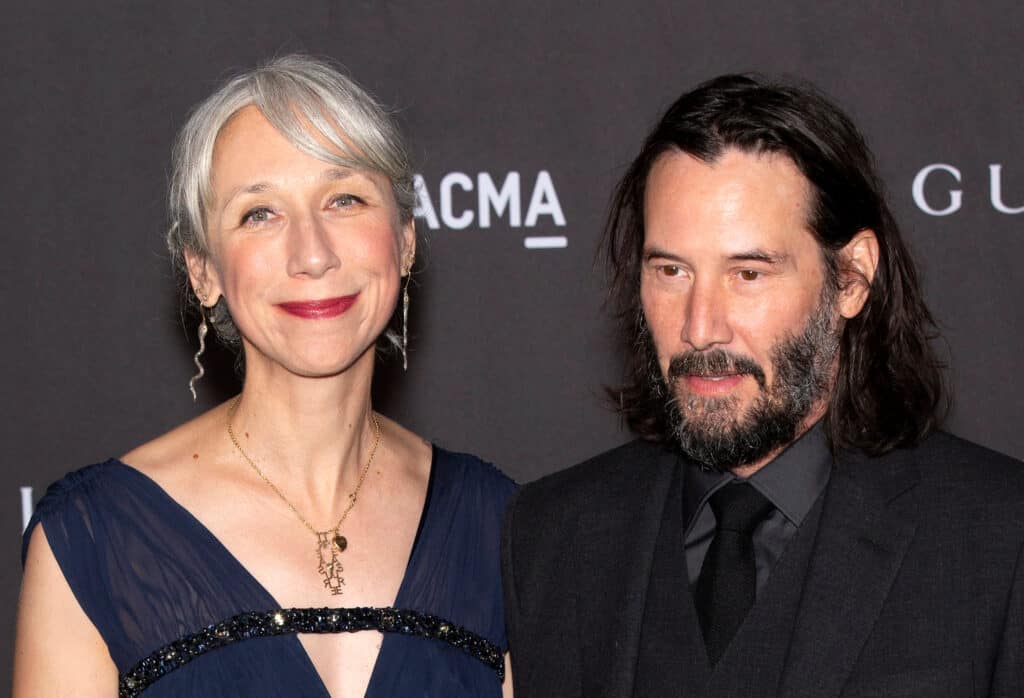 Let's take a closer look at who Alexandra Grant is, and why the world was shocked to find out that Keanu Reeves has a girlfriend. Plus, could wedding bells be in the air? Read on to find out!
Does Keanu Reeves Have a Girlfriend?
It matters not what his relationship status is, he will forever be known as "the internet's boyfriend" due to his kind heart, gentlemanly attitude, and wonderfully respectful attitude towards those of the opposite sex.
What does Keanu think about being the internet's boyfriend? He told CNN, "uh, that's wacky. Well the positivity's great" and we can't help but wonder if his girlfriend agrees.
The news that Keanu has a serious girlfriend came as a surprise to his fans because they never expected him to open himself up to love again.
A few years ago, while filming 'The Matrix', Keanu and his then-girlfriend Jennifer Syme experienced heartbreak when their daughter was stillborn and the pair split a couple of weeks later. On 2 April 2000, Jennifer was in a fatal car accident and Keanu struggled severley with the double loss.
In the years that followed, Keanu's love life took an understandable dip and he was rarely spotted out on dates. The world at large thought he would be single forever, until 2019.
In November of 2019, Keanu attended an art gala — hand in hand with a woman named Alexandra Grant. Naturally, a media frenzy ensued, eager to get to the bottom of who Alexandra is.
Who is Alexandra Grant?
Alexandra was born on 4 April 1973 in Ohio's Fairview Park. Her parents split when she was a child, and she and her mother lived in Mexico City until her eleventh birthday.
When she was 11, Alexandra moved to St. Louis, Missouri, to attend the Thomas Jefferson Boarding School. After a year, she moved to Paris with her mother and the pair would travel frequently.
Upon graduating high school, Alexandra headed to Swarthmore College in Pennsyvania where she graduated in 1995 with a BA in studio art and history. Five years later, she graduated from the California College of the Arts with a Master of Fine Arts degree in painting and drawing.
Over the years, Alexandra has exhibited all over the world. She's also been an art professor and has directed a documentary.
Alexandra and Keanu met in 2009, at a social event, and hit it off immediately. The pair worked together on several occasions, and started dating back in 2017 but kept it on the down-low.
Alexandra admitted that her life has changed since she and Keanu went public. She said, "I think every single person I knew was calling me in the first week of November!"
Alexandra is different, and she knows it — and owns it. She revealed, "I'm a 6ft1in woman with white hair. You know, the idea of fitting in…If I wanted to look like Kim Kardashian, I would have to have surgery removing about a foot off my legs!"
Keanu and Alexandra aren't just in a romantic relationship, but a business one too! After working together so successfully over the years, the duo formed a publishing house called 'X Artists' Books' which they own and operate together.
Will Keanu Reeves Ever Get Married?
Because he had been single for so long, many doubted that Keanu would ever settle down. Even Keanu himself shared this sentiment!
In 2006, he told People, "I want to get married. I want to have kids. That's at the top of the mountain. I've got to climb the mountain first. I'll do it. Just give me some time."
As for Alexandra, when Vogue asked her whether marriage interests her she said, "Over a glass of wine…I would love to tell you. Love at every level is deeply important to my identity. How's that for dodging the question?"
The artist is experienced in weddings, having been a bridesmaid seven times and even an officiator at her friend's wedding.
Should Keanu and Alexandra decide to tie the knot, the only thing getting in their way may be the fact that Keanu is possibly already married — to Winona Ryder! In the wedding scene of 'Dracula', a real Romanian priest was used, which means that their marriage may indeed be legit.