Leonardo da Vinci is one of the most well-known names in the world because of the many contributions he made to modern society.
Leonardo da Vinci is most famous for his paintings titled Mona Lisa and The Last Supper, however, he is also famous for being a polymath. A polymath is a person with a wide-ranging knowledge of different subjects. In da Vinci's case, these subjects were painting, drawing, sculpting, science, engineering, architecture, and anatomy. He contributed much more than art to the modern world.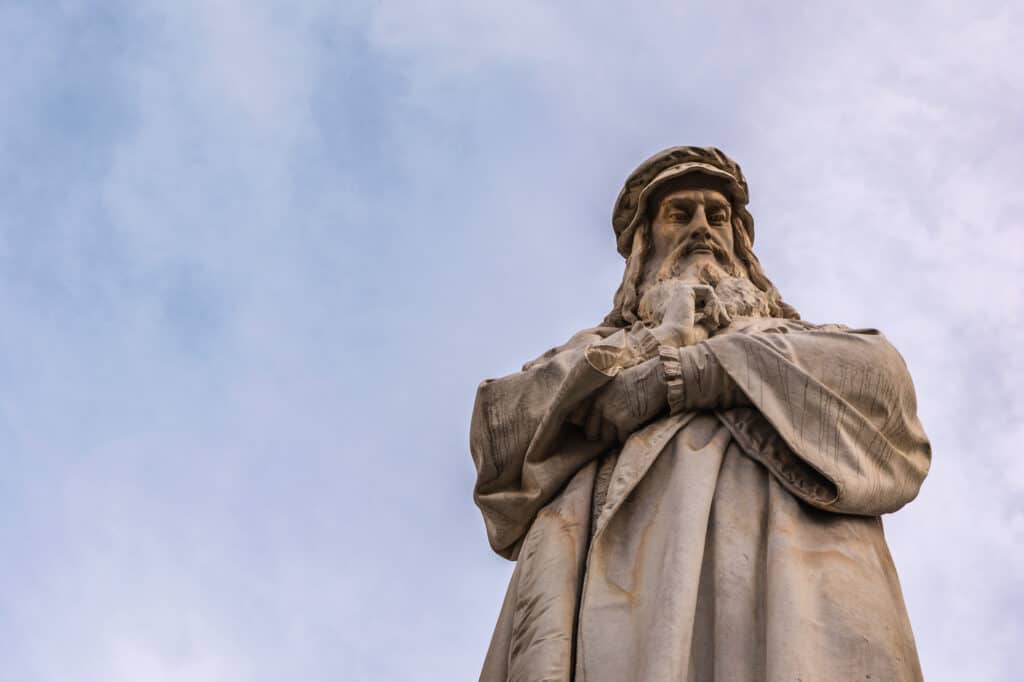 Read more below about Leonardo da Vinci's famous pieces of art, his contribution to science, and his inventions.
Leonardo da Vinci's Art
The reason Leonardo da Vinci is so famous is that he painted what is arguably the most famous painting in the world. The Mona Lisa, which sits on display at The Louvre Museum, is probably the most recognizable painting in existence.
It has been referenced in an almost countless number of pop culture pieces, including the film Mona Lisa Smile and The Da Vinci Code book and film. Leonardo Da Vinci even appeared as a minor character in the 1998 film Ever After where the Prince chases down some bandits who stole the Mona Lisa from da Vinci.
The Mona Lisa is also in theory the most valuable painting in the world. When it was assessed for insurance purposes in 1962, it was valued at around $100 million, which is equivalent to $850 million today factoring in inflation.
However, Mona Lisa is only one of the many famous and highly valuable paintings that Leonardo da Vinci created in his lifetime. In fact, in 2017, the sale of his painting Salvator Mundi became the highest price ever paid for a painting when it sold for $450.3 million.
He has some other very famous paintings as well. One of those would be The Last Supper.
From 1495 to 1498, da Vinci worked to paint this massive piece of artwork that was commissioned to be displayed in the dining hall at the monastery Santa Maria Delle Grazie in Milan, Italy. When it was complete it measured 230 inches by 350 inches.
The Last Supper depicts Jesus with his twelve disciples at the dinner table for his last meal before his crucifixion. The scene is meant to represent the story of the Last Supper of Jesus as it is told in the Gospel of John in the Bible.
Other massively famous works by da Vinci include Virgin of the Rocks which is also on display at The Louvre, Lady with an Ermine on display at the Czartoryski Museum in Krakow, Poland, and The Vitruvian Man on display at the Gallerie dell'Accademia in Venice, Italy.
You can watch the below video from Sci Show that has a look at just how great of a mind da Vinci had.
His Scientific Contributions
On top of his famous artwork, Leonardo da Vinci had an attunement towards science and anatomy. His sketches were considered to be groundbreaking at the time of their production and helped to advance understanding of the human body.
Da Vinci had originally pursued the study of anatomy in order to train to be a better artist, however, something about it fascinated him. He apprenticed under Andrea del Verrochio and became a master of topographic anatomy due to his background in art.
As the book The Notebooks of Leonardo Da Vinci, Volume 1 states, "he was given permission to dissect human corpses at the Hospital of Santa Maria Nuova in Florence and later at hospitals in Milan and Rome."
The book goes on to say he worked with the doctor Marcantonio della Torre to complete over 200 anatomical drawings. Da Vinci's unique view as an artist translated into him being a scientist that was able to take a more holistic approach and become a forefather of modern-day science.
Leonardo da Vinci's Inventions
On top of his contributions to anatomical science, da Vinci was also quite the engineer and invented a few things that changed history forever.
First off, Da Vinci invented the world's first parachute. His invention was also proven to work when Adrien Nicholas recreated it and used it to jump from a hot air balloon in 2000.
He also invented the world's first scuba suit to be used to perform sneak attacks on invading ships. On top of that, he also invented the armored tank, a flying machine, the machine gun, and the first robot ever: his robotic knight.
Da Vinci clearly had an incredible mind so it's no surprise that he is historically one of the most famous people to ever live.