Since breaking through in 2016, Lizzo has become one of music's rising stars. How did she become famous?
Lizzo is a singer, rapper, flutist, and actress. Classically trained in the flute, she began rapping in her teens and rose in popularity throughout the 2010s. She achieved her first number one in 2019 with "Truth Hurts", which had been released two years earlier after the song became a viral sleeper hit.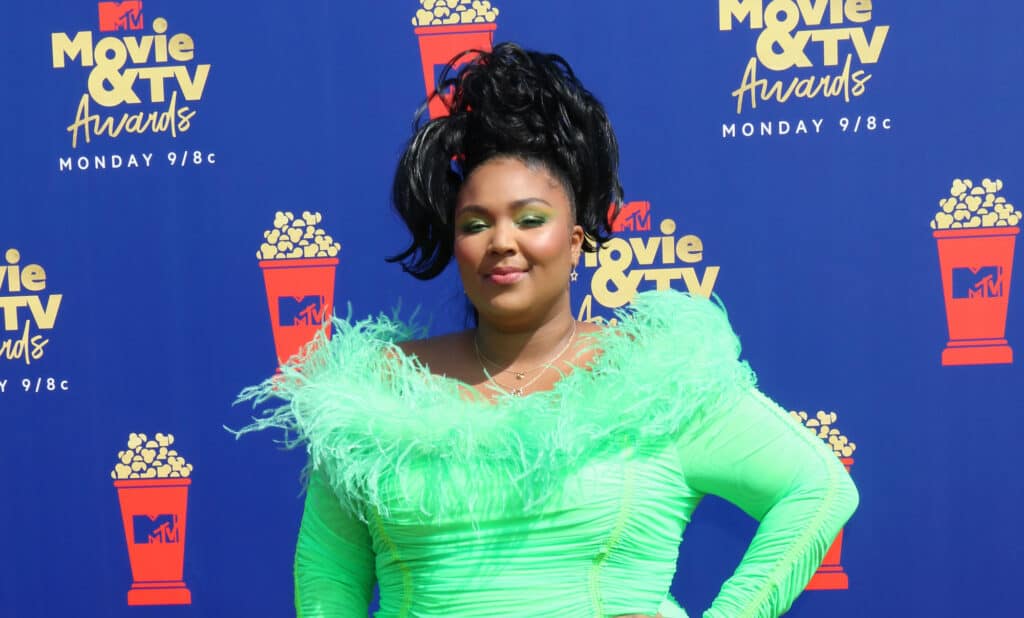 For more on Lizzo and her rise to stardom, read on.
Growing Up
Melissa Viviane Jefferson was born on April 27, 1988, in Detroit, Michigan. Her family moved to Houston, Texas when she was 10 years old.
Jefferson began rapping in her teens, in Houston's suburban community of Alief. When she was 14, she and her friends started a musical group called Cornrow Clique.
Her stage name, Lizzo, is a variation on Lissa, short for Melissa.
Lizzo attended Alief Elsik High School, graduating in 2006. She enrolled at the University of Houston, studying classical music with an emphasis on the flute.
Her father died when Lizzo was 21 and she spent a year living in her car to pursue her music career.
Early Career
In 2011, Lizzo relocated to Minneapolis, Minnesota, and began performing with local indie groups. She was part of a duo, Lizzo & The Larva Ink, creating electro soul-pop.
In 2012, she formed the Chalice, a three-woman R&B/rap group. They released an album, "We Are the Chalice" and enjoyed some local success.
On October 15, 2013, Lizzo released her debut album, "Lizzobangers". The album received positive reviews from music critics, who praised it for its sense of fun and spontaneity while also recognizing that Lizzo's lyrics could also be more pointed when necessary.
Initially a limited release, the album was later re-released by Virgin Records.
Lizzo opened for Har Mar Superstar on a 2013 tour of the US and UK and was named one of Time Magazine's music artists to watch in 2014. She began working on a new album as soon as "Lizzobangers" had released.
She released her second album "Big Grrrl Small World" on December 11, 2015, drawing praise for her ability to rap and sing with equal proficiency.
Finding Success
Though she had been enjoying a steady rise in popularity for a number of years, Lizzo's career took a major step forward in 2016 when she signed with Atlantic Records. She released her first EP with her new label, "Coconut Oil", on October 7, 2016.
The EP also marked a major tonal shift from Lizzo's previous work, which had primarily been in the genre of alternative hip hop. Instead, the lyrics of "Coconut Oil" emphasized the importance of body positivity and self-love, themes very close to Lizzo's heart.
Lizzo struggled with body positivity in her youth and has made acceptance in terms of size, race, and sexuality, the major focus of her music since garnering mainstream attention.
Her back up dancers, the Big Grrrls, are all plus-size, a sign of Lizzo's commitment to promoting the cause in an industry that has historically prioritized smaller women.
Her third studio album, "Cuz I Love You", was released on April 19, 2019, and she performed at Coachella for the first time shortly afterward. The album was another leap forward for Lizzo's career, peaking at number four on the Billboard 200 albums chart.
After being part of a TikTok meme, Lizzo's 2017 single "Truth Hurts" became a sleeper hit in 2019. The song rose to the top of the Billboard Hot 100 singles chart, making it Lizzo's first number one.
Lizzo had considered the song her best at its release and its initial muted reception had made her consider abandoning her musical aspirations. It was fitting that it should eventually become her first chart-topping song, even if it had to be two years after its initial release.