Chris Matthews is a now-retired political commentator and talk show host who was known for answering the burning questions of the political world. Let's change things up and answer a burning question of yours: Why and when did Chris Matthews retire?
Chris Matthews retired live on air at the start of his weekly episode of 'Hardball with Chris Matthews' on 3 March 2020. His resignation — and seeming retirement — came as a result of his recent controversies surrounding racism and inapropriate conduct.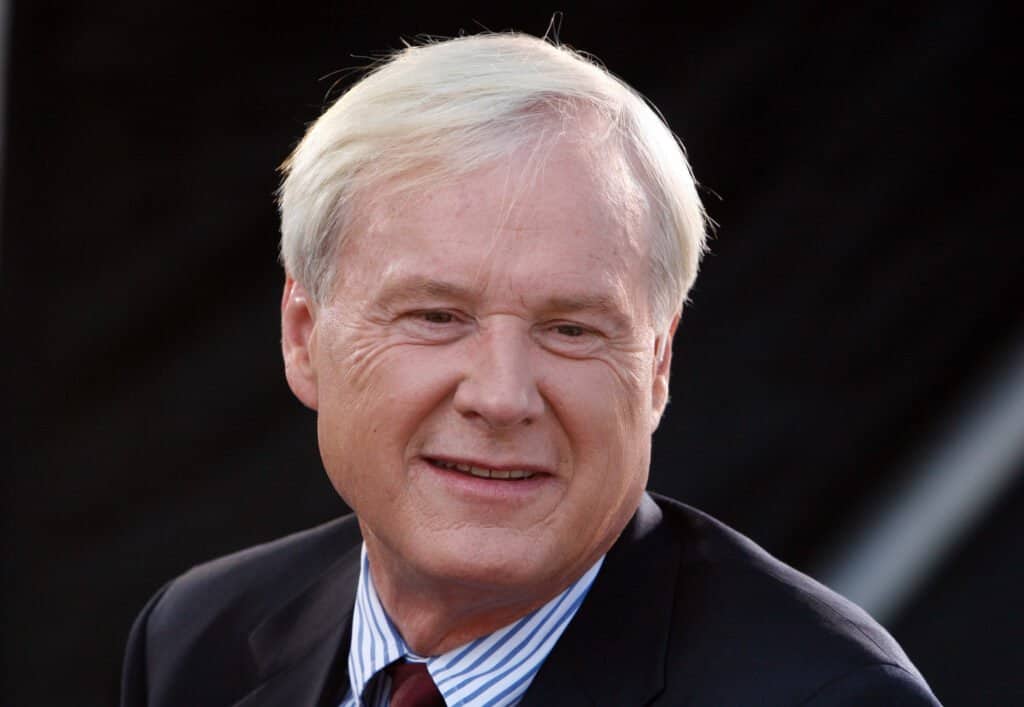 If you're after all the nitty-gritty details around Chris Matthews' abrupt televised retirement, you've come to the right place. Today you'll find out everything you need to know about when and why Chris Matthews retired and what the response was.
The Man
Christopher John Matthews was born on 17 December 1945 in Philadelphia, Pennyslvania. His parents were Mary Teresa and Herb Matthews, and the family followed the Catholic faith.
Chris attended a Pennyslvania Catholic school called La Salle College High School before heading to Massachusetts to go to the College of the Holy Cross. After graduating he went to the University of North Carolina at Chapel Hill where he studied Economics.
With his degree in Economics in hand, he went off to Washington D.C. and threw himself into politics. He served on the staff of four Democratic Members of Congress and was a presidential speechwriter.
Chris's passion for politics, coupled with his charisma and intelligence, landed him his own weeknight talk show in 1997. 'Hardball with Chris Matthews' was a resounding success — until it wasn't.
The Retirement
On 3 March 2020, Chris shocked 'Harball' viewers, his colleagues, and the world when he resigned on air. His show started with "Let me start with my headline tonight: I'm retiring."
Chris's resignation went as follows, "This is the last 'Hardball' on MSNBC. And, obviously, this isn't for lack of interest in politics. As you can tell, I've loved every minute of my twenty years as host of 'Hardball'. Every morning I read the papers and I'm gung-ho to get to work."
After expressing his love for the show and its audience, he announced "After conversations with MSNBC I've decided tonight will be my last 'Hardball'. So let me tell you why. The younger generation's out there and ready to take the reins…"
He eventually got into the nitty-gritty and said, "Compliments on a woman's appearance that some men — including me — might have once incorrectly thought were ok, were never ok. Not then, and certainly not today. And for making such comments in the past, I'm sorry."
Though nobody expected him to resign live on television, his resignation in itself was not a shocker. At the time of his resignation, Chris was embroiled in several controversies.
The Controversies
As you can likely tell from his retirement statement above, the abrupt departure of Chris Matthews had a lot to do with inappropriate conduct.
It all started in October of 2016 when a political journalist by the name of Laura Bassett was a guest on Chris' show. The pair were set to discuss the allegations of sexual assault against Donald Trump.
Laura revealed that Chris made numerous comments about her dating life, her clothing, and her makeup. He allegedly told the makeup artist working on Laura "Keep putting makeup on her, I'll fall in love with her."
Chris's reputation was muddied even further when details of a 1999 allegation of inappropriate comments filed by a female producer became public knowledge in 2017.
But it's not just his inappropriate behavior around women that landed Chris in the hot seat. He also came under fire for describing Trump's inaugural speech as "Hitlerian".
Again, he found himself shrouded in controversy when he compared Bernie Sanders' rise in the 2020 presidential campaign to that of the German invasion of France.
As if all of the above wasn't enough, he also confused one African American politician for another which made many viewers conclude that he is racist.
The Aftermath
It's widely believed that Chris's on-air retirement was as much of a shock to his colleagues as it was to his viewers. Immediately after his announcement, the channel aired a commercial break.
When the show resumed, Chris was gone and a flustered Steve Kornacki was in his place. He expressed his shock by saying, "That was a lot to take in… I think you're going to miss him, and I will too."
Steve explained, "We're not going to have any bells or whistles here. We do have to fill the rest of this hour" which makes people think he had no idea his colleague was about to retire.