If you didn't know, Drake's last name is Graham and he was born Aubrey Drake Graham. Could this mean he is related to the famous plus-sized model Ashley Graham?
Ashley Graham is not related to Drake. While they both share the same last name, they have no family members in common. Drake is the son of a biracial couple with his father Dennis Graham being African-American. Both of Ashley Graham's parents are caucasian meaning that their shared last name is just a coincidence.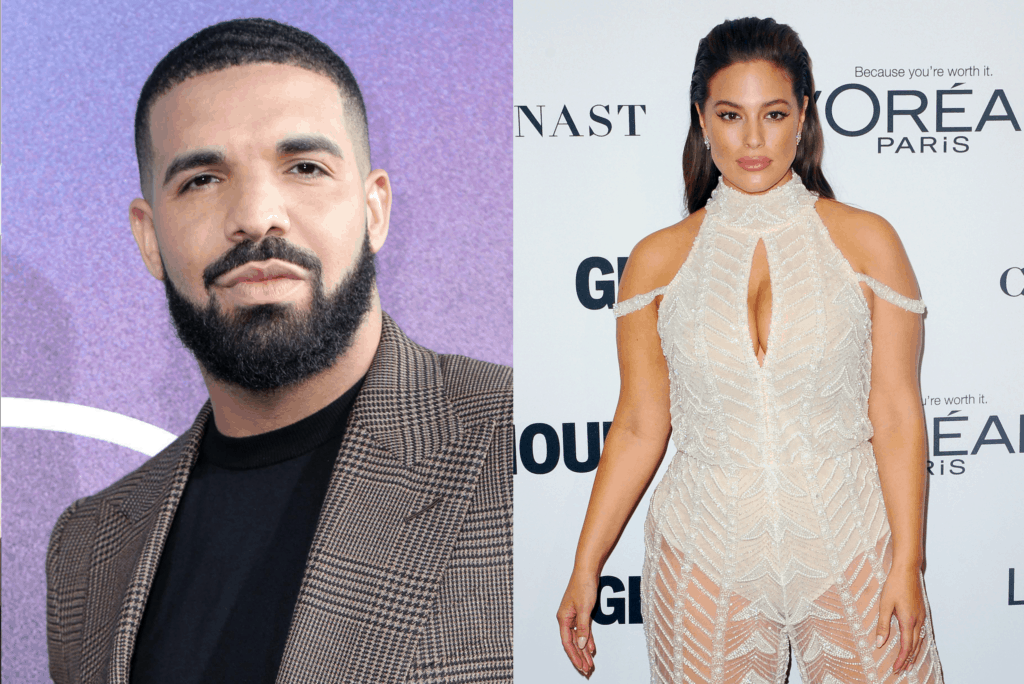 You can read more below about the last name Graham, both Drake and Ashley's upbringing, and if the two have any connection at all.
The Last Name Graham
The last name Graham is one of the more common last names in the world. It originates from England and Scotland.
According to the website Forebears, the last name Graham is the 1,185th most common last name in the entire world. That is actually really common.
Within the United States where Ashley Graham hails from, it is the 103rd most common last name among citizens. Within Drake's home country of Canada, it is the 62nd most popular last name.
This popularity ranking alone tells us that it is merely a coincidence that Ashley Graham and Aubrey Drake Graham have the same last name. This last name is also a fairly old one that has its links to a Scottish Clan.
House of Names indicates that the last name Graham came from the Norman people and originated in modern-day Grantham in the county of Lincolnshire, England. The Graham surname arrived in Scotland during the 12th century and the Graham Clan was born out of it.
Like many Scottish Clans, the Graham clan actually had a motto that would be used as a war cry going into battle and they also had a family crest. The motto was "Ne Oublie" which means "Do Not Forget" and the family crest is a falcon killing a stork.
Drake's Childhood Vs. Ashley Graham's Childhood
Drake has to be one of the most famous Canadian's out there. His entertainment career really started when he was on the Canadian teen television drama Degrassi: The Next Generation.
He played one of the main characters named Jimmy Brooks and began his role in 2001 when he was 15 years old. He played the character of Jimmy through to 2008 and then he pursued his career as a rapper.
While he portrayed a wealthy student on Degrassi, Drake's childhood was not the same. This is despite what the many people of Toronto say regarding the neighborhoods he grew up in.
Drake's father is from Memphis, Tennessee, and his mother from Toronto, Canada which is also where he was born. His parents divorced when he was only five years old and he was raised mainly by his mother, his father being absent for most of his childhood due to him being incarcerated in the US.
While he and his mom lived in a duplex in the affluent neighborhood of Forest Hill, the home was not one of the many mansions that are located in that area. While he attended high school, he was often bullied for his racial and religious background because he was African and Jewish.
Drake eventually dropped out of high school. Although he probably considers the set of Degrassi his real high school like he implied in his music video for 'I'm Upset' which you can watch below.
Ashley Graham grew up in Lincoln, Nebraska and while the world knows that her mother is Linda Graham, she has never identified her father. She has even said that she had "daddy issues."
While Graham grew up under the Christian faith, she has admitted to living promiscuously and revealed that she was molested when she was only ten years old. While Ashley Graham and Drake hail from completely different backgrounds and aren't related, they have both dealt with their own share of hardship.
A Connection Between Ashley Graham and Drake?
These two stars don't really have a connection at all, to be honest. While Drake's father is from the United States, he is not related to Ashley Graham's American family.
In fact, the only connection that we can find between the two is that Ashley Graham appears to be a fan of Drake's music. She has posted more than one video to her Instagram that features her dancing to his tunes.
In 2018, she posted a video of her dancing to Drake's 'Lemon (Remix)' and some fans started to say that she looked like she may be pregnant. Her response was "that's just fat."