Since the release of her worldwide hit song "Call Me Maybe", pop singer-songwriter Carly Rae Jepsen has gone on to have an impressive standing in the modern music industry. So it is interesting that so many music and film fans are asking the question – is she related to Tom Hanks?
As far as research goes, it appears that Carly Rae Jepsen and Tom Hanks are almost certainly not related to each other as neither has acknowledged or reported any family relationship. Unless they are distantly related and unaware of the fact, which seems unlikely.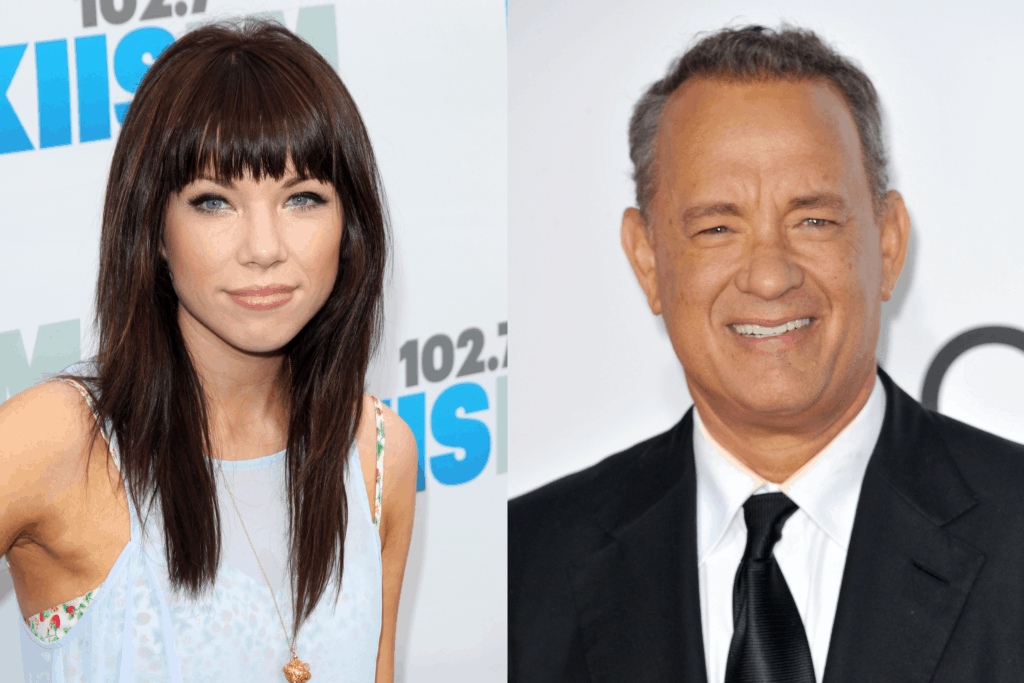 But there are certainly reasons that members of the public have been asking these questions about the pop star and A-list actor.
'I Really Like You' Music Video
So why exactly have people made this connection between two previously unrelated celebrities? The answer lies in a music video she released back in 2015.
In 2015, Carly Rae Jepsen released the music video for her single "I Really Like You", the lead single on her third studio album, Emotions. The music video follows a day in the life of world-famous actor Tom Hanks as he walks through the streets of New York lip-syncing to Jepsen's song, dancing and sending texts and emojis to the singer.
To watch the music video for "I Really Like You", featuring Jepsen and Hanks, follow the link below.
How Did They Meet?
Since the release of the video, fans of both the singer and actor have wondered how the two came to collaborate in such a manner. Starring in a pop-music video seems like an unusual choice for two-time Oscar-winning actor Hanks, who is considered both a cultural icon and one of the most popular film stars in the world.
Hanks has revealed the origin story of the now-famous music video in various interviews. It appears that he was out with his wife one night, sharing a few drinks with some close family friends.
One of these friends happened to be Scooter Braun, Jepsen's manager who has also worked with Justin Bieber and Ariana Grande in the past. Allegedly Braun casually asked Hanks if he would consider appearing in the music video, and did not expect the actors swift response.
Hanks later told Entertainment Tonight, "I was at dinner with friends of ours who work with Carly and they said, 'We were maybe going to ask you if you'd want to do this thing,' and I literally had a beer in my hand and I said, 'Yeah sure I'll do it.'"
Tom Hanks and Carly Rae Jepsen's Relationship
As stated above, it is extremely unlikely that Carly Rae Jepsen and Tom Hanks are related. They had very little connection to each other prior to the filming of the music video, with their only known meeting being at the wedding of Scooter Braun and his wife Yael Cohen in the previous year.
However, they seem to have gotten along quite well on the set of "I Really Like You", with Jepsen posting photos of the two together on her social media accounts. These pictures were likely the initial cause of fans' suspicions that the actor and singer might be blood-related.
Jepsen was reportedly already a fan of Hanks, and has said that upon learning from her manager that he had agreed to star in her music video, she said "'Are you kidding me? That's Christmas come early! So, yes, please!'" However she admitted that their meeting before filming was somewhat awkward, But they "laughed about it, and […] kind of had a cocktail and talked for the rest of the night."
Hanks later said of Jepsen, and his time filming with her, "She's a nice girl. We had a good time." He even revealed that he had happily starred in her music video entirely for free, saying "I received no remuneration for it. I got a free sandwich at lunchtime, that was about it. No complaints."
Conclusion
In conclusion, there has never been any known suggestion or record of Carly Rae Jepsen and Tom Hanks being related to each other. It is more likely that fans have assumed this due to their association with the music video "I Really Like You." If they are related, neither has ever acknowledged it to the public.