Tom Hanks is notorious for his everyman style of acting which is clear from playing Walt Disney in Saving Mr. Banks to Josh Baskin in Big. So how much does 'America's Dad' make per movie?
Tom Hanks has earned anywhere from only $50,000 for a role to $60 million. He has made it onto Forbes's list of highest-paid actors more than once. He has a net worth of approximately $400 million. His biggest paychecks have come from movies like Saving Private Ryan and Forrest Gump.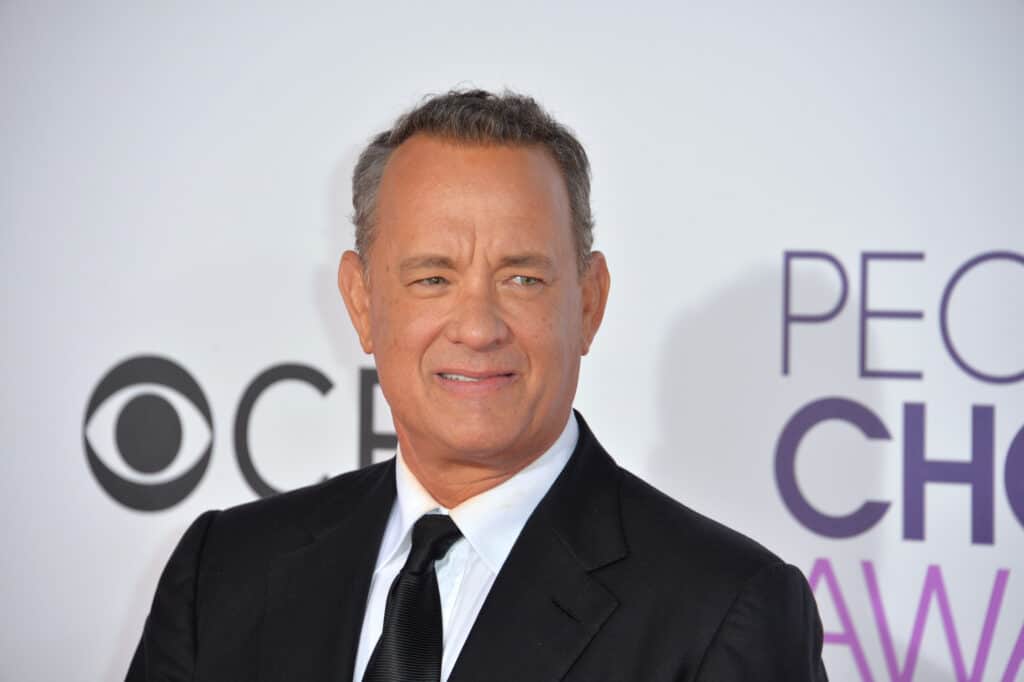 Scroll down to read more about Tom Hanks' highest paydays, what he has received for other roles, and his ventures outside of acting.
Tom Hanks' Highest Paying Roles
While these roles may not have initially paid that much, Tom Hanks ended up making bank on them in the long run. His highest paying roles include the two roles mentioned above as well as Angels and Demons.
With all of these roles, Tom Hanks has opted to "act now and get paid later." Due to his knack for seeing the value in films, this action has had way bigger payouts for him.
In 1994, the film Forrest Gump was released and it is, to this day, probably one of the most famous romantic comedies to have ever been made. Tom Hanks was supposed to make $7 million on the film.
However, production went over-budget. Hanks being the good guy that he's known as, offered to give up his salary to be paid in backend profits, which is getting a percentage of the profits from the film.
He agreed to a rare "first dollar" deal that ended up making him approximately $70 million instead of $7 million. Of course, if Forrest Gump had flopped then Hanks would have acted for free.
Saving Private Ryan was another hugely successful film that Tom Hanks starred in and made a ton of money on. He again was included in a deal known as Profit Participation but the details of this deal aren't as well known.
Either way, Hanks ended up securing a paycheck of $40 million for his role in the 1998 film. The insanely high paychecks didn't end there either.
Hanks made $18 million to star as Robert Langdon in the 2006 film The DaVinci Code which was based on Dan Brown's hit novel. He made over double that to star in the sequel film.
After the 2009 sequel film, Angels & Demons was released Tom Hanks ended up making $50 million. He had once again opted for Profit Participation.
Tom Hanks Pay for Other Roles
While Hanks has made massive amounts of money on some films, not every film he participates in gives him a huge paycheck. However, he is still one of the actors that earns a higher salary.
In 2017, Tom Hanks was on the Forbes list of 'The World's Highest-Paid Actors', he took spot number 12 with total earnings of $31 million for his roles in Inferno, The Circle, and Sully. This wasn't the first time he made the list either.
Hanks was on the same Forbes list in 2010 as well, but this time he was ranked at spot number three. He had made $45 million that year off of Larry Crowne, continued profits from Angels & Demons, and producing The Pacific and Where the Wild Things Are.
While these are some huge paychecks, Tom Hanks has also had some pretty small ones in the past. For example, when he voiced Woody in 1995s Toy Story, he only made $50,000.
His role in Splash in 1984 only paid him $70,000 and Big (1988) provided him with a paycheck of only $1.75 million. These were all films towards the beginning of his career and as he made a name for himself the paychecks got bigger.
Hanks' Ventures Outside Acting
Tom Hanks has a net worth of around $400 million according to Men's Health. Usually, when someone has that high of a net worth they are involved in other business ventures.
So what else does Tom Hanks do besides acting?
Well, his other business venture still lays in the entertainment industry. That business is a production company.
He founded the company with the producer Gary Goetzman in 1998. It is called Playtone and Hanks' wife, Rita Wilson, is the CFO of the company too.
Playtone has produced films like Mamma Mia! And My Big Fat Greek Wedding. It is also behind films that have starred Tom Hanks like Greyhound and The Polar Express.