It is interesting to know that the Queens and Kings of England are closely related in one way or the other. It is no surprise, therefore, if Queen Elizabeth II is related to King Henry VIII, but are they?
Queen Elizabeth and King Henry VIII are indeed related. Queen Elizabeth II is a descendant of Henry VIII's sister, Queen Margaret of Scotland, the grandmother of Mary Queen of Scots.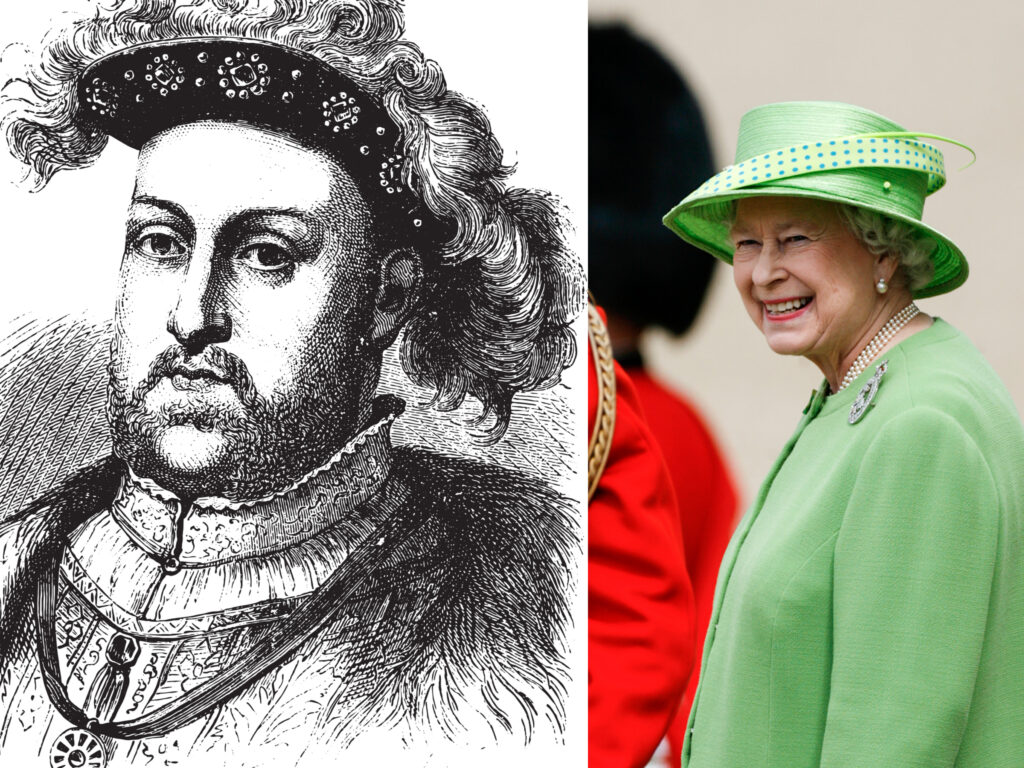 Here are more interesting facts to know about Queen Elizabeth II:
Who Is Queen Elizabeth II?
Queen Elizabeth II is the Queen, Head, and Defender of the Faith of the United Kingdom of Great Britain and Northern Island and Her other Realms and Territories. She was born on April 21, 1926 in Mayfair, London, to Prince Albert, Duke of York, who would later become King George V1 of England, and Lady Elizabeth Bowes-Lyon, Duchess of York.
During World War II, Elizabeth served in the Auxiliary Territorial Service. When her grandfather died, her uncle became King Edward VIII. But in 1936, just after eleven months, King Edward VIII abdicated the throne, a decision he took because he wanted to marry an American lady, Wallis Simpson.
The crown had to pass to Albert Frederick George, his younger brother. Elizabeth became Queen after George's death on Feb. 6, 1952. Queen Elizabeth II, as a Princess of Wales, was with her husband on tour in Kenya when she was told the news about her father's death. They have to return to England immediately.
Who Did Queen Elizabeth II Marry?
Queen Elizabeth II was married to her distant cousin, Philip Mountbatten, a former Prince of Greece and Denmark, who died in 2021 after 73 years of blissful marriage.
The marriage took place in Westminster Abbey on Nov. 20, 1947. They shared four children, including Prince Charles, Prince of Wales; Anne, Princess of Royal; Prince Andrew, Duke of York; and Prince Edward, Earl of Wessex.
Queen Elizabeth II was crowned on June 2, 1953 and has been on the throne since then, surpassing Queen Victoria to become the longest-reigning monarch in British history.
Significant events in her life have included her Silver Jubilee, 1977; Golden Jubilee, 2002; Diamond Jubilee, 2012; and most recently, Platinum Jubilee in 2022. Queen Elizabeth II is the first British monarch to reach the Platinum Jubilee milestone, celebrating 70 years on the throne.
Queen Elizabeth II's Education
Traditionally, members of the British Royal Family were educated privately by tutors. However, over time, the education of the Royal Children has changed. Since the 20th century, children of the Royal Family have been educated in public schools and military institutions. Charles, Prince of Wales, is the first heir to the British throne to receive a university degree.
Many people have interpreted the Queen's choice to allow her children to go to school as a signal that she would have appreciated getting a more formal education herself.
Queen Elizabeth II was homeschooled but had some prominent teachers, including her mother and grandmother, that taught her reading, Christian faith, and the finer points of royal etiquette. Her education was confined to reading, writing, playing the piano, music, and dancing.
She took lessons in French and German, as well as Constitutional History and Law with Henry Martens, the Vice Provost of Eton College, and Religion from the Archbishop of Canterbury.
Governess Marion Crawford, an Edinburgh graduate, is one of the prominent teachers that taught Queen Elizabeth II at home.
Queen Elizabeth II was baptized in the Anglican Church.
What Is Queen Elizabeth II's Net Worth?
Queen Elizabeth II is the longest-serving monarch in British history and one of the longest-serving monarchs around the globe. She is one of the wealthiest women in the world as well.
The Queen has a sizable real estate she inherited from her father, a stock portfolio currently under management, and a stamp collection. But she lives and enjoys a simple, low-stress lifestyle, with a net worth estimated at $600 million.
Queen Elizabeth II's Health Status
Queen Elizabeth II is getting older, and she's no longer as agile as she used to be. In recent times, she has begun using a walking stick in public.
As she has gotten older, she has reduced her number of official engagements and appointments drastically. She also experienced some discomfort during the first day of her Platinum jubilee celebrations, leading to her absence during the event.
As such, Queen Elizabeth II watched the proceedings on television from Windsor Castle, Buckingham Palace. Her absence was strongly felt, however, especially in the St. Paul's Cathedral Thanksgiving Service.