Since she broke out in the global music scene, singer Ariana Grande has been compared to her pop princess predecessor Mariah Carey, and fans and media alike have been split ever since. Who is the best singer out of the two pop music icons?
A question like this is always going to be subjective rather than providing concrete answers. Some compare the two based on vocal range, while others compare based on commercial success. One thing that can be said is that Carey certainly has the longer and more-established career and legacy, while Grande is still in the early stages of her career.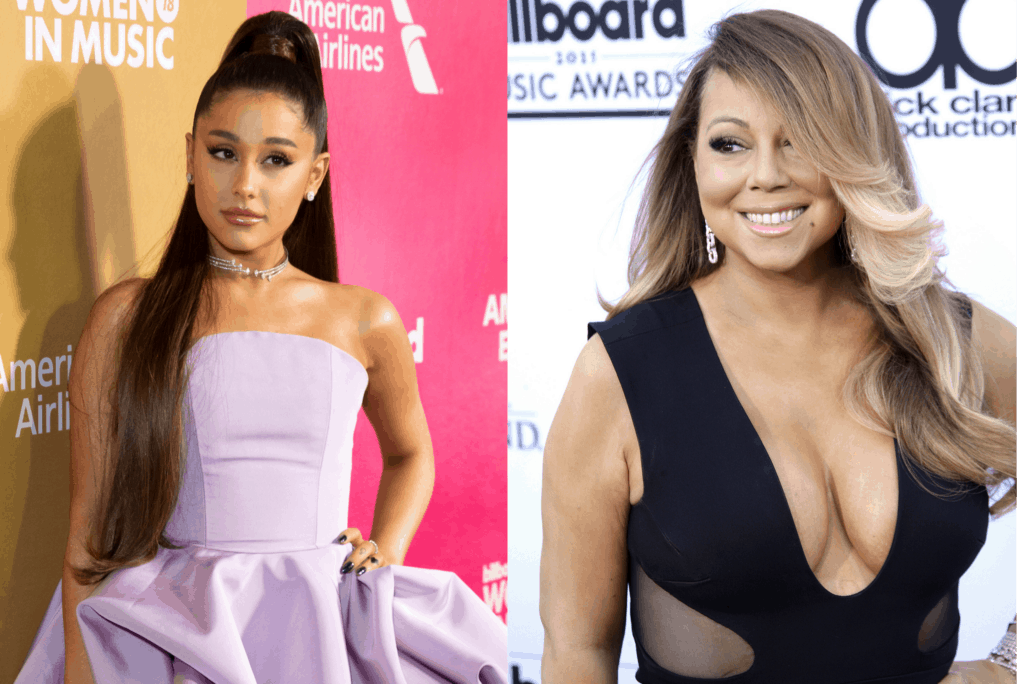 So, how do people find the means to compare the two divas, and why are they always being set against each other? Let's take a deeper look.
History Between The Two
Comparisons between the two starlets have been rife since the release of her first album Yours Truly back in 2013. People even went so far as to dub her the "young Mariah" due to perceived similarities between the two.
While many media outlets have tried to stoke gossip about a 'feud' or rivalry between the two pop stars, Grande herself has spoken out about the constant comparisons.
"Mariah has been a huge influence on me since I was a little girl," She told US Weekly back in 2014. "I've even done a cover of one of her songs. I don't think there are any negatives to being compared to one of the greatest vocalists of all time. It's honestly a great honor."
Carey on the other hand, has never talked specifically about a 'rivalry' with the younger singer, or the comparisons between them. In 2015, during a live interview, she infamously remarked "I don't know her" in response to the comparisons.
However, things may be looking up for the alleged "rivals"! Mariah Carey has hinted on social media that the two may be collaborating after all these years.
In the tweet linked below, Carey shared a teaser photo on the set of Mariah Carey's Magical Christmas, three director's chairs printed with the initials 'M.C'. 'J.G', and 'A.G'. Many fans have speculated that A.G indeed stands for Ariana Grande.
Vocal Talent and Similarity
In terms of vocal ability, one of the main comparisons drawn between the two artists has been in their use of whistle tones. The whistle tone, or whistle register, is the highest vocal register that the human vocal cords can produce.
So essentially, both Carey and Grande are known for hitting exceptionally high notes that are rare to find in most mainstream musical performances. They can both produce pitches so high that they almost sound like they are whistling with their throat.
Up until Ariana Grande reached mainstream popularity, Carey had been the most famous pop singer in the world to use the whistle register in her songs. It was even considered a trademark by some fans, which may be why there is some hostility from Mariah's fanbase.
Not only that, but they are two singers who are both known for their extensive vocal range, that has been displayed throughout their respective discographies.
It should be noted that Mariah Carey famously possesses a five-octave vocal range, which is extremely rare compared to Grande's four-octave range, which, while still very impressive, is not as rare. Some have used this fact as evidence that Carey is the superior singer.
Style
Both singers also famously come under the 'diva' umbrella. Mariah Carey has been synonymous with the word throughout her career, known for her rather demanding personality. When asked in an interview whether she was "too high-maintenance", the star replied, "I don't give a sh*t. I f****** am high-maintenance because I deserve to be at this point."
Grande has also been accused of diva-like behavior, though she vehemently denies the label. Still, the connotations of diva-status have done much to encourage fans to compare her to Mariah Carey.
They also both have a similar musical style, a blend of R&B and pop, and both play with their public image as something between innocent and sexy. They are also considered the two respective "Pop Princesses" of their generation, Carey for the 1990s and Grande for the latter 2010s.
Conclusion
While a "winner" between the two singers can't be objectively decided, it's fair to say that the decision is up to the individual. But it's clear that there are many reasons that fans want an answer to this question.