Ariana Grande is one of the world's biggest artists and consequently, many people are wondering what her political views are.
It's thought that Ariana Grande is a Democrat. While the votes were being counted for the 2016 election, Ariana made a series of explicitly discrediting tweets against Donald Trump, the Republican candidate. She then shared a picture on Instagram showing how the election would have turned out, had only younger people (18-25) voted, and told her fans that "better times are coming." She also supported the 2020 republican candidate, Bernie Sanders.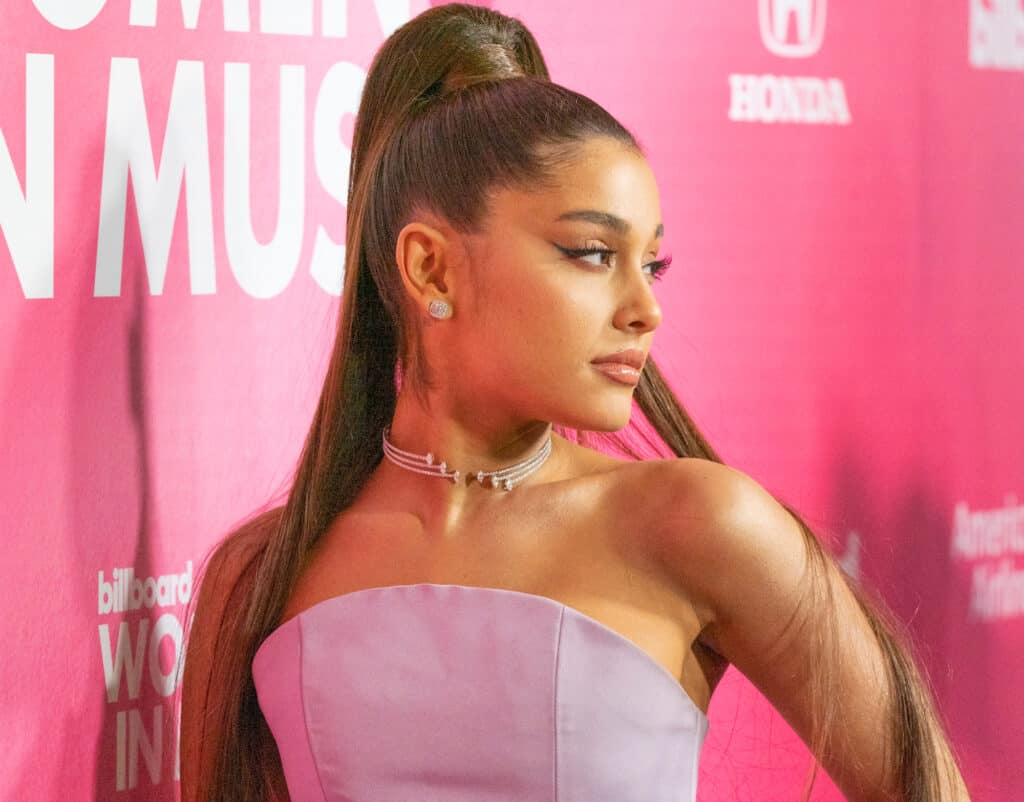 Let's take a closer look at the evidence of the "Rain On Me" singer's political affiliation.
She Met Bernie Sanders
Ariana Grande endorsed Bernie Sanders, who was once a runner for the democrat party in the 2020 election. However, Bernie dropped out of the race in April, months ahead of the November election.
The candidate was succeeded by Joe Biden for the Democratic bid for president. It's thought that Bernie was too strong of a visionary for American politics and failed to secure a progressive majority needed to clinch a spot on the ballot.
However, Ariana Grande certainly lent her support to the democratic socialist. She met him in November of 2019, with Bernie tweeting out his gratitude to the Grammy Award-winning singer:
Ariana also shared the same photos as Bernie on Twitter, with the following caption:
"MY GUY. thank you Senator Sanders for coming to my show, making my whole night and for all that you stand for ! […] I will never smile this hard again promise. [sic]
From the pair's smiley and warm embrace, it can be assumed that Grande and Sanders share the same revolutionary vision.
She Threw Some (Subtle) Shade at Donald Trump
In the singer's music video for her hit song "thank u, next," Ariana can be seen reading a book in a scene that references the movie Legally Blonde.
The book she is reading is titled Immigration and Refugee Law and Policy, which many understand as a subtle dig at the 45th president since he had enacted several controversial immigration policies during his time in power.
She Threw Some Not-So-Subtle Shade at Donald Trump
On the night of the 2016 election, Ariana made a series of tweets about the situation. She tweeted, "Well this is utterly terrifying," as the results began to come in and the republican candidate established a lead over his democratic competitor, Hilary Clinton.
Once the result was finalized, and Donald Trump had succeeded, she shared another tweet, saying, "I am in tears."
Later, the singer shared an image of a map showing how the electoral college votes may have turned out, had only members of the millennial generations voted. The map had been created from poll results taken from a sample size of 18 to 25-year-olds. She made the following comment:
"It restores my hope a little bit that this is what our generation's vote looked like. It says to me that better times are coming….. we just have to stick together right now. Let's please be active and vocal every day toward making each other feel accepted and loved for our differences. not just on election day. please. it's the only way we will be able to get through what could possibly be a very dark few years."
Results Are In
From all of this evidence, it appears clear that Ariana Grande is voting blue all the way, and is unlikely to support the Republican agenda any time soon.
From meeting Bernie Sanders to showing a whole lot of shade Donald Trump's way, there is a heap of evidence to suggest Ariana is a firm supporter of the democrat party and will continue to be so for the foreseeable future.
Watch "thank U, next" by Ariana Grande and note the blink-and-you'll-miss-it-moment at 3:58 when the singer makes a dig at Trump's immigration policies: