Considering they're both Korean, they're both single-sex music groups, they both have millions of social media followers, and they both tidy up at award shows, BTS and Blackpink have a lot in common. But let's answer the burning question all K-Pop fans are asking: who's more popular?
As difficult as this may be for some Blackpink fans to read, BTS is the most popular of the two. BTS has been nominated for, shortlisted for, and has won more awards, has had more number one hits, and has more followers spread out across all social media platforms.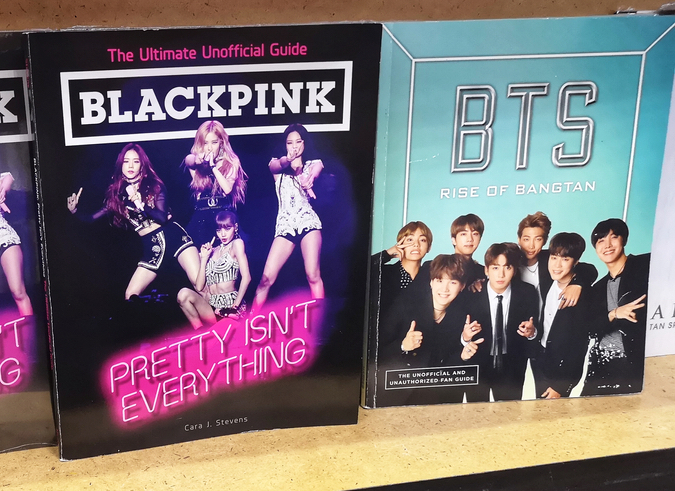 It's time to compare two of the world's most popular K-Pop groups and pit the boys against the girls to figure out which group is more popular between BTS and Blackpink. This will be decided based on their performance on the charts, the awards they've won, and their social media statistics.
Who Is Ahead in the Western Charts?
There's no denying that both BTS and Blackpink have achieved incredible success in their home country. But each of them has also managed to break into the Western world of music spectacularly.
BTS has had two UK Number 1 albums, four UK Top 10 albums, and has spent two weeks at Number 1, six weeks in Top 10, 25 weeks in Top 40, and 46 weeks in Top 75. Blackpink has had one UK Top 10 album, two UK Top 40s, and has spent one week in Top 10, five weeks in Top 40, and seven in Top 75.
Globally, BTS has had 12 songs, four Top 10 Hits, and two No.1 hits on the Billboard Hot 100. Blackpink has had 10 songs, two Top 10 Hits, and one No.1 hit on the Billboard Hot 100.
Who Has Won More Awards?
Blackpink has been winning awards since they stepped onto the scene and released their first album in August of 2016, with their second following in November of the same year.
In that first year, the girl group won 'Best Girl Group' and 'Best Rookie Group' in the 2016 Hallyu K Fans' Choice Awards, and the 'Best New Artist' award in the Melon Music Awards. They also won the 'Best of Next Female Artist' and 'Best Music Video' award for their song 'Whistle' at the Mnet Asian Music Awards
In 2017, they took home 'Song of the Year' and 'Rookie of the Year' at the Gaon Chart Music Awards and the Golden Disc Award for 'Rookie Artist of the Year.' Blackpink wrapped up the year with a 'New Artist of the Year' award at the Seoul Music Awards.
In the years since their debut album, they've tidied up at award shows. In the years 2018 to 2021 they won 57 awards, were shortlisted for nine others and were nominated for 149 more.
During their first few years, the BTS boys won their fair share of awards including the 'Best New Artist Male Group', and 'World Rookie Award' at the Gaon Chart Music Awards and 'Rookie of the Year' at the Golden Disc Awards.
But, to keep things fair, let's only take a look at the awards the group won since Blackpink has been around. In 2016, they won the 'Best Artist Award', 'Best Icon Award', and the 'Popularity Award' at the Asia Artist Awards along with nine others.
In 2017, they won the Billboard Music Awards 'Top Social Artist' award, the 'International Artist Award' at the Teen Choice Awards, the 'Best in Music' at the Shorty Awards, and 27 more.
In the years 2018 to 2021, the group has taken home a whopping 307 awards. In this time frame, they were also shortlisted for 10 more and nominated for 154 others.
Who Has the Better Social Stats?
Topping charts, selling out stadiums, and winning awards are all massive achievements. But we're living in the age of social media, so let's finally answer the question of who's more popular by examining both groups' social media stats.
Starting with YouTube, BTS has more than 49.8 million subscribers and gains an average of 46,000 new subscribers per day. Blackpink boasts 61.3 million subscribers and gains approximately 33,000 new subscribers every day.
Over on Instagram, Blackpink has 37.8 million followers while BTS has 41.6 million followers. Both accounts have an incredibly high engagement rate and receive millions of comments and hundreds of thousands of likes on each post.
Let's wrap up with a look at their TikTok pages. BTS has 33.1 million followers and has received more than 560 million likes while Blackpink has 22.7 million followers and has garnered 179.3 million likes.
Overall, BTS has more followers across all platforms which makes them — in terms of social media presence — more popular than Blackpink. Even on YouTube, where Blackpink has more subscribers, BTS is catching up incredibly quickly as they gain 13,000 more subscribers per day.