Paul David Hewson, or Bono as he is known by, is an Irish singer, lyricist, actor, activist, venture capitalist, businessman, and philanthropist who achieved worldwide acclaim in his role of lead singer in the band U2. He is unquestionably a man of many talents, but can he count guitar playing among them?
Bono can play the guitar, though he has admitted on many an occasion that he's not the best player. Back in 2016, the Irish vocalist was in a bicycle accident that rendered his guitar-playing abilities useless — possibly forever.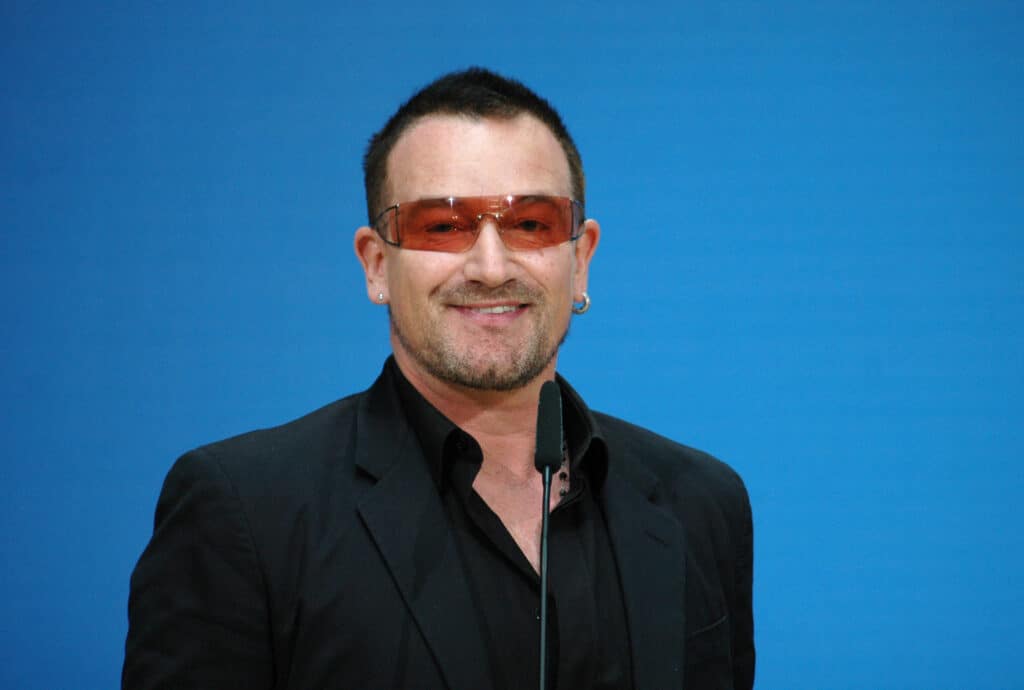 Let's take a look at Bono's guitar playing skills and find out more about the accident that forced him to pack away his picks for the foreseeable future. Plus, you'll also find out whether he can play any other instruments, so be sure to read this article until the end.
Bono's Guitar Playing Skills
Though he is known for being the lead singer and songwriter of U2, Bono's skills aren't limited to his vocal abilities. It's difficult to imagine him being anything other than a singer, but Bono actually started as the band's guitarist.
In a 1982 interview, he said "When we started out I was the guitar player, along with the Edge — except I couldn't play guitar. I still can't. I was such a lousy guitar player that one day they broke it to me that maybe I should sing instead."
While he was a decent player on the rhythm guitar, as the Edge's skills as a guitarist blossomed he was unofficially relegated to focus solely on singing.
He may be technically able to play guitar, but not everybody thinks he should. When speaking to Ultimate Classic Rock, Bono said "I shouldn't really tell you this, but there's often a move in U2 to stop me playing guitar."
Why Can't Bono Play Guitar Anymore?
It's not his bandmate's protesting that led to Bono putting down his guitar, but rather a bicycle accident that he was in on 16 November 2016.
Though a bicycle accident doesn't sound very 'rock n roll', it was a very serious accident that will likely impact Bono for the rest of his life.
While enjoying a ride through Central Park, he swerved to avoid another rider and subsequently injured himself.
He was rushed to the emergency department at Weill Cornell Medical Center and immediately underwent a five-hour surgery.
Dean Lorich, the MD who was in charge of Bono's case revealed that he sustained numerous injuries from his "his energy bicycle accident".
A full medical statement was issued which detailed the severity of his condition. The statement revealed that his injuries included a facial fracture that involved the orbit of his eye, a three-fracture scapula injury, a distal humerus fracture, and a fracture to his fifth metacarpal.
When news of the severity of his accident broke, Bono revealed that a full recovery is expected but that he may never be able to play guitar again.
Rather than being devastated by this prognosis, he joked "The band have reminded me that neither they nor Western civilization are depending on this, I personally would very much miss fingering the frets of my green Irish falcon or my Gretsch guitars."
What Other Instruments Can Bono Play?
While his ability to play the guitar may never return, Bono is a deft musician when it comes to other instruments.
When the band was just starting out Bono began learning how to play the harmonica in an attempt to cover Neil Young's 'Heart of Gold'.
It's safe to say that his skills progressed over the years. Bono's impressive harmonica skills can be heard in the songs 'Trip Through Your Wires', 'Running to Stand Still', 'Desire', 'Love Rescue Me', and 'Slow Dancing'.
On top of being a skilled mouth organist, he is also a decent pianist — though he was a late bloomer in this regard. In 2006 the U2 frontman began taking piano lessons from his children's piano teacher.
Though he is by no means a seasoned pianist, he has undeniable skill. When the coronavirus pandemic emerged, Bono released a song dedicated to frontline workers called 'Let Your Love Be Known' which consists of his vocals and piano playing.