Kevin Durant is an American NBA player who is known for his friendly demeanor, generous spirit, and impeccable ball skills, but how do his singing skills compare to all of his other talents? Let's find out.
Kevin Durant can't sing, but he certainly can rap. Though by no means a professional, he has rapped alongside the likes of Travis Scott, LeBron James, and Wale and he has been name-dropped by the likes of Drake, Jay Z, and J.Cole.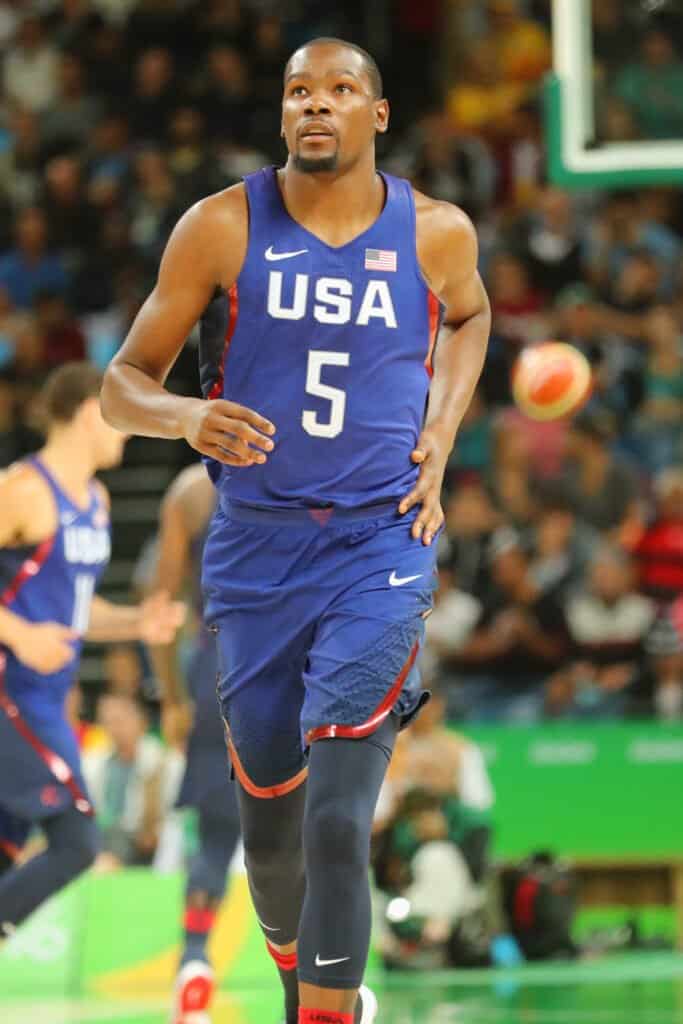 When it comes to rap music, Kevin isn't just a fan but someone who is pretty skilled at it. Let's find out more about who Kevin Durant is, what his rapping is like, and whether he has any other surprising skills his fans should be aware of.
Who is Kevin Durant?
Kevin was born on 29 September 1988 to Wanda and Wayne Pratt. He and his three siblings were raised by his mother and grandmother as his father abandoned the family for many years.
Wayne returned to the family when Kevin was 13 years old and began to take an interest in his basketball tournaments. By the time Kevin was in middle school, he measured in at 6 ft 0 in.
A devout Christian, Kevin only attended high schools that aligned with his religious beliefs. He attended the National Christian Academy, Oak Hill Academy, and Montrose Christian School.
In 2006, Kevin was regarded as the second-best high school prospect of the year, so he had his choice of universities.
Kevin chose to attend the University of Texas and had turned down offers from much bigger schools — with bigger programs — in doing so.
After a massively successful college career, Kevin continued to flourish. He went on to play for teams like Seattle SuperSonics, Oklahoma City, Golden State Warriors, and Brooklyn Nets.
He's one of the highest-earning basketball players in the world and has endorsement deals with brands such as Nike and Foot Locker.
Kevin Durant's Rapping
Kevin's ability to rap was first revealed to the public when he appeared as 'Velvet Hoop' in a comical Nike commercial for its line of Hyperizer shoes. He can be heard rapping in the middle verse of the song.
Then in 2017, a song written by Kevin and LeBron James was leaked. The song was called 'It Ain't Easy' and it was written for fun, but after the leaking, it was released in 2018.
When speaking to the Bleacher Report in 2020, Kevin said "I write rhymes sometimes. I've got a little scrapbook full of raps, I guess… It's fun to get off and get in the studio… That's a huge hobby. It's underrated how many guys have their own in-home studios as basketball players."
He's collaborated with Stephen Jackson, DeMar DeRozan, and Rudy Gay. He revealed, "I've got songs with just about, not everybody, but with a lot of people."
In addition to collaborating for fun with some pretty big sports names, his own name has been dropped by some of the most successful rappers in the world.
Kevin has been name-dropped in songs by Drake, J.Cole, Wale, Logic, and Jay Z. He describes himself as "A huge rap fan" and appreciates every mention.
Should Kevin ever decide to pursue a career in rap he already has his rap name picked out. Speaking to Republic World, Kevin revealed that 'Easy Money' would be his moniker.
What Else is Kevin Durant Good at?
You may have been surprised to discover that Kevin can sing almost as well as he can play, but there's more where that came from. This athlete is full of surprising skills.
Kevin has worked for 'The Players' Tribune' in two different roles. In 2016, he acted as a credentialed photographer for the Super Bowl 50 and has also been credited as a writer for their website.
The star is also a savvy businessman who owns a restaurant, runs a successful YouTube channel, and opened an investment vehicle company called Thirty-Five Ventures.
Through the company, he has invested in more than 40 ventures including Acorns, Robinhood, JetSmarter, Postmates, and Yoshi.
And finally, Kevin is also involved in the entertainment industry. He has appeared in the children's film 'Thunderstruck', a Lifetime movie called 'The Real MVP: The Wanda Pratt Story', and the TV series 'Billions'.
On top of acting, he's also tried his hand at producing and — so far — has six producer credits to his name. These productions include the documentaries 'Q Ball', 'The Offseason: Kevin Durant', and 'Basketball County: In the Water'.
Is there anything Kevin Durant can't do?