From Olympic gold medals to a multitude of NBA awards, professional basketball player Kevin Durant has managed to accrue a lifetime worth of accolades at the beginning of his career. Did he have time to fit in college whilst sinking hoops against the opposition in his NBA career?
Kevin Durant went to college, attending the University of Texas, where he stayed for one year before turning professional. Since he was only present for one year, Durant got an early start on his NBA career in place of a degree.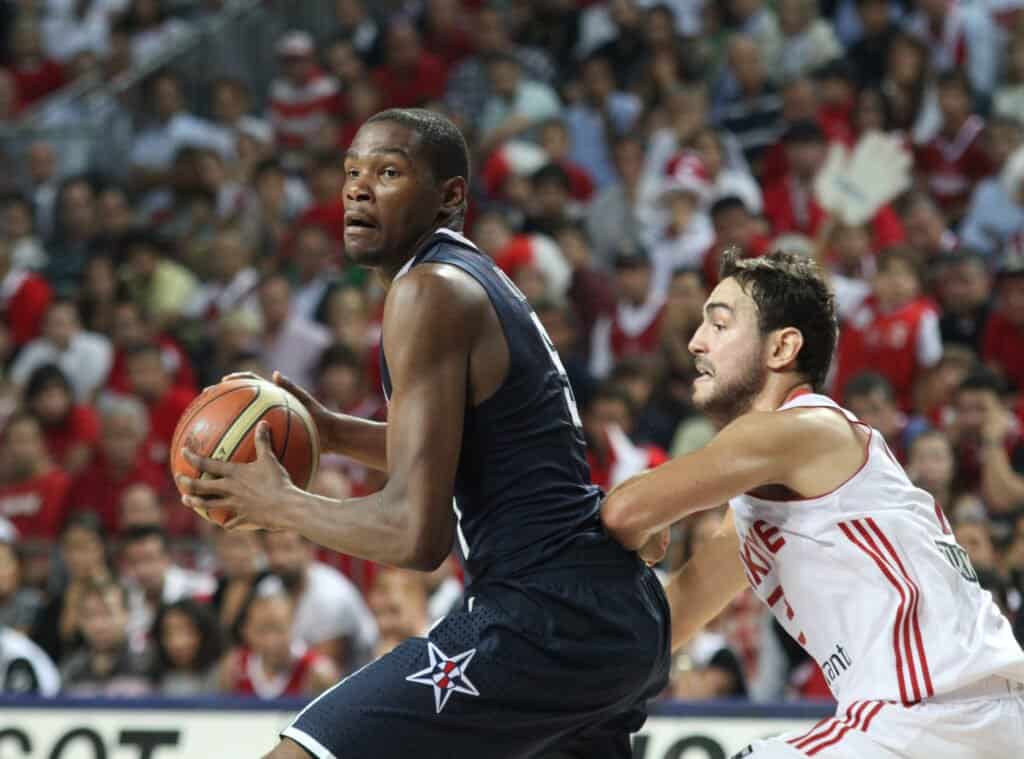 It might not be a course that everyone should consider, nor have the opportunity to pursue, but Durant's short stay at college turned out to be the best move for him. Don't let his short stay at the University of Texas make you think that he had no impact there, though.
As we will soon see, it wasn't luck that got Durant to the NBA.
A Must-Have Player
To say that Durant was a heavily sought-after player is an understatement. When he graduated from high school, he had so many options from colleges desperate to recruit him that he must have felt almost spoiled.
One half of the story to Durant's prized status was the skills that he had built up over his time at Oak Hill Academy. Known as a school that churns out hall of fame caliber players, Durant had the kind of competition and team rivalry that acts as a whetstone to the edge of ability.
Eventually, even that wasn't enough, however. Durant practiced like a man possessed, spending upwards of eight hours a day during holidays attempting to improve his game.
Durant stood out, not only for his skills which he had made to be unmatched by anyone in his age group but also because of the physical attributes that he possessed. Not only did he have the mindset and the work ethic, but he was also a staggering 6 foot and 9 inches by the time he finished high school.
Even in middle school, Durant was 6 feet tall. He may have been able to coast on his physicality without a suitable mentor, but perhaps the key to all these puzzle pieces falling into place for him was the guidance he received from his godfather, Taras Brown.
He was exposed to every position while playing, and learned the game inside and out, making him more than ready for the college level by the time recruiters and scouts started keeping an eye on him.
In The Spotlight
On the surface of things, it might not look as if Durant spent long enough at the University of Texas to build up any affection for the time that he spent there. Even though that's how it might look from an outsider's perspective, Durant's donation of $3 million speaks volumes about his true feelings.
Even though he may not have attained his degree, he did have his first year of basketball there, one that some say entirely elevated the bar of standard for what can be achieved by a freshman.
You can see evidence of this just by taking a quick peek at the points scored in the 35 college games that he played. He was breaking records, and anyone who played with him or saw him play was always gushing about his complete skill set and talented play.
He was the first freshman to ever win a National Player of the Year award in the NCAA, and it was becoming patently obvious that Durant was simply "too big" to be contained in the college scene for long.
Bigger Things
Almost as quickly as he had arrived, Durant was gone from the Texas Longhorns. Though it was likely a bittersweet affair for those on his team, to lose such a spectacular player so quickly, he went out in a blaze of glory with armfuls of trophies to boot.
He arrived in the NBA in 2007 and was snapped up as quickly as you could blink. The second pick in the draft, the Seattle SuperSonics were the team lucky enough to add Durant to their roster.
Both his decision to quit college and the SuperSonics' choice to draft him turned out to be fortuitous, as Durant ended up being rookie of the year. Doing that as a teenager put him on a list with the likes of Carmelo Anthony and LeBron James!