LeBron James is an American NBA player who is largely regarded as one of the best players to have ever hit the court. He's an expert at dunking, blocking, dribbling, passing, and point-guarding, but can LeBron James palm a basketball?
LeBron James can palm a basketball, and he can do so very well. His hands measure in at nine inches in length and 9.25 inches in span, so this — coupled with the fact that he's been playing basketball since he was just nine years old — makes him an effortless palmer.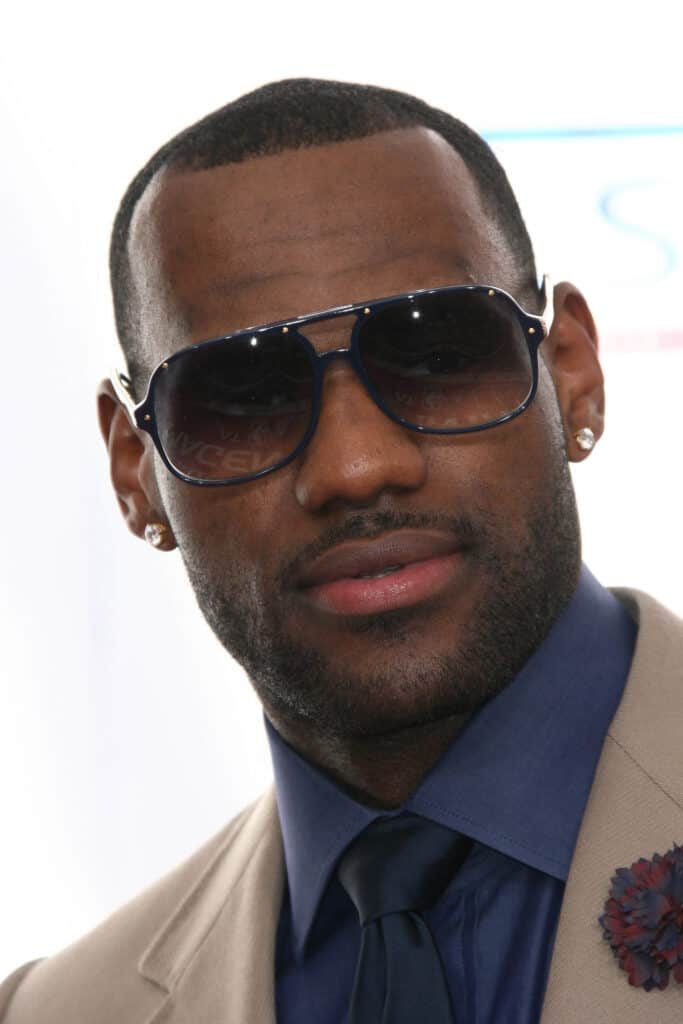 Palming the ball is not the easiest thing to do, but many NBA players can do so without breaking a sweat. Let's take a look at what palming is, how LeBron James manages to do it with such ease, and investigate some of his signature moves.
What Does it Mean to Palm A Basketball?
Most people know that palming a basketball essentially means that the player is physcially able to hold the basketball in the palm of their hand, using only the tips of their fingers to secure it in place.
But what people who aren't familiar with the rules of basketball may not be aware of is that it is a violation to palm the ball while on the court. In this sense, palming is defined as "when the player who is dribbling the ball allows the ball to come to a rest in their hand, or palm".
In a nutshell, palming is a type of carrying violation because gravity is not assisting the player to remain in control of the ball. Despite it being a violation, many basketball players have a habit of palming the ball.
Perhaps this habit could be viewed as a sort of flex because palming the ball is not the easiest thing to do. That's because palming the ball requires a very strong grip, a fair bit of technique, powerful hand muscles, and, well, a big hand.
While there is no official guideline, and of course there are exceptions to this informal rule, the minimum hand size requirement to comfortably and effectively palm a ball is 7.5 inches long, and 8 inches wide.
Let's find out how LeBron is doing in the hand size department.
LeBron James' Body Measurements
LeBron's hands measure in at nine inches in length, and 9.25 inches in span. In relation to his 6ft8 inch height, his hand length is average for his height, but his hand span is surprisingly narrow for someone as tall as LeBron.
For example, Connie Hawkins and Wayne Embry share the same height but have hand-spans of 11 and 12 inches respectively.
On the other hand — quite literally — Anthony Bennett is also 6ft8 inches tall, but his hands are too small to palm a ball. Other NBA players who can't palm the ball include Kevin Durant and Shawn Kemp.
LeBron might not have the biggest hands in NBA history, but his other measurements are impressive. He weighs approximately 242 lbs, and he measures in at 46 inches around his chest, 36 inches around his waist, and 17 inches around his biceps.
Overall, it's a combination of his above-average (off the court, that is!) hand length, his hours of practice coupled with years of experience, and his general basketball skill that make LeBron an expert palmer.
What is LeBron James' Signature Move?
While palming a basketball is by no means easy, and not everyone can do it, most NBA players can palm the ball so it's not too surprising that LeBron is effortless at it.
So what can LeBron do that makes him stand out from other players? Unsurprisingly, LeBron has many tricks up his sleeve that make him a formidable opponent out on the court, like his signature moves.
He's undoubtedly an incredibly skilled all-rounder, but certain moves of LeBrons are simply magnificent. LeBron is an expert at the Tomahawk dunk, and his cross-court passing ability is almost unrivaled, but it's his chase-down block that fans can't get enough of.
In a world full of signature moves like Hakeem Olajuwon's dream shake, Kareem Abdul-Jabbar's skyhook, Dirk Nowitzki's one-legged leaner, and Michael Jordan's fadeaway, LeBron's set of signature moves are simple yet effective.