Mark Ruffalo can often be seen chiming along to lyrics with castmates in interviews. So can the Incredible Hulk actor sing?
Mark Ruffalo has said that he cannot sing. Despite his claims, his inability has not stopped him from singing publicly anyway. He has joined in singing songs like 'Imagine' with other celebrities, 'This Land Is Your Land' at a political rally, and even 'When You Wish Upon a Star' for Robert Downey Jr.'s live Instagram feed.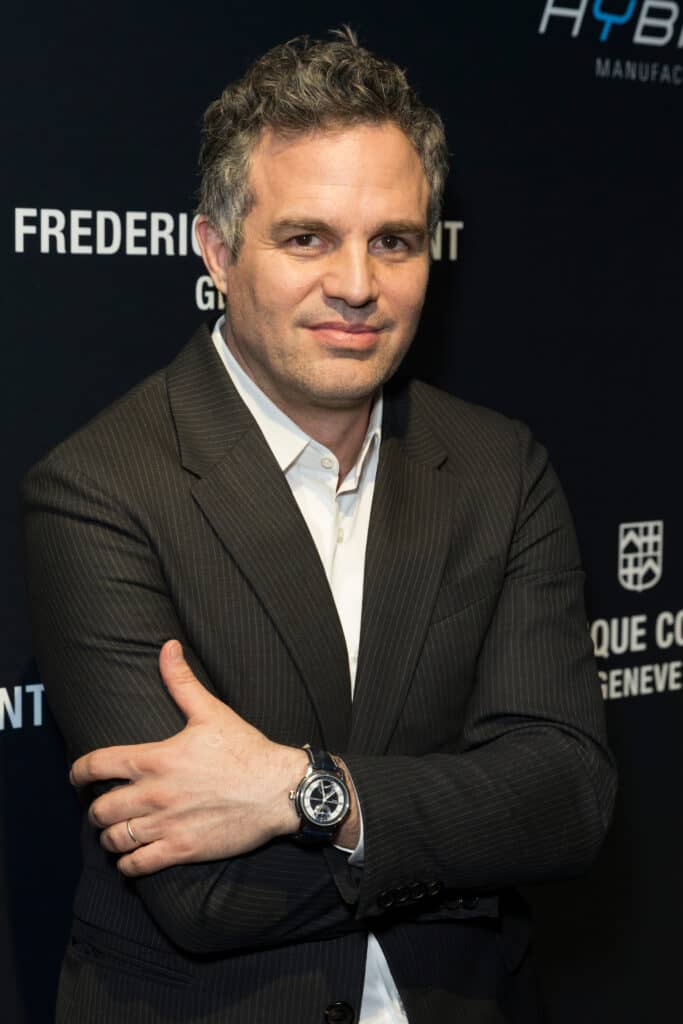 You can read more below about what Mark Ruffalo says about singing and the times he has sung.
Mark Ruffalo Says He Can't Sing
In more than one interview, Mark Ruffalo has said that he has virtually no singing capability. And, he's been asked more than once about it.
In 2017, Ruffalo did a roundtable with India's biggest independent news outlet, IANS (as reported by The Express Tribune). In the interview, he talked about how he watches tons of Bollywood films.
When asked if he would ever be apart of one he said that he can't sing and dance, but he could do a role that didn't require that. This wasn't the first time he had talked about his inability to sing either.
Ruffalo appeared in the 2013 film Begin Again. In the film, he played a songwriter who lands a major deal with a record label.
In an interview with Entertainment Channel (as reported by Film and TV Now) about the film, he went into even more detail about his lack of ability.
In the interview, he revealed an embarrassing story about a date he went on. He said he thought the date was going well until he put on some music.
Ruffalo put on an album by The Police and while he was enjoying some tunes, he started to sing along. His date apparently stared at him and then called him a dork; they never went out again.
Interviewers asked him if he sang at all for the film to which he said "I did sing in the movie but it was cut out. I think it might have been that bad. And I'm terrible at karaoke. I don't like it. It's not a pleasant experience for me. Or the audience."
That's some major self-doubt when it comes to singing. Is he actually that bad though?
Ruffalo Still Tries to Sing
Despite his own self-deprecation when it comes to his singing ability, Mark Ruffalo has graced the world with his singing voice on more than one occasion.
In March of 2020 at the beginning of the nationwide Coronavirus quarantine, Mark Ruffalo was one of many celebrities to be featured in an Instagram video that Gal Gadot posted. In it, everyone was filmed singing different lines from John Lennon's song 'Imagine.'
Ruffalo has also been very publicly vocal about his political viewpoints. Despite knowing he is not a talented singer, he got up in front of crowds at an anti-Trump rally in 2017 to sing part of 'The Land Is Your Land.'
On top of these two instances, the man who plays the Incredible Hulk has sung in countless Avengers interviews alongside other members of the cast. He and Robert Downey Jr. broke out singing 'Hooked On a Feeling' in the middle of an interview once.
He appeared on Robert Downey Jr.'s live Instagram video where he randomly started singing 'When You Wish Upon a Star.' And, he sang The Beatles 'Hey Jude' with RDJ, Chris Evans, and Chris Hemsworth in the middle of a photo shoot.
You can watch Ruffalo's serenade on RDJ's Instagram Live feed in the below YouTube video.
Singing May Sometimes Be Difficult for Mark Ruffalo
Nowadays, Mark Ruffalo seems to be a pretty good sport about singing even though he claims to be terrible at it. However, that may not have always been the case.
In fact, there was a time that Mark Ruffalo would have found singing quite difficult. This is because in 2001 a CAT scan found that he had an acoustic neuroma, which is a form of cancerous brain tumor.
Ruffalo had to have surgery to remove it and he was told that there were risks to the surgery. In an interview with New York Magazine, he said that the doctors told him there was a 30 percent chance he would lose function in the left side of his face.
That was exactly what happened after his surgery. He did eventually recover, but that impairment would have made it very hard for him to sing, let alone speak.