Wardell Stephen "Steph" Curry II is a pro basketball player. He is a starting guard for the Golden State Warriors. He is a three-time NBA champion and two-time Most Valuable Player. "Chef" Curry is considered the greatest shooter in NBA history. With his teammate, Klay Thompson, they are known as the NBA's greatest shooting duo, the "Splash Brothers".
Officially, Steph's hand size was never measured by the NBA and there are no pictures or videos documenting him palm a basketball. But this does not take away anything from the league's only unanimous MVP. In fact, his lack of freakish physical attributes makes his accomplishments more amazing.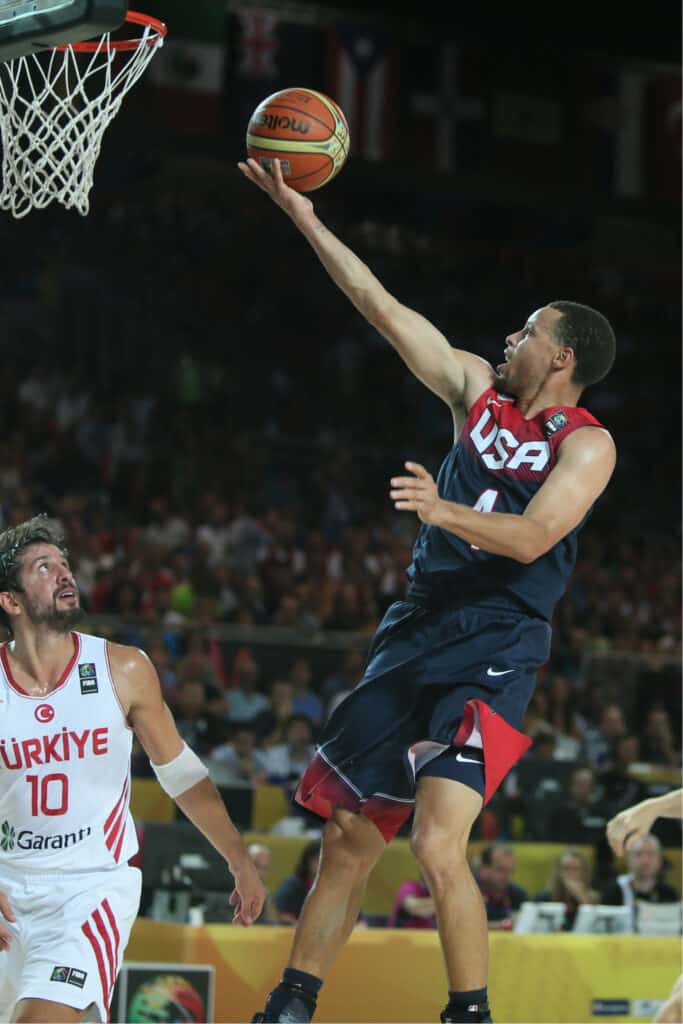 The NBA is where the world's best basketball players showcase their talents and skills and Steph is surely one of the most skilled to ever play.
Marksman Extraordinaire 
In today's NBA, 3-point shooting has certainly taken the game to a new level and Steph is the king.
This marksman extraordinaire, as he is often described by Stephen A. Smith, broke the all-time league record for 3-pointers made in 2021 surpassing Ray Allen. For a better perspective of this feat, Ray passed the previous holder, Reggie Miller, in his 15th season playing in the NBA. Steph did it in 13 years and he is still going.
Not only is Steph a deadly shooter, he is also efficient with a career 3pt average of 42.8% while Allen averaged 40%.
Not Just a Shooter
When the Chef gets cooking, he is very difficult to stop.
Good NBA defenses can adjust to guard his outside shooting but Steph is not one-dimensional. He is able to split defenses and drive in the paint with his spectacular ball-handling skills.
He truly works hard on this skill as seen in his pre-game routine. He can finish amongst the trees and with his high free throw percentage (career 90%), getting hit is almost an automatic and-1. That is getting three points the old-fashioned way. 
Steph may always have the green light but he is no ball hog. Adding to his shooting and finishing abilities, he is also a willing passer.
The Warriors brand of basketball is of player and ball movement–the ball never stops moving and players are constantly cutting and diving. This benefits Steph in that defenses cannot just camp on him since there will always be an open man.
Other NBA Greats Unable to Palm a Basketball
Being able to grip a basketball with one hand is not a measure of being great in the NBA. Kevin Durant, a 2-time NBA Finals MVP and Steph's former teammate, has famously admitted that he is not able to palm a basketball and he stands at 6'10".
This surely did not hinder KD's brilliance as he led the NBA in scoring four times. The basketball hall of famer, Charles Barkley was also unable to palm a basketball. His vicious attacks to the basket are almost always with two-handed dunks.
Get a Grip
On the other end, there are NBA greats who possess immense mitts. Most famous of them is Michael Jordan.
The NBA's GOAT is able to palm the ball with great ease as he feigns a pass or shot with only one hand. He also displayed this ability with his aerial assault of dunks.
His Royal Airness even switched hands in mid-air and made a lay-up thinking a wall of defenders would meet him as went up in the air during 1991 NBA Finals.
Another one is Julius Erving of the Philadelphia 76ers. In the 1976 ABA Slam Dunk Contest, "Dr. J" took off from just inside the free throw line, gripped the ball in one hand, raised it above his head and slammed into the hoop leaving his competition and fans in awe.
Of course, another unforgettable play is during the 1980 NBA Finals against the LA Lakers. Julius drove to the basket along the baseline and as the defense collapsed on him, he palmed the ball using his right hand and he pulled it behind the backboard to avoid defenders and scooped it up the other side for a reverse lay-up.
In today's NBA, the most dominant player is Giannis Antetokounmpo. The "Greek Freak" stands at 6'11" and with outstretched arms, he has a 7'3" wingspan. The two-time NBA Most Valuable Player has a measured hand span of 12 inches and 9.85 inches hand length. He is able to palm the basketball easily as he punishes the rim with his relentless attacks.
Last but not least is Kawhi Leonard. Aptly named "The Klaw", during Game 5 of the NBA Playoffs against Boston in 2019, he swung into the post and caught a pass. In one motion, he faked a pass to his teammate as he gripped the ball with one hand. With plays like these and his dominant performance in the 2018-2019 NBA Finals, the comparisons to Michael Jordan is well-deserved.