Lefties have been found to have advantages in some sports. In boxing and baseball, it's more obvious because it's more difficult to adjust where the punch or pitch will come from. The case is the same with the NBA. A right-handed player going up for a jump shot is more comfortably contested by a left-handed defender. On the other side of the ball, a lefty shooter pulling up from a step-back move will create so much space and the right-handed defender will be forced to come across the shooter's body just to contest and ultimately increase the risk of fouling the shooter. What is the Golden State Warriors superstar guard's dominant hand? 
Steph Curry is right-hand dominant. He, however, is a highly-skilled player with the ability to finish lay-ups with either hand and his ambidextrous dribbling has broken a few ankles. When really needed, he has also been seen to shoot with his left hand.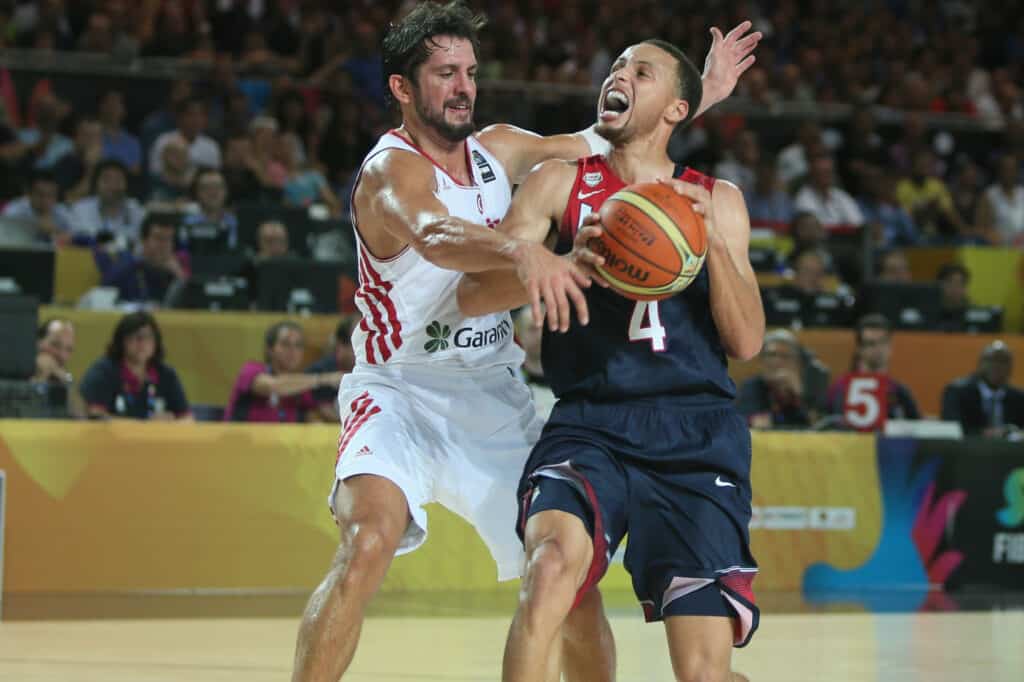 It has been reported that about 10% of the world's population is left-handed and the NBA is close to that number at 9.1%. Let us see how lefties stack up in the NBA.
Greatest lefties
There are only a few lefties in the game and fewer still to have made an impact. Here are some of the NBA's best left-handed players in no particular order.
James Harden
James Harden became the NBA's southpaw king when he passed David Robinson in career points. The Beard is one of the strongest players on the offensive side of the ball.
He is a threat from the 3pt line, a strong attacker of the basket, and is a brilliant passer. James also made famous the step-back move to create space from the defender and shoot a 3-pointer.
Harden was drafted by the Oklahoma City Thunder in 2009-2010 and was picked up by the Houston Rockets in the 2012-2013 season. As a Rocket, this southpaw led the NBA in scoring for three consecutive seasons, from 2017-2018 through 2019-2020. James now plays for the Philadelphia 76ers sharing the stage with Cameroonian center, Joel Embiid.
David Robinson
David Robinson was the San Antonio Spurs' centerpiece for more than a decade. The Admiral was a product of the United States Navy and was drafted in the 1989-1990 season.
He made an immediate impact averaging 24.3 points, 12 rebounds and 3.9 blocks per game playing the whole 82-game season. He is a two-time champion and was named NBA MVP in 1995.
Bill Russell
One of the greatest competitors and definitely one of the greatest of all time is Bill Russell. He is an 11-time NBA champion and 5-time league MVP. He led the league in rebounds for five seasons and this was during the time of the unbelievable numbers put up by Wilt Chamberlain.
Mr. Russell, as current NBA stars refer to him, was drafted by the Boston Celtics in the 1956 NBA Draft. He was a tremendous athlete as he was ranked 7th best high jumper in the world in 1956.
Bill was a defensive specialist however the NBA only started counting blocks in 1973, five years after he retired as a player.
Mixed-handedness in the NBA
Now to throw in a curveball – mixed-handedness or cross-dominance. It is when a player has a dominant shooting hand but uses the opposite hand for other activities outside of basketball.
Lebron James
One good example is Lebron James. This NBA great is right-handed when shooting the basketball but does everything left-handed outside of basketball. King James has mentioned that he developed this because he idolized right-handed shooters growing up and emulated their forms with their dominant hand.
The current Los Angeles Laker has been the face of the NBA since being drafted by the Cleveland Cavaliers right from high school in the 2003-2004 season. He is a four-time NBA champion and four-time NBA MVP. 
This 19-year veteran is a statistical marvel. He is currently second in career scoring with 37,062 behind Kareem Abdul Jabbar at 38,387. His career per-game averages are 27.1 points, 7.5 rebounds, and 7.4 assists.
Larry Bird
Another cross-dominant player is Larry Bird. The Hick from French Lick is a right-handed shooter but writes with his left. He had a legendary left-handed game where he made half of his shots using his left hand.
Larry Legend was drafted in 1979 and played his whole career with the Boston Celtics. He is a three-time NBA champion and three-time NBA Most Valuable Player. For his career, he averaged 24.3 points, 10 rebounds, and 6.3 assists.
Who wins, the right or the left?
Greatness is well represented on both sides and whether there is a clear advantage, remains to be seen. Just one thing is sure: all of us fans are to benefit from their display of greatness.