The Black Eyed Peas are known for using autotune in their music to do voice manipulation and sound effects to create a unique sound. A lot of the time will.i.am's voice appears to be autotuned.
Will.i.am cannot sing well. He has said that he struggles with singing and leans heavily on the use of autotune to make himself sound better. However, he has said that he is constantly trying to improve his singing ability with practice.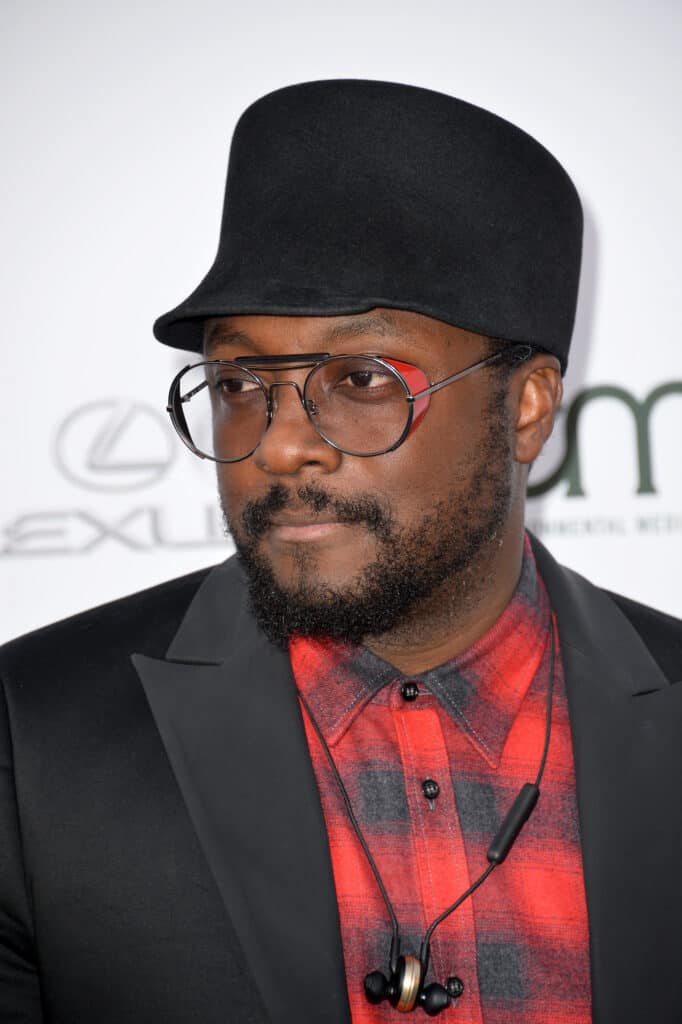 Scroll down to read more about when will.i.am admitted he can't sing well and his time spent as a coach on The Voice UK.
Will.i.am Can't Sing Well
In 2012, will.i.am appeared on Alan Carr: Chatty Man where he revealed that he can't actually sing very well. He also said that he relies heavily on autotune to make him sound better.
This doesn't come as a huge surprise because Black Eyed Peas used autotune to do interesting voice effects and voice manipulation for some of their songs.
His revelation with Alan Carr was interesting because he was a judge on The Voice UK where he helps aspiring singers have a chance at becoming famous. It actually made him a bit more relatable because he is a successful musician who struggles with his own singing.
As he told Alan Carr (reported by The Daily Mail) "'The computer allows me to make music, sing it myself, and not wait around for a singer to come along and sing the songs. The computer allows me to execute a lot of my ideas at the speed that I think them so that's why I lean to the autotune."
Will.i.am also elaborated that he thinks it is difficult to find someone who is actually good at singing and can also write good songs. As we all know, William Adams aka will.i.am is great at writing songs.
He also happens to be a fantastic coach on The Voice UK.
Will.i.am On The Voice UK
While some may wonder why will.i.am is a judge on The Voice UK since he can't sing very well, he has proven to be a great coach. He is also the only coach who has been on the show for all ten seasons.
In season 3, he coached Jermaine Jackman to win the show, which also happened to be will.i.am's only win on the show. However, he has coached four other contestants to the runner-up position.
You can watch Olly Murs and will.i.am performing Olly Murs song 'Moves' on The Voice UK in the below video.
His winning contestant had a musical career that was a bit of a flop. Jermaine Jackson's debut album sold only 613 copies in its first week on the charts. Due to this failure, he went back to school for politics and ended up founding Fair Futures Commission.
However, Jackson's limited success was also just one in a long line of career flops by the winning contestants of The Voice UK. None have really been able to produce a chart-topping hit or have a career that is a mass success.
In 2017, will.i.am attributed the only mild success of The Voice UK winners to poor song choice. He told Digital Spy that the feeling behind the songs these artists have chosen is 'Whatever.'
It was the 2017 season that saw Polydor Records enter the mix for giving the contest winners a record deal. Will.i.am had been working with Polydor for 15 years and said he felt confident that they would be able to help winners actually have success.
However, the first contestant to be signed under Polydor, Mo Adeniran, was dropped by the label only a year after being signed. The 2018 winner Ruti Olajugbagbe was also dropped by Polydor a year after winning.
Will.i.am Still Puts Out Great Songs
Even though he can't sing well, will.i.am is known for writing some amazing music for his group The Black Eyed Peas. He has written some massive hits alongside longtime group member Allan Pineda aka apl.de.ap.
With the group's continued success, it is certain that will.i.am will continue to write his songs and sing them. Even if it is with a little help from the computer.