Frank Sinatra is one of the most influential, most influential, and most crazy popular singer-songwriters in the world and who has ever lived. He's also one of the best-selling music artists in the world, having sold over 150 million records globally. Geez. Question though, did he play piano himself?
Frank Sinatra isn't known to have played the piano. Sure, there are times where he played piano in his own time or while mucking around and experimenting in the studio, but he never played anything elaborate and stuck with his amazing main talent of singing.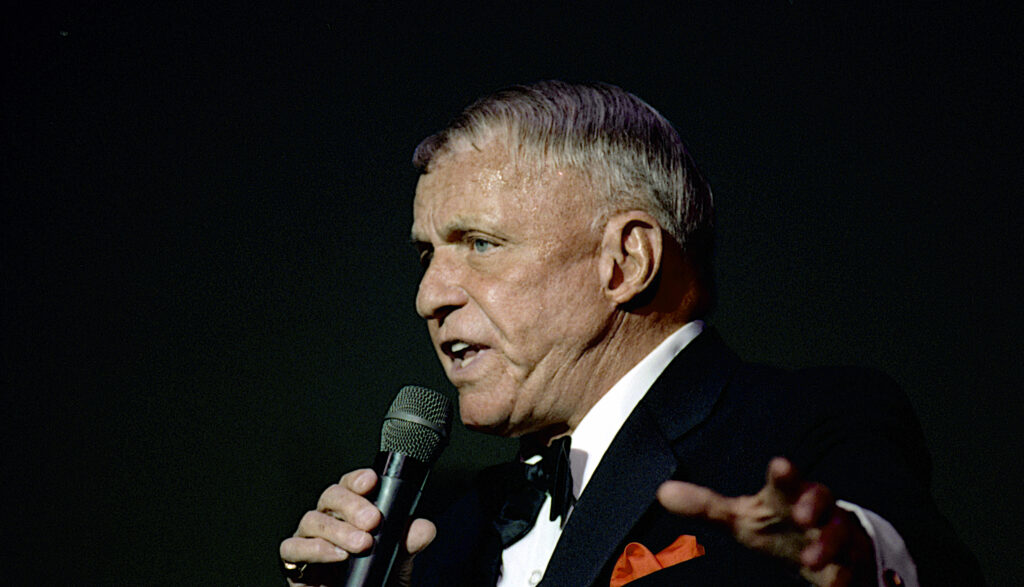 For a musician, Frank's relationship is an interesting one and one we're going to explore today in-depth. Ready to dive into the mind of one of the greatest musicians of all time? Strap in. Let's go.
The Musical Mind of Frank Sinatra
We're going to dive right in.
Frank's main asset he had when it came to making music was, of course, his voice. He had an incredible voice that melted the heart of millions, which is quite interesting to consider since Frank was a heavy smoker for most of his life and didn't really have the range that other singers have or have had.
Fortunately, he worked with a man called Nelson Riddle back in 1957, for which he released the show stopping tracks like Close to You, A Swingin' Affair, and more. Throughout Frank's career, this kind of music is referred to many as the 'golden era,' and for a good reason.
The music was way ahead of its time and known as being 'extremely progressive.' Working with Frank, Riddle helped produce the songs and adapted the notes and key to suit Frank's singing style, and is widely regarded as being an essential part of Frank's success.
Regarding instruments, Frank played none, or at least none competently, and didn't play the instruments you can hear on his music. He only sang. He didn't play piano, although there are a few scattered sources that suggest he may have played ukulele from time to time.
The Frank Sinatra You May Not Know
Here at CelebAnswers, we like looking into the weird and wonderful sides of celebrities because it's so easy to talk about all the common knowledge stuff. Yes, Frank was a good singer, and he had an amazing musical career, but what else? What made Frank into the man he was?
Well, did you know that Frank's entry into this world, literally from the day he was born, was not a pleasant one? He was born on December 12th, 1915, in his parent's kitchen in New Jersey. He was delivered with forceps, and the doctor declared him a stillborn.
Thinking this to be the case, the 'stillborn' Frank was placed on the counter, and his mother was medically attended to.
Of course, Frank wasn't stillborn and was very much alive. His grandmother, who was also present, actually picked up Frank's body, gave him a little slap on the back, and ran him under the cold water tap. Crazy to think that if this hadn't happened, the entire music industry would not have been defined in the way it is today.
What's more, the forceps used on Frank at birth didn't leave without leaving their mark. The forceps left deep and prominent scars on the left side of Frank's face, cheek, ear, and neck, which stayed with him throughout his life.
The scars were so prominent that Frank actually had the nickname 'Scarface,' which needs no explaining. Frank was very self-conscious of this and how he looked. Even as Frank grew up, he wore makeup to hide the scars and draw less attention to them and even wore shoes that made him come across as being taller.
For someone who literally had the 'Sinatramania' named after how popular he was becoming and so quicker, it's crazy to think how someone could have such deep-running insecurities. He even paid some audience members in his original shows $5 to scream for him. He even ran auditions to find girls who screamed the loudest!
Sadly, Frank's personal life outside of being famous was hard work. He attempted suicide several times, one of which consisted of him laying his head on a stove and turning the gas on. He was later found by his manager crying on the floor.
While insanely famous, it's important to remember the pressures this can create on one person and how much of a toll it can take on their personal life. Eventually, Frank died in 1998 due to a heart attack, which stopped the world for a moment.
Frank is forever immortalized through his music and will always hold a very special place in our hearts. Rest in peace, Frank. You brought wonder to the lives of so many, even if it was hard to see at times.