Bernard Jeffrey McCullough, popularly known as "Bernie Mac," was an African-American comedian and actor. He was born in Chicago, Illinois on October 5, 1957. He got his start in stand-up comedy and would later successfully venture into TV and film.
Bernie Mac had only one child, Je'Niece McCullough, with wife Rhonda Gore. Rhonda and Bernie were high school sweethearts who got married in 1977.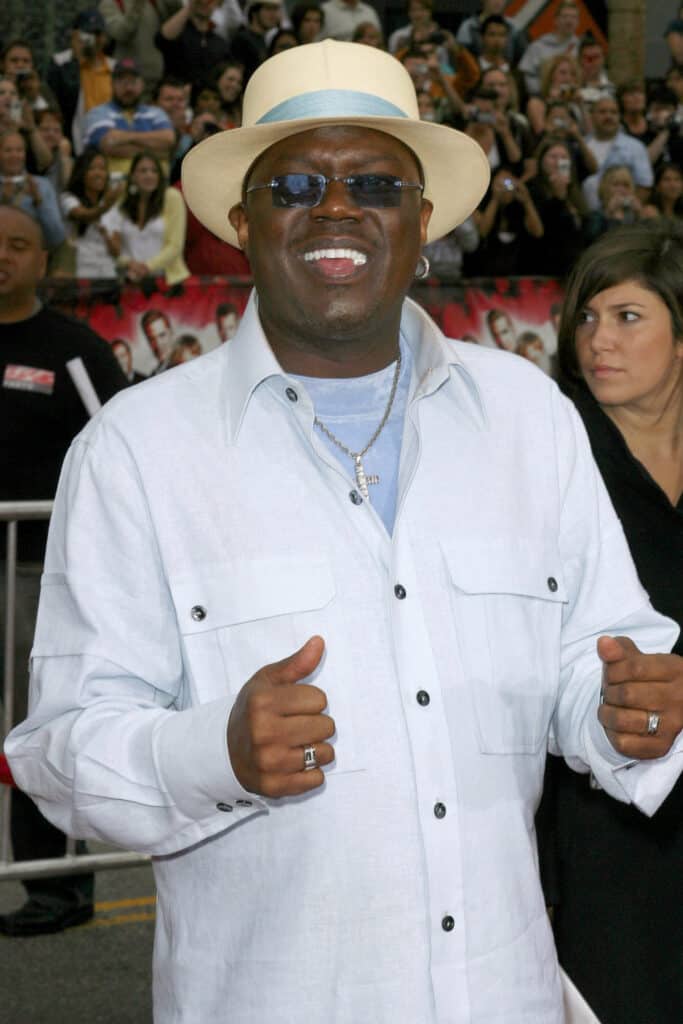 In this post, we'll delve into Bernie Mac's early life, career, and legacy.
Early Life
Raised by a single mother, Mary McCullough, on the South Side of Chicago, Bernie grew up rarely seeing his father, Jeffrey Harrison.
He had an older brother and a slew of extended family, which included his grandparents, uncles, aunts, and cousins. His grandmother, whom they fondly referred to as "Big Momma" became a grounding force in his life and kept him and his cousins in line.
They lived together in a two-bedroom apartment on the second floor of a storefront church, the Burning Bush Missionary Baptist Church, where his grandfather was a deacon.
When he was 4, he heard his mother crying in the living room but was unable to comfort her. Playing on the TV was a Bill Cosby comedy special which made his weeping mother laugh. Inspired by this, young Bernie told her, "That's what I'm gonna do. I'm gonna be a comedian so you never have to cry again."
Family tragedies struck as Bernie lost his mother to cancer in 1973, and his brother to a heart attack in 1974.
In 1975, while attending Chicago Vocational High School, he would meet the love of his life, Rhonda Gore. They would later get married on September 17, 1977, and have a daughter, Je'niece on January 21, 1978.
With a family to feed, Bernie had to put his comedy dreams on hold and became a janitor for General Motors. After five years, he was let go from the company due to corporate downsizing.
He would then take a string of odd jobs from moving truck driver to fast food restaurant manager. In his spare time, he volunteered as an athletic director at the local community center.
Bernie decided to try to stand up comedy again performing at local comedy venues but struggled to find his audience during the early 80s due to restrictions on sex jokes and profanity.
Sadly in 1985, Bernie would also lose his grandmother who was battling diabetes but he showed resilience by channeling his grief through humor by telling jokes at her funeral though its reception by his family had been mixed.
Stand-up Career
Bernie's big break came in 1990 when he won first place in the Miller Lite Comedy Search hosted by Damon Wayans.
The beer-sponsored competition led to an appearance on HBO's Def Comedy Jam, a series known for its unforgiving audience which didn't hesitate to boo or heckle aspiring comedians they found to be unfunny.
During one of the shows, its host Martin Lawrence was unable to pacify an escalating aggressive crowd.
Bernie then burst onto the stage and shouted what has now become his most legendary catchphrase, "I ain't scared of you muthaf***as!" much to the audience's surprise and sheer delight. His brash and unapologetic humor further launched his popularity throughout the next decade.
The Kings of Comedy Tour
In 1998, Bernie Mac joined fellow comedians Steve Harvey, Cedric the Entertainer, and D. L. Hughley on The Kings of Comedy tour across the United States.
It earned $18 million that year and $19 million the following year making it the most successful comedy tour at the time. In 2000, the cultural phenomenon was immortalized in the Spike Lee documentary The Original Kings of Comedy, which documented the February 26 and 27, 2000 shows of the said tour.
The film's estimated budget was $3,000,000 and made a total gross of over $38 million at the US box office.
The Bernie Mac Show
One of Bernie Mac's most popular routines on The Kings of Comedy tour was about his tough-love approach to child-rearing.
This became the premise of Fox's The Bernie Mac Show, where he played a fictionalized version of himself as he and his wife raise the three children of his drug-addicted sister while she goes through rehab.
It ran for five seasons, totaling 104 episodes. Bernie was honored by the NAACP Image Awards for Outstanding Actor in a Comedy Series in 2003, 2004, 2005, and 2006.
Film Career
Bernie's most notable film role was as streetsmart hustler Frank Catton in Steven Soderbergh's 2001 reboot of Ocean's Eleven whom he reprised in its sequels, Ocean's Twelve and Ocean's Thirteen.
He also "replaced" Bill Murray as Bosley in Charlie's Angels: Full Throttle due to the latter's on-set issues with Lucy Liu. He also played the lead role of Stan Ross, a talented but aging baseball player in Mr. 3000.
Mac's other films included Mo' Money, Booty Call, Friday, B*A*P*S, Life, The Players Club, Head of State, Bad Santa, Guess Who, Pride, Soul Men, and Transformers.
His last three films were posthumously released Madagascar: Escape 2 Africa and Soul Men in 2008 and Old Dogs in 2009.
Death and Legacy
Bernie passed away on August 9, 2008, after a long battle with respiratory illnesses caused by Sarcoidosis, a rare pulmonary disease that causes inflammation in organs such as the lungs and lymph nodes.
He is survived by his wife, Rhonda, and daughter, Je'niece.