Doja Cat has been amazing her fans since she made her debut in 2016.  The artist also didn't hesitate in collaborating with top industry experts and dishing out tunes that eventually became anthems. She won many awards including one of the most important ones for musicians – the Grammys.
Doja Cat won a Grammy Award in 2022 for her song Kiss Me More.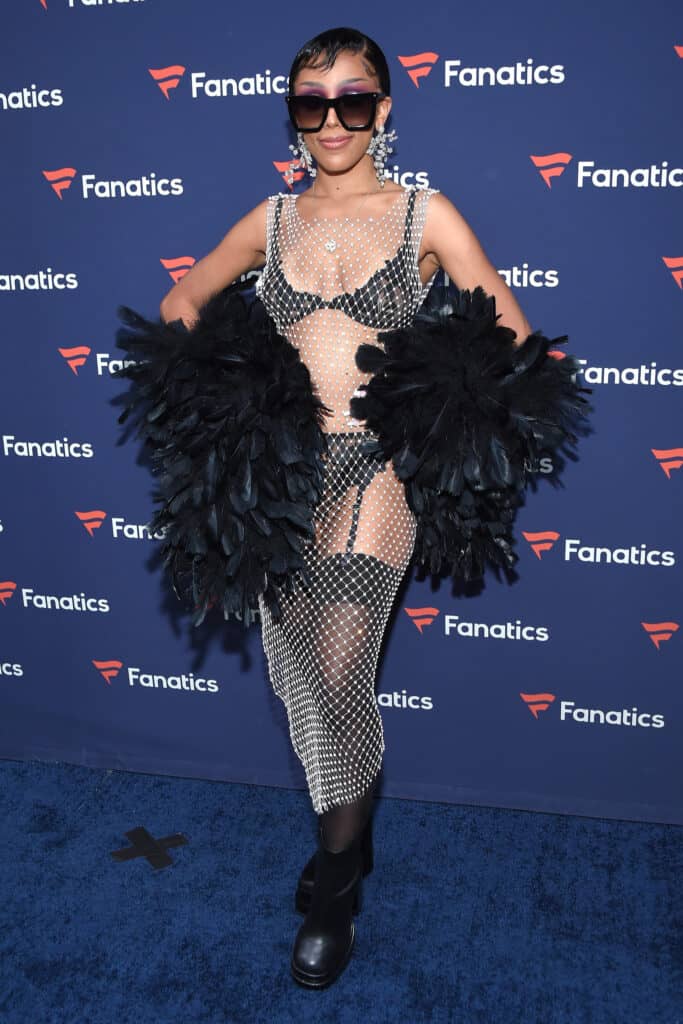 The singer and rapper entertains fans with her voice, dance moves, and funny tweets. Here's a brief on Doja Cat and her Grammy award.
Who is Doja Cat?
Doja Cat's real name is Amala Ratna Zandile Dlamini and she was born to a Jewish-American mother and South African father.
Born on October 21, 1995, the singer comes from an artistic family. Her mother is a graphic designer while her father is an actor who starred in the South African classic, Sarafina.
When Doja Cat was younger, she learned about Hinduism and some Indian traditions while living in a commune in Santa Monica.
However, she didn't feel like it was giving her the opportunity to truly be a child – more like she felt her childhood was being stolen. The family returned to California in order to live a "normal" childhood but then, she and her brother experienced harsh racism where they moved.
When she was 16, her aunt gave her vocal coaching for her to audition at an art school in Los Angeles. The singer got into the school but dropped out a few years later to pursue a career in entertainment. Doja Cat already took dancing lessons, and coupled with her singing abilities she was equipped to break into the entertainment scene.
The major reason behind her dropping out of school was because of ADHD (attention deficit hyperactivity disorder). It made her feel out of place and stuck.
How did Doja Cat become popular?
Doja Cat had been around since 2012, creating music for SoundCloud. RCA records discovered the artist and she signed a deal with them. She was 17 then and had hit singles like So High.
The singer rose to prominence in 2018 with her hit, Mooo!
The song was a viral sensation on YouTube and garnered her millions of fans. 
Why did Doja Cat win a Grammy?
The 2022 Grammys was one awards show that many people looked forward to because of the incredible lineup of nominees. Doja Cat was nominated in the Best Pop Duo/Group performance for her collaboration with SZA in Kiss Me More and honestly, it was a well-deserved nomination.
In that same category were other A-list singers like BTS, Lady Gaga and Tony Bennett, Justin Bieber and Benny Blanco, and finally, Coldplay. These artists had released tracks that people had on repeat and many fans of the Grammy Awards weren't expecting that Doja Cat and SZA to win.
The Best Pop Duo/Group performance category is typically awarded during the pre-show. However, producers changed that for the 2022 awards show and decided to have that segment on the live show. Fans speculated that the producers made this move in favor of the BTS crew.
BTS is a band that comprises seven men who managed to bring K-Pop to global relevance. They had been nominated twice before 2022 for the same Best Pop Duo/Group Performance and lost. Perhaps the idea was to televise their first win as a sign of acceptance of their genre in American culture.
To the surprise of many, everybody in the category lost to Doja Cat and SZA. The singer went for a quick bathroom break and had to run on stage to receive her award! Despite being a person that doesn't celebrate significant wins, the singer broke down in tears as she received her award.
It was truly a dream come true for her and she didn't hesitate in letting the world know.
What is Doja Cat's net worth?
After RCA Records discovered Doja Cat in 2012, she signed a $150,000 deal with the label. However, her salary increased to $100,000 which means that she made over a million dollars annually.
It's important to note that this amount wasn't inclusive of her endorsement deals and YouTube earnings.
In 2021, she was also an ambassador for Pepsi and paid homage to Grease, a musical. She earned around $25 million from her partnership with Pepsi and CandyCrush.
Her earnings that year also got her a spot on Forbes' list of 2021's top hip-hop earners. We should also mention that she was the only female who made it to the list because of the impossible earning gap between genders in the entertainment industry.