Mark Cuban is an American billionaire who is known for being a television personality, investor, entrepreneur, author, and the proud owner of the Dallas Mavericks basketball team. His love of basketball is evident, but can he play the sport?
Mark Cuban has never played professional basketball, nor is there any record of him playing basketball in high school or college, but he played the game when he was a child. It was his desire to buy a new pair of basketball shoes that introduced him to the world of business when he was 12 years old.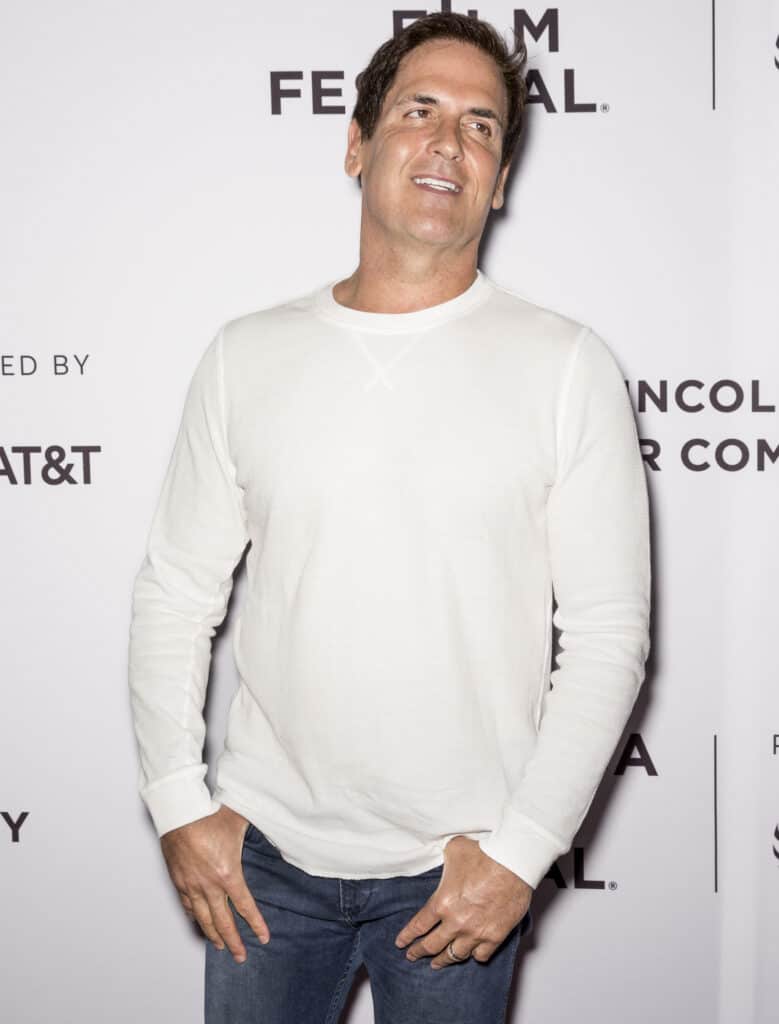 He's an outspoken billionaire with as much money as he has sense. Let's take a look at Mark Cuban's ability to play basketball, how his passion for the sport has earned him millions, and what other sports he has an interest in.
Did Mark Cuban Play Basketball When He Was Younger?
Today Mark is not shy to hit the court with the Dallas Mavericks but does so only for fun and as a form of exercise.
By all accounts, he seems like a natural — if rusty — player, which leads many people to wonder whether he played the sport in his younger years.
The short answer is yes. Mark famously got his introduction to the world of business when he was 12 years old and wanted to purchase a new pair of basketball shoes.
When Mark asked his father, Norton Cuban, for the money needed to purchase these new basketball shoes, he was told that his current shoes were sufficient and that if he wants new shoes he'd have to buy them himself.
So that's exactly what Mark did. He went door-to-door selling boxes of garbage bags with an attitude of "Who's going to say no to a 12-year-old kid, right?" and raised the money to buy new basketball shoes.
As it turns out, that was not going to be the last time Mark's interest in basketball would turn into a business idea…
Mark Cuban's Profitable Passion for Basketball
After a brief stint at the University of Pittsburgh, Mark transferred to Indiana University to get his Bachelor's Degree in Business Administration. It was here that he met and befriended Todd Wagner.
The friends graduated in 1981 and went their separate ways before reconnecting in 1995 and starting a company called Audionet in order to broadcast Indiana Hoosier college basketball games.
The company, which was later renamed Broadcast.com, was a resounding success. Just four years after its inception it had more than 300 employees and made USD $13.5 million in 1999's second quarter.
Broadcast.com's primary focus was still on broadcasting basketball and other sporting events but eventually branched out to cover presidential nominating conventions, the first live stream of Victoria's Secret Fashion Show, and more.
In 1999, Broadcast.com was sold to Yahoo! For USD $5.7 billion, making Mark and his partners overnight billionaires.
Mark is also a partner in 'Synergy Sports Technology', which is a web-based basketball scouting and video delivery tool.
In addition, he's published two books; one a children's book called 'Let's Go, Mavs!' and the other 'How to Win at the Sport of Business: If I Can Do It, You Can Do It.'
Does Mark Cuban Own a Basketball Team?
These days, Mark is known for being the hands-on owner of the NBA's Dallas Mavericks. On 4 January 2000, he purchased a majority stake from then-owner H. Ross Perot Jr. for USD $285 million.
When he first bought the team, it had nothing to do with money. He told CNBC Make It that purchasing the team, "Never crossed my mind as an investment. I did it because I love basketball."
Under Mark's leadership, the team improved drastically and its worth has skyrocketed to USD $2.3 billion.
Mark is praised for the active role he plays as he's known to sit in the stands next to fans wearing Mavericks apparel, he knows court rules inside and out, and he is not shy to contest referee's decisions.
What Other Sports Does Mark Cuban Like?
Basketball seems to be Mark's driving force, but it's not the only sport he is interested in. As it turns out, Mark is a fan of sports in general.
He's publicly spoken about purchasing a Major League Baseball team and has attempted to at least three times, according to records. Over the years he's expressed interest in purchasing the Chicago Cubs, Texas Rangers, Los Angeles Dodgers, New York Mets, and Pittsburg Pirates.
Mark also has an interest in the NHL and attempted to purchase the Pittsburgh Penguins back in 2005. In addition, Mark has appeared in several WWE specials as a guest host and is a bondholder in UFC's parent company, Zuffa.
The savvy businessman has invested in numerous sports-related startups including Unikrn, Art of Sport, Underdog Fantasy, World 1 League, and Bala.