When the king and queen of country music split in 2015, country music fans were shocked. What exactly happened to make things turn sour so fast?
Miranda Lambert did not cheat on Blake Shelton and Shelton did not cheat on Lambert as far as anyone knows. Both have accused the other of cheating but with no solid evidence. The two had spent most of their marriage as long-distance which only made matters worse.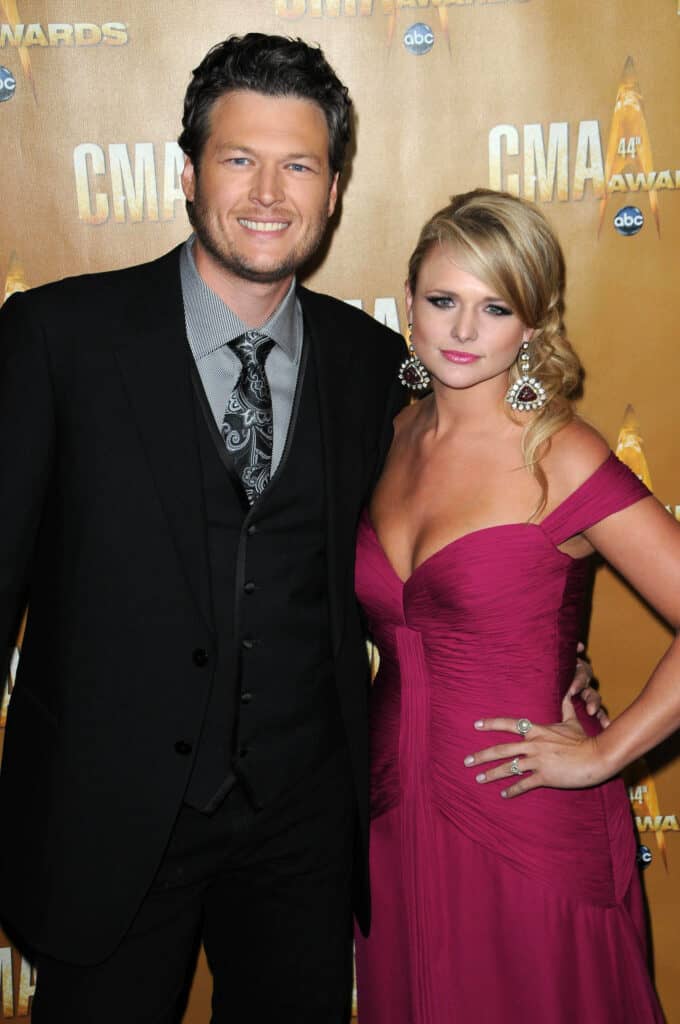 You can read more below about Miranda Lambert and Blake Shelton's relationship, their split from each other, and where they are now.
Miranda Lambert and Blake Shelton's Relationship
Lambert and Shelton met in 2005 when they performed for CMT's 100 Greatest Duets concert. They performed the song 'You're the Reason God Made Oklahoma' together.
The sparks flew between the two and the chemistry that was building was crazy. Then they ended up dating shortly thereafter. That all seems fairly innocent right? Not exactly.
Blake Shelton was married at the time to Kanette Gern and Miranda Lambert was engaged to another country music singer Jeff Allen McManus. It was after their meeting that Shelton got divorced from his wife and Lambert broke off her engagement.
From there the two started dating. While this was really scandalous at the time, it is how a lot of people end up meeting but it isn't exactly a solid foundation to start a relationship on.
Miranda Lambert and Blake Shelton ended up dating for five years before Blake popped the question. He did everything in a very gentlemanly way even calling her father to ask for his permission to marry his daughter.
They tied the knot on May 14, 2011, on a ranch in Texas. Shelton even took a break from his work so that they could spend the first month of their marriage completely to themselves.
However, after that, it was back to work. Blake Shelton went back to his work commitments and Miranda back to hers and they spent half of their time apart from each other. This was because Shelton had to live in LA part-time for his work on The Voice, meanwhile, anti-Tinseltown Lambert refused to move.
It appears that the two didn't want to make concessions for each other in their relationship. On top of that, looking at old interviews you can see that there were some red flags.
One was that Shelton told interviewers that he had made a sport out of pranking his wife. It wasn't little harmless pranks either. He said that one prank involved lying to Lambert that her dog was missing and letting it go on for ten minutes before revealing it was a joke.
While some people may think that's cute, in our opinion that's a pretty mean thing to do to someone you love. On the flip side, Blake Shelton had said that he was excited to have kids but Miranda Lambert seemed hesitant in wanting to start a family.
You can watch the below video from Nicki Swift that highlights all of the issues with the Shelton Lambert marriage.
Shelton & Lambert Divorce
On July 20, 2015, Miranda Lambert and Blake Shelton announced that they would be divorcing. They had been together for ten years and married for over four at this point.
It appears that it probably wasn't just one thing that eventually led to Miranda Lambert and Blake Shelton divorcing but rather a combination. While neither of them appears to have cheated, during their very public divorce both accused the other of doing so.
When your relationship was initially founded on near infidelity, it can lead to a lot of mistrust later on in the relationship and that is what could have led both to accuse the other of cheating.
Either way though, both Blake Shelton and Miranda Lambert have moved on with their love lives. Shortly after their divorce was made public, Blake Shelton bonded with fellow The Voice coach, Gwen Stefani.
Stefani was going through a rough separation from her now ex-husband Gavin Rossdale. Shelton and Stefani were able to support each other and quickly fell in love.
Miranda Lambert has dated a few different men since her divorce. However, she shocked the world when she announced she had secretly married her boyfriend Brendan McLoughlin in 2019.
Mcloughlin is not a huge celebrity like many of Lambert's exes. He is an NYPD police officer and Lambert has said that after what happened with Shelton she wanted to lead a more private life.