American country artist Miranda Lambert, famous for songs such as "Heart Like Mine," and "Over You," has enjoyed a spree of hits over the last few decades. Since much of the lyrics in her songs strike a more personal note, how much of the music does she write herself?
Miranda Lambert writes the bulk of her own songs, occasionally taking on co-writers. It's rare for her to include a song on an album that she hasn't either personally written or at least a hand in writing.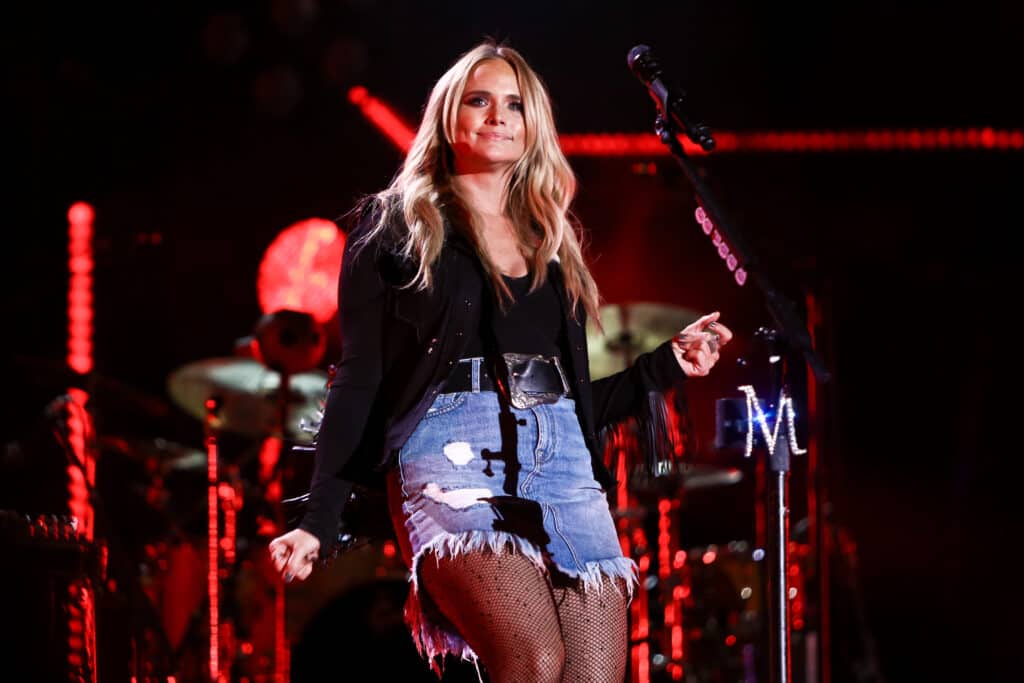 Lambert's success is doubtless in part due to her strong songwriting, a tradition that she has maintained throughout all over her studio releases. Some of her best works have benefited from her personal touch, such as the near-universally loved Crazy Ex-Girlfriend.
Lambert's Songwriting History
The singing and performing aspects of being a musician were always of interest to Lambert. Aspiring to become a country singer since her youth, she made her debut while she was still in high school.
Her debut was a singing gig with the "Texas Pride" band, giving her a first taste of the potential legitimacy that a career in music may have. It spurred her forward, and a young Lambert bounced around from gigs to talent shows, doing whatever she could to accrue more experience.
As it is with many on-the-rise country singers who aren't natives of the country music capital Nashville, all roads led to Tennesse. It was there that a studio recording session awaited her, ready to plumb the depths of Lambert's star potential.
A 16-year-old looking down the barrel of future fame and fortune, there were a million reasons to simply go with the flow and accept the course that the studio thought was best for her. Not Lambert, however.
She was unhappy with the pop music that she was being presented with, not wanting to be shoehorned into a manufactured sound that wasn't representative of her or her style. This gave her only one available recourse, to learn the art of songwriting.
That journey began back home, in Texas. You see, Lambert's father Rick was a skilled musician and guitarist, having played in a country-rock band in the 70s.
It was him that she turned to, wishing to learn to play the guitar with the aim to be able to write her own music, therefore avoiding the conundrum of being trapped by the sound that a recording studio deems you should have.
After dipping her toes into the songwriting and production waters with a self-titled, self-released album, Lambert managed to snag a deal with label Epic Nashville for the recording of her studio debut Kerosene.
Considering the history of her songwriting career, and the fact that the man who mentored her in both playing the guitar and penning a song was her father, she certainly picked a fitting song to be the debut single from the album.
"Me and Charlie Talking" was the chosen track to lead the album, a song that included both Miranda as well as her father Rick on the songwriting credits.
Continued Songwriting
Ever since those early days, Lambert has rarely shifted from the position of wishing to have involvement in the writing of all tracks on each album. The fact she is so heavily involved in that process makes it even more of an accomplishment that her albums have been so successful, always crushing the top spot of the US Country charts.
Singles initially proved to be a trickier battleground for Lambert, however. She came a close second with the co-written "White Liar" in 2009 but was still that hair's breadth away from the coveted top spot.
The song that finally gave her that much sought-after first number one was "The House That Built Me," in 2010. Funnily enough, this is one of the few songs that Lamber didn't have a direct involvement in the writing process, being co-written by Tom Douglas and Allen Shamblin.
That track came from the album Revolution, which turned out to be a goldmine of hits for Lambert, as another of its singles hit the number one spot. Unlike her previous number one, this song "Heart Like Mine" had her name on the songwriting credits, a feat she has repeated numerous times since.