TikTok has exploded in the past several years and so has the Korean pop girl group Blackpink. We knew the girls had personal Instagram accounts, but we wondered if they each had a TikTok account too.
None of the girls of Blackpink have personal Tik Tok accounts — at least none that we could find. For now, we'll just have to stay tuned to their official account, @bp_tiktok.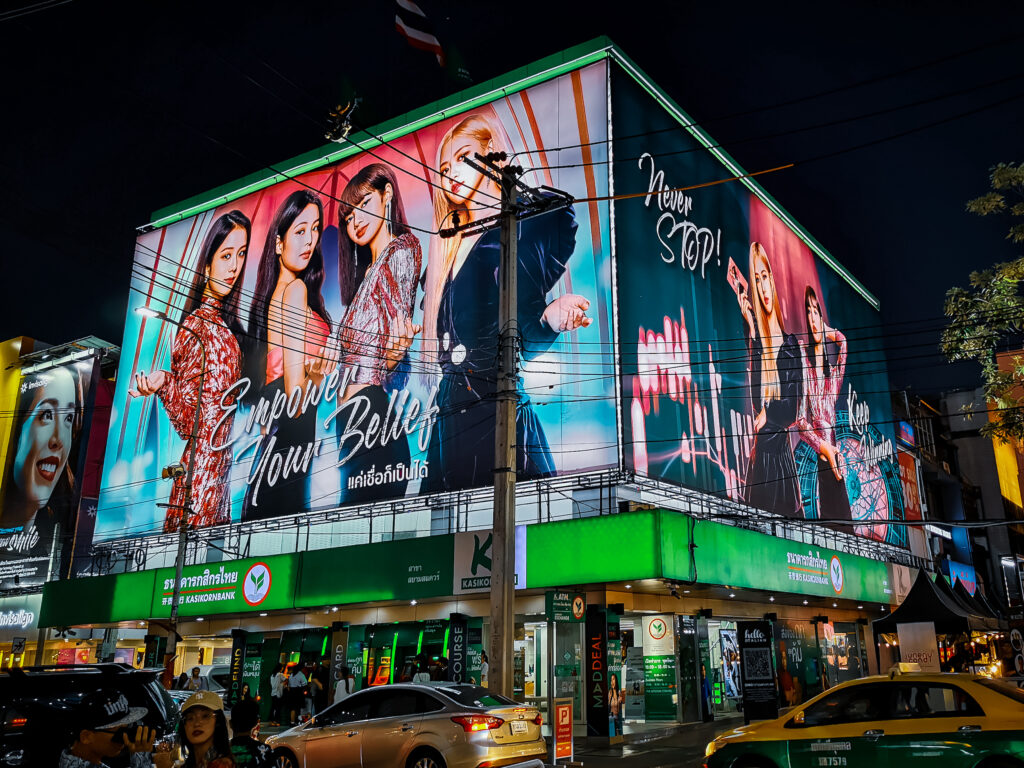 Let's dish about the social media accounts the members of Blackpink do have, shall we?
But First, In Case You Don't Know Who They Are
You might have seen these beauties on Good Morning America, the late-night comedy show, Stephen Colbert, or many, many other places in the past year, at least if you lived in the States.
Since exploding onto the American pop music scene in 2020, the South Korean group has enjoyed enormous success, though they originally rose to fame with the debut of their first single album, "Square One" back in Korea in 2016.
Some of their chart-topping hits include "How You Like That", "DDU-DU DDU-DU", "Ice Cream", and "Kill This Love".
The Blackpink girls often like to take it to their social media platforms to tease fans with new music and interact with millions of them, known as "Blinks".
After all, the official Blackpink TikTok account has over 3 million followers, making it one of the video platform's most popular channels. And that's just one of their social accounts.
Let's Talk About Their Official TikTok First
Head over to Blackpink's official TikTok account and you'll be swooning with content, @bp_tiktok.
The official account has over 20 million followers.
On Wednesday, October 21st, 2020, the girls hosted a live virtual broadcast called "TikTok Stage with Blackpink," in which the highest-charting K-pop girl group shared through one of TikTok's official accounts, the TikTok_Stage.
It hasn't been updated recently, so you may want to check out the girl's other profiles too if you're hungry for more of the YG Entertainment group.
Yes, They Have An Official Twitter
Blackpink Global Blink, or @ygofficialblink, is the group's official Twitter account, boasts a hefty 6 million followers and is steadily counting.
Their Twitter feed is a good place to start if you're looking for show information or behind the scenes exclusives. Right now they are promoting their online concert title "The Show", on January 31st, 2021.
How fabulous is this photo of Jisoo that was posted on January 2nd?
Happy Birthday, Jisoo! (Her B-Day is the next day on January 3rd).
Their YouTube Channel Is The Holy Grail
Blackpink took YouTube by storm in 2016. Their official channel has over 55.7 million subscribers!
We're not surprised, because the K-Pop Queens certainly give their Blinks what they want, be it dazzling music videos, vlog episodes, dance routines, and more.
Give yourself a discography tour and thumb through the Albums & Singles playlist, or tease yourself silly waiting for "The Show," to premiere worldwide online.
Their vlogs are pretty cool too, though they aren't in English. We found this one to be super adorable, especially since it featured at least four of their super-cute kitties.
Duh, They Have An Official Insta
It wasn't to find Blackpink's official Instagram, @blackpinkofficial.
It features a lot of what you'd see on their TikTok, but the feed seems to stay more up-to-date. You'll scroll through mostly promotional photos, though there are some more personal snapshots sprinkled in.
We like this cool photo of the girls in front of an artsy backdrop.
Each Member Has Her Own Instagram
We couldn't leave you hanging, so here are each of the lovely ladies Instagram handles, where you can go obsessively follow them as we do:
Jennie
Jenni's official Insta can be found @jennierubyjane. She likes to post uber-cool fashion shots that we can't get enough of. How beautiful is she in this photo posted back in October?
Jisoo
Jisoo's channel is all about those gorgeous headshots and up-close body shots. Find her @sooyaa__ Gosh, this photo is one of our favorites of her.
Lisa
Lisa's Instagram is @lalalalisa_m. She likes to show us exactly how she is feeling, and we are totally here for it.
Rose
@roses_are_rosie is Rose's official account. We found a lot of couture photos and videos for advertising campaigns, like this one for Saint Laurent.