They were one of the most famous couples in Hollywood in the early 2000s, and the tattoo commemorating the relationship is just one of the relationship's most infamous moments. The question is – does Angela still have her Billy Bob tattoo?
Angelina Jolie no longer has her tattoo dedicated to fellow actor and former husband Billy Bob Thornton. She began attending laser treatment sessions for the tattoo removal just a few years after the end of their relationship, and has since publicly expressed regret over getting the tattoo.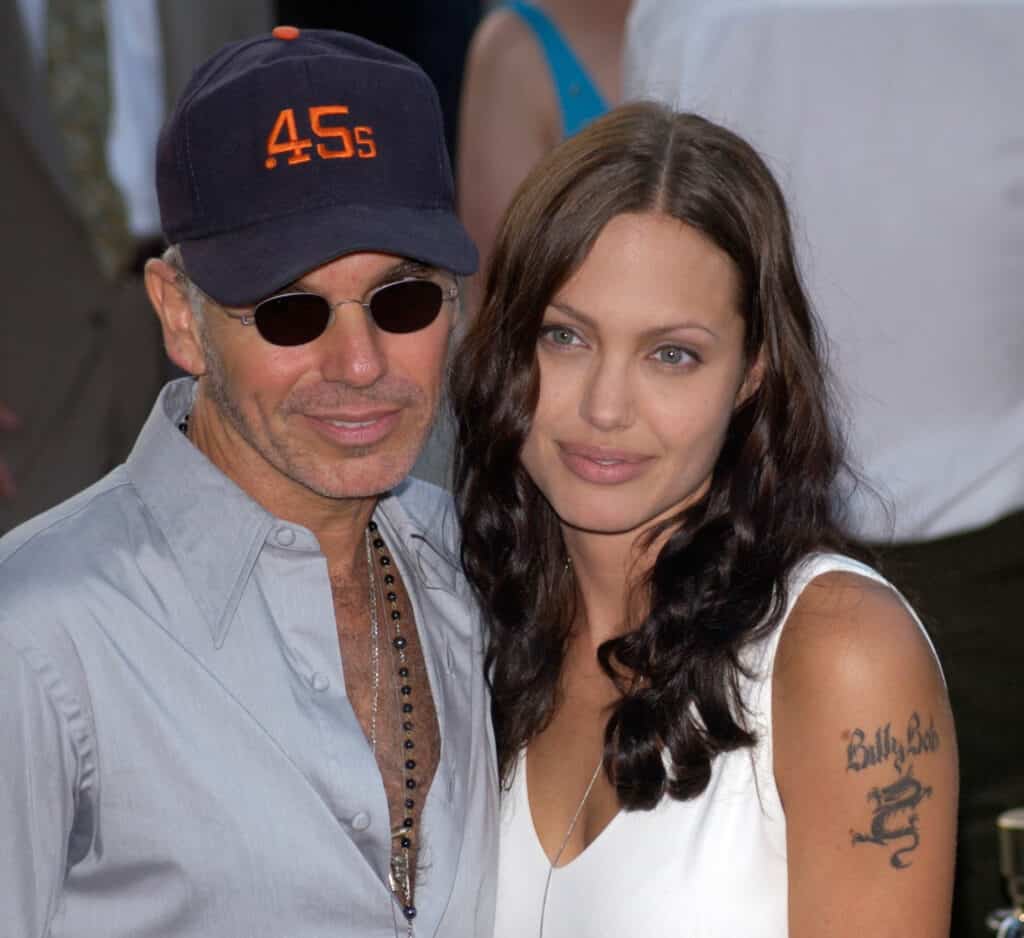 The story behind the Billy Bob tattoo, and the relationships that birthed it, is much longer.
Angelina and Billy Bob in Hollywood
Angelina Jolie and Billy Bob Thornton met on the set of the film Pushing Tin, back in 1999. Though he was engaged to actress Laura Dern at the time, Thornton fell hard for the young starlet, and they were married the next year.
With an age gap of two decades and resoundingly different public personas, the couple would go on to be one of the most bizarre and talked about couples in Tinsel Town. The pair proclaimed to be passionately in love with one another, showing their affection through various and rather strange acts of PDA that made headlines around the world.
It wasn't just the tattoo that made headlines. These acts included a publicized 'shotgun wedding' in Las Vegas, in which the couple donned jeans and t-shirts, as well as publicly wearing vials of each other's blood around their necks.
Looking at the history of their relationship, it's no wonder Jolie wanted to get a tattoo, permanently commemorating their love on her skin.
The Billy Bob Tattoo
After their marriage, Jolie decided to have a tattoo dedicated to her new husband. The much-talked-about tattoo was one of the linchpins of the couples public image.
The tattoo is present at the top of her left bicep. It reads "Billy Bob" in thick calligraphy font, and is paired with a drawing of an Asian-inspired dragon that sits below it.
She showed the tattoo off in public many times, as a graphic symbol of their love for one another. However, when the marriage ended in 2003, Jolie would soon come to regret the tattoo.
She began the process of tattoo removal shortly after the couple divorced, undoubtedly to rid herself of all associations with her ex-husband. After lasering off the tattoo through surgery, she then had any remaining traces covered up with a new tattoo.
This replacement tattoo shows the geographical coordinates of all her children's birthplaces, and ironically, also includes the coordinates of her latest ex, Brad Pitt. Below is a Youtube video showing the differences between her upper bicep tattoos, then and now.
After having the tattoo removed in 2003, Jolie would tell the press, "I'll never be stupid enough to have a man's name tattooed on me again. It took 5 visits to the tattoo removal clinic to erase the dragon and you can still see it a bit."
Angie's Tats
Angelina Jolie is one of the most famously tattooed women in the world, and her ink has been discussed by the media and the public for decades now. Her tattoo for Billy Bob Thornton is not the only one that has piqued the interest of her fans.
Jolie has a great variation of tattoos on her body, from exotic animals, to meaningful quotations, to runes and symbols. She even has another tattoo related to her relationship with Thornton.
This tattoo was a series of abstract lines in vertical and horizontal formation, designed by Thornton himself. She also had this tattoo replaced after their break-up, covering it with a tattoo of some Arabic script that translates to "determination".
Other interesting tattoos of Jolie's are the various Buddhist designs that cover her upper back, inspired by her time in Cambodia, and her Cambodian son Maddox, and a 12-inch Bengal tiger on her lower back. She even has a tattoo of the Japanese symbol of death.
There's no doubt Angelina Jolie and Billy Bob Thornton's past relationship will live on in Hollywood History for decades to come. However, the story of the Billy Bob tattoo might teach some of us to use a little precaution in our own relationships. No matter how in love you are, you never know how long you'll want that person's name on your skin.