Angelina Jolie is one of those Hollywood actresses who have transcended being just a movie star. She's known for her beauty and talent as an actress and filmmaker – and later on expanded to humanitarian work. Many still are curious about her physical attributes, particularly her height. What is Angelina Jolie's height exactly?
The Lara Croft: Tomb Raider star stands at 5 feet 6 ½ inches (1.69 m or 169 cm) tall, which makes Angelina Jolie slightly of above-average height according to US standards.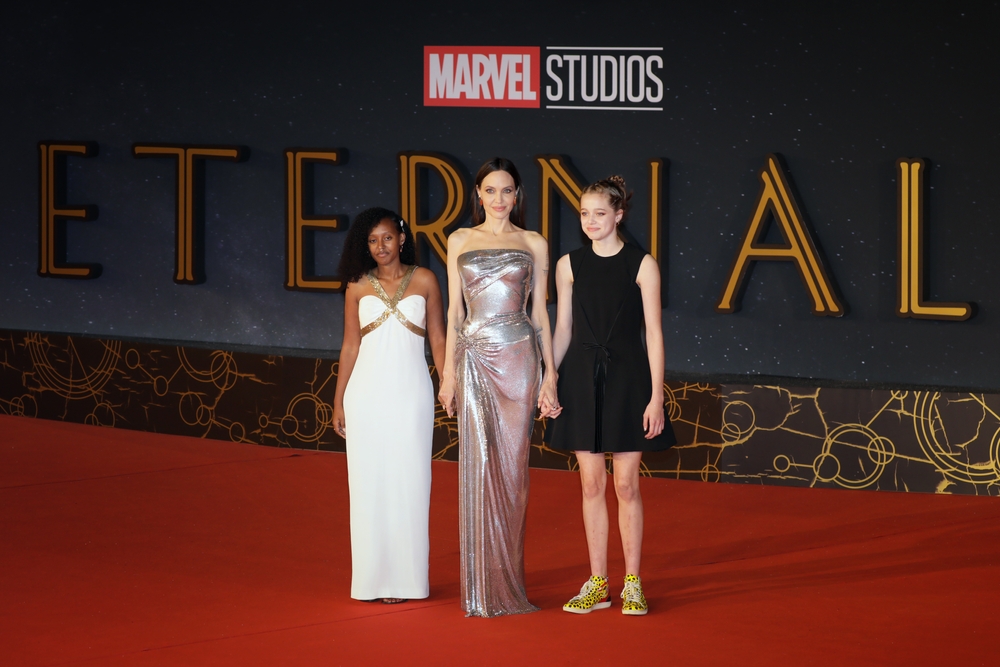 Jolie's thin, almost-bony physique and above-average height made her an excellent female lead star in several action movies. Here are a few more basic facts about the tattooed actress-filmmaker.
Who are Angelina Jolie's parents?
Angelina Jolie, born on June 4, 1975, is the daughter of actor Jon Voight and actress-producer Marcheline Bertrand. Her parents divorced in 1980 when Angelina was very young, and her relationship with her father had been quite tumultuous since. Father and daughter appeared in 2 movies together namely, Lookin' to Get Out (1982) and Lara Croft: Tomb Raider (2001).
Angelina's mother, Marcheline, passed away in 2007 from ovarian cancer. She was 56 years old.
Why is Angelina Jolie skinny?
The Girl, Interrupted actress seems to naturally be on the leaner side (looking at old pictures of her pre-Hollywood), but onlookers have been worried for years about her weight loss. Angelina Jolie like to vary her diet and exercise regimen according to what her movie role requires.
Although she wasn't a fan of yoga, she had to practice it as part of her training for Lara Croft: Tomb Raider.
Angelina Jolie's tattoos: How many does she have?
According to Body Art Guru, Angelina Jolie has a total of 21 tattoos and each one seems to have a deep meaning that speak to the actress' important life events and beliefs. Her tattoos vary, from ancient Buddhist symbols, single-letter tattoos (initials of her loved ones), and even map coordinates of her children's and Brad Pitt's places of birth.
Was Angelina Jolie pregnant while filming a movie?
The actress, who was then in a relationship with former husband Brad Pitt, apparently learned of her pregnancy while filming Changeling, according to Cafe Mom. The movie, directed by Clint Eastwood, is about a mother (played by Jolie) who was grieving the loss of her missing child and her desperate search for the truth behind her son's disappearance.
Angelina decided to keep her pregancy a secret until filming wrapped. Months after, she gave birth to her twins Vivienne and Knox. It was her second pregnancy after Shiloh, her first biological child with Brad Pitt.
What is Angelina Jolie's net worth as of 2022?
Two sources – Wealthy Gorilla and Celebrity Net Worth – seem to agree on the Maleficent actress' net worth as of 2022, which is $120 million. This estimation consists of her earnings as an actress and brand endorser. According to Forbes, Jolie made $35.5 million in 2020.
What Angelina Jolie 90s movies are worth watching?
Looking at who she is now, people might be surprised to know that Angelina Jolie was quite the punk kid during the first part of her career. She has evolved so much over the last two decades that people forget she used to wear Gothic-inspired looks on and off the red carpet.
Angelina Jolie got started in the movies during the 90s, when stars like Winona Ryder, Johnny Depp, Brad Pitt, and Julia Roberts were dominating the scene. Although she wouldn't hit global stardom until the turn of the millennium, Angelina Jolie's movies in the 90s are still worth watching as those showcase her talent at its rawest. Here are a few choice picks:
Hackers (1995)
In Hackers, Angelina Jolie plays Kate opposite Jonny Lee Miller's Dade. Miller was her husband for nearly three years, from March 1996 to February 1999.
Foxfire (1996)
Foxfire tells the story of a group of girls led by Jolie's character, Legs Sadovsky, in fighting for themselves against the harassment and oppression they experience as high school students. The cast includes Jenny Shimizu, with whom Angelina had a romantic relationship in real life.
Gia (1998)
Gia was the movie that got people seriously paying attention to what Angelina Jolie can offer as a serious actress. In the biopic, she played the titular character Gia Carangi, who was a famous fashion model in the 1970s. The story traced the late model's rise to fame and early demise from drug abuse.
Angelina Jolie won the Golden Globe award for Best Actress in a Mini-Series or TV Movie from her performance in the film.