Amy Klobuchar is the senator for Minnesota and she was running to be the democratic party's presidential candidate before dropping out to support Joe Biden. Is she close friends with anyone within her party?
Amy Klobuchar's closest friends are Karen Cornelius, Kate Stacy, her husband John, and daughter Abigail. Klobuchar met Cornelius and Stacy both while at the University of Chicago Law School. Klobuchar has other notable friends like fellow democrat Bernie Sanders and National Security Advisor Jake Sullivan. The birth of her daughter Abigail inspired her political career.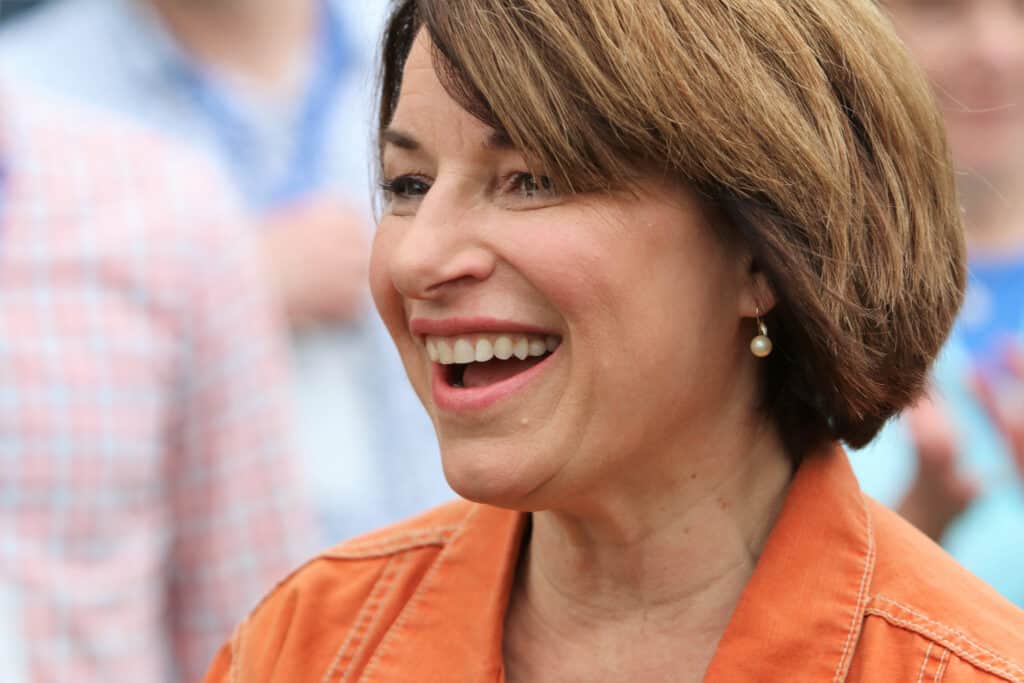 Scroll down to read more about Amy Klobuchar's best friends from college, some of her other friendships, and more about her family.
Amy Klobuchar's Best Friends from College
Amy Klobuchar met Karen Cornelius and Kate Stacy when they were all attending the University of Chicago Law School. During her political run, both of her friends were found working at her storefront campaign office in Concord, New Hampshire.
In an opinion piece by Jennifer Rubin at The Washington Post, she highlights that Kate Stacy is Amy Klobuchar's self-titled best friend from college. She even recalled a funny story from their college days for Rubin.
The article states "[Stacy] recalls throwing a chili party and accidentally inviting too many people. Klobuchar was renting a larger place, so Stacy asked Klobuchar to relocate the party to her place on a moment's notice."
While her two friends from college have a lovely and fun picture to paint of their friend, their recollections are in stark contrast to some of the pictures painted by Klobuchar's former staff.
In 2019, stories started to break in the news about Amy Klobuchar's treatment of her staff. This was almost a year after the political website Politico reported that she had the highest turnover rate of any of the senators.
A high turnover rate often indicates that there are issues with how a company treats its employees and the same can be said for a senator. Klobuchar's turnover rate was 36%.
According to a 2019 Buzzfeed News article by Molly Hensley-Clancy, Klobuchar "demeaned and berated her staff almost daily" and that she had "bouts of rage." The article focused on interviews with eight former staff of Klobuchar's, some of whom said their year working for her was "the worst year of my life."
While these former employees seem to be disgruntled, there are other current and former employees who don't agree with the accusations. One who even stated that Amy Klobuchar threw her a baby shower at her home and made everyone dinner.
Between her college friend's opinions and former staff opinions, one thing seems clear, either people love or hate Amy Klobuchar. That's a statement that seems to be true of most politicians though.
Klobuchar's Friends in Politics
Amy Klobuchar isn't just friends with her former college besties, she also has friends within her own political party. One of those friends happens to be Bernie Sanders.
The two formed an unexpected friendship while they were on the road. When Klobuchar backed out of the Democrat's race for Presidential candidate, Sanders even said that he likes Amy.
This was despite her announcement that she would be backing Joe Biden.
On top of her friendship with Bernie Sanders, Klobuchar is also friends with the National Security Advisor, Jake Sullivan. Klobuchar attended his wedding in 2015 and posted a picture on social media of two at his wedding to congratulate him on his new role.
Amy Klobuchar is friends with Democrat Senator Elizabeth Warren and incumbent Vice President Kamala Harris. She even tweeted that Kamala is a good friend of hers.
Amy Klobuchar's Family
While Klobuchar has a lot of friends in high places, her closest friends of all would have to be her family. Her husband of almost thirty years is John Bessler.
He is a professor of law at the University of Baltimore School of Law, as well as the Georgetown University Law Center. The two met at the Coyote Cafe in Minneapolis and were married in 1993.
Bessler and Klobuchar have a daughter together named Abigail Klobuchar Bessler who is definitely another one of Amy's closest friends. In fact, it was the birth of Abigail that set Amy on the path of politics.
After being forced to leave the hospital only 24 hours after giving birth to a baby who couldn't, Klobuchar lobbied to have the law changed to 48 hours. She was successful and now it is federal law.
Abigail is also following in her mother's footsteps to be a changemaker in the world.