Ava Max, who enjoyed an explosive burst onto the music scene with her late 2018 pop tour de force "Sweet But Psycho," has made pop-atypical themes derived from her own experiences one of the calling cards of her lyrics. How much of the songwriting is she involved in, considering the message of the music is so close to her heart?
Ava Max writes her own songs, but like many other singers and artists, she works together with a team of writers. She is heavily involved in the process, from the lyrics to the music, making sure that it feels right.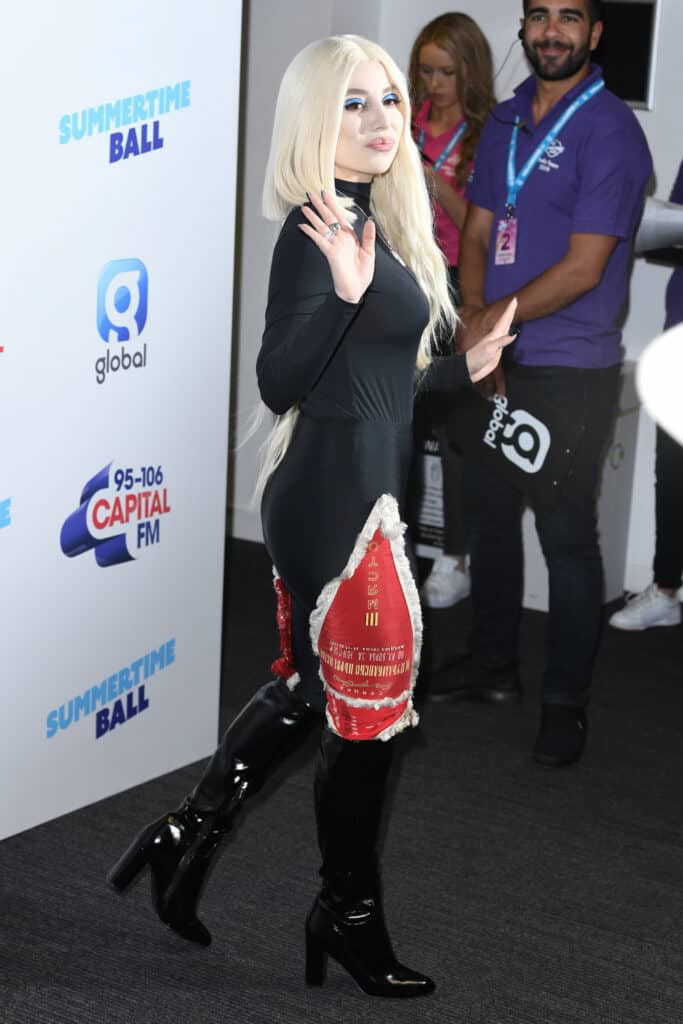 Even with something as seemingly innocuous as her hair, she cuts it herself and has done it her own way, so it fits her personality that she be deeply immersed in the production of the music that she will be performing.
In all of her comments on the subject, we can see that Max is not only a key member in the songwriting process, but also enjoys it.
Sweet but Psycho
The connection that Max makes from herself to the song that she is working on is particularly noticeable in the synth-pop extravaganza of "Sweet but Psycho", the lyrics exploring themes of the duality of the personality.
In an interview explaining her thoughts on the meaning of the song, she expands on the duality concept and how it relates to her, expressing her belief that everyone has a lot of sides to them.
Beyond just the lyrics of the song, Max has even spoken of her desire to bring back vibrant and exciting colors and sounds through her work. That explains the feverishly colorful and crazy accompanying music video for the song.
From the writing of the lyrics, done entirely by herself and her co-writers, to ensure the fulfillment of a vision for the video, we can see Max's touch on every part of the track.
Max's Thoughts on Songwriting
As can probably be expected from the woman who cut half of her hair off out of gut instinct, Max specifically avoids any heavy planning during the songwriting, preferring instead to let the development unfold organically.
Whereas other songwriters might meticulously plan out their ideas, concepts, and lines of lyrics, Max instead prefers the spontaneity of writing whatever comes to mind, the shooting from the hip of songwriting.
That free form style doesn't mean that there's any drop in quality either, as Max likes to take her time on whatever it is that she's writing, ensuring a perfect final result. Throughout writing "Kings & Queens", for example, it took almost an entire year since Max wanted to make one hundred percent sure that a song with themes of female empowerment and equality managed to hit all the right notes.
A History of Max's Music
Perhaps it should be expected that Max possesses such a natural predisposition towards music when you take into account her parents' own skills and abilities. Being the daughter of an opera singer and a pianist, that seemingly instinctual understanding of what makes a song work must be an effect of having music in the blood.
Not to say that she hasn't put her hard work in either, Max didn't simply appear out of nowhere or get manufactured in some pop music laboratory. On top of grinding for years, attempting to get her music out there wherever possible, she's been writing, creating, and performing since she was a child.
Seemingly an entire lifetime ago in comparison to who she is today, Max used to create music under a different moniker, Amanda Kay. That was at the age of 13, so for more than a decade, she honed her singing and her songwriting in attempts to finally make it.
Those skills bore fruit in 2014, where after being forced to endure multitudes of rejections, she would finally get the opportunity to meet someone who could make the most of her talents. That person was the same one responsible for the electronic sound on the "Sweet but Psycho" hit, Cirkut.
The pair went on a writing spree, penning an unbelievable amount of music before finally settling on the track that successfully landed her a record deal, "Anyone but You". In the end, her practice and enthusiasm for songwriting paid off, finally giving her the break that she needed and setting the foundation for her success.