Bono is an Irish singer, songwriter, actor, philanthropist, activist, businessman, and venture capitalist. Over the years he has made several notable investments — both through private equity companies and in his personal capacity — but the most newsworthy investment of all was his investment in Facebook.
Bono no longer has any shares in Facebook as the private equity firm through which the investment was made, Elevation Partners, closed down in 2015. After being split with five other investors, Bono's return on his 2.3% share investment saw him between USD $40 to $50 million richer.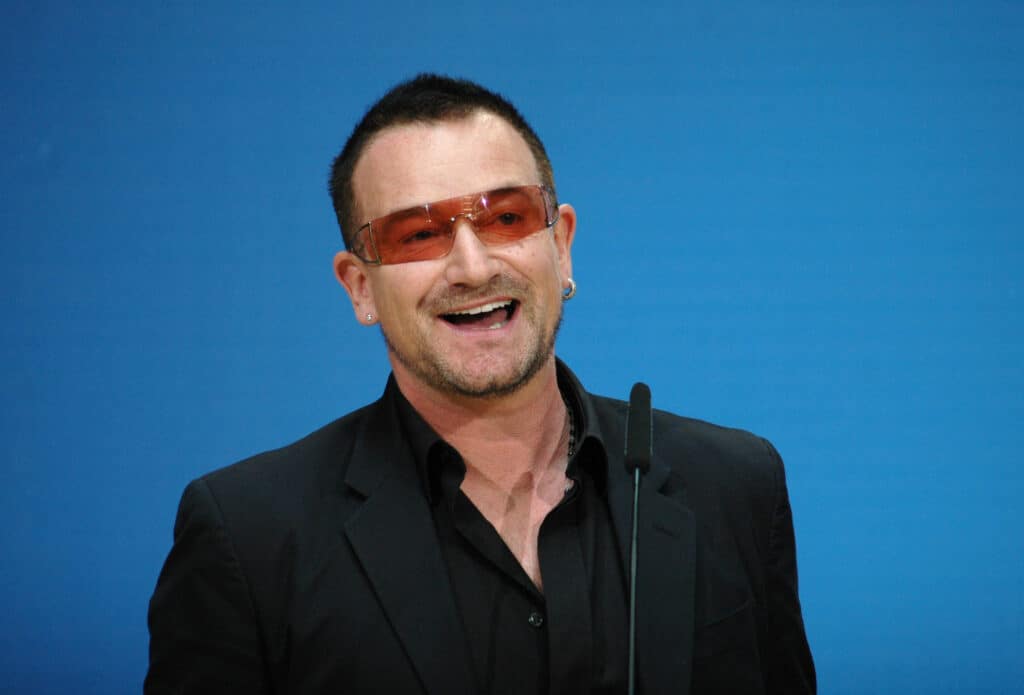 It may seem strange that a rock legend bought shares in a fledgling social media site, but the math checked out for Bono brilliantly. Let's take a closer look at how Bono came to be a Facebook shareholder, what his relationship was with Elevation Partners, and inspect some of his other successful investments.
Bono and Facebook
Back in 2009, Bono purchased a 2.3% share of Facebook for an estimated USD $89 million. The valuation amount of Facebook for that year was a whopping USD $10 billion, so it's safe to say that Bono made the right choice.
Despite many erroneous claims that this investment made Bono the world's richest musician,it certainly did increase his already impressive net worth.
It's reported that Bono's earnings from his shares in Facebook earned him more money than what was generated through his music. This includes his time as a solo artist as well as with U2.
Back in 2012, when these false claims first started circulating, Bono told NBC "Contrary to reports, this boy is not a billionaire or richer than any Beatle. That's just a joke."
But what is important to remember, and what articles get wrong so often, is that Bono was not the sole investor. His investment was made alongside the other partners at Elevation Partners.
As a group Elevation Partners made a pre-IPO investment of 2.3% in Facebook. The company's return on investment was split between Bono and the other five members, so in his personal capacity, he walked away with between USD $40 and $50 million.
What was Elevation Partners?
In 2004, Bono co-founded a private equity firm called Elevation Partners. As you may have guessed, the name comes from the U2 song 'Elevation'.
The firm was made up of Bono, Fred Anderson, Marc Bodnick, Roger McNamee, Bret Pearlman and more than 20 employees. On top of being a co-founder Bono served as the Managing Director of the company.
Elevation Partners invested in many companies. Though Facebook and Yelp were the most notable, the company also invested in Forbes Media, Palm, MarketShare, BioWare Pandemic Studios, Uber, Airbnb, and more.
The company officially ceased operation in 2015, after it sold its last portfolio company. But the disbanding of the company did not mean that Bono's investing days were over — far from it.
Bono's Other Investments
Above and beyond the investments he made with Elevation Partners, Bono has made many investments as an individual as well.
He is listed as both an angel investor and an individual investor on Crunchbase. According to the site, he has provided seed investment to Vamo and Seamless Toy Company and Series C, D, and B investments to Varo Money, Color, and Blue Bottle Coffee.
Bono also co-founded an investment company of his own called The Rise Fund. Through the company, he has invested in multiple startups including Acorns Grow Inc., Evercare, Matrix Renewables, Zipline, and Element Markets.
Bono and the Edge aren't just bandmates and best friends but co-investors too. As a pair, the two have invested in an on-demand truck-tracking company called 'Convoy', online storage service 'Dropbox', and an Irish food-tech startup called 'Nuritas'.
The dynamic duo also purchased a 70-room 2-star hotel in 1992 and spent USD $8 million refurbishing it. When it reopened in 1996 it was as a 51-room 4-star luxury hotel called The Clarence Hotel.
Finally, Bono has spent many years investing in residential property. His portfolio may only consist of five properties, but each property is worth millions of dollars.