The frontman of U2, Bono, isn't known for being very tall. However, his unique style that you would expect from any rock n' roll star keeps him from being overshadowed by taller men.
Bono does wear lifts. He has a five-foot and six-inch height, which is considered short for a man by European and North American standards. There are a lot of celebrities who wear lifts or stacked shoes including Tom Cruise and Simon Cowell.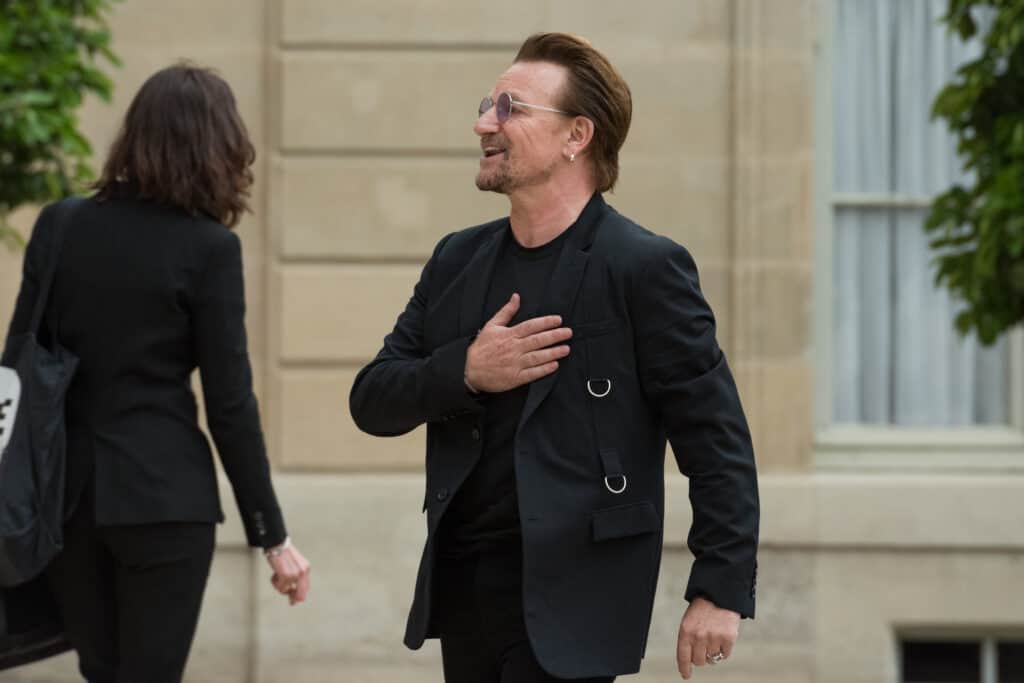 You can learn more below about the style of shoe Bono wears to gain height, some other popular lift styles for men, and other celebs who wear lifts.
Bono's Fashionable Lifts
Bono has been wearing lifts for a long time now and it seems he's been doing it since well before it became a popular trend among men in their everyday lives. In fact, the lift style on men seemed to be incorporated heavily with hard rock icons and cowboys for the longest time.
Lifts have also been trending in men's fashion on and off since before the 1700s but for Bono, it appears that he is wearing them more as a way to gain height and less as a fashion trend. After all, a lot of men who are under 5'10 get what is called a "short man's complex."
They want to do something to make themselves appear taller and having higher heels in shoes is one way to do it. This has been done in more than one way too. There have been the more overt ways like a lifted heel similar to how women wear heels but chunkier and not thin like stilettos.
There has also been the use of a camouflaged heel. This is a heel that is hidden with a fake base on the shoe, not a shoe that uses a camouflage pattern on it.
As for Bono, he has worn both kinds before. For a long time, he wore boots that had extra-thick soles that gave him at least an extra two inches of height. This kind of lift would be more of a camouflage-style because they don't look so much like heels, however, they do have a striking resemblance to platform shoes.
Bono has also worn stack heels before. One time that it was very clear he was wearing stacks was in the music video for 'Pride (In the Name of Love)'. However even these stack heels appear to be camouflage ones with a fake lift hidden inside.
You can see Bono wearing these lifts in the below YouTube video which is the remastered version of the original music video for 'Pride (In the Name of Love)' by U2.
Other Male Celebs Who Wear Lifts
As we mentioned above, Bono isn't alone in the world of men's heels, stacked shoes, or lifts, depending on which phrase you like best. In fact, wearing lifts or stacked heels has become a pretty big trend in Hollywood.
The famous reality singing contest judge, Simon Cowell, is known to wear stacked heels. At 5'9, he is quite a bit taller than Bono is and the lifted heel certainly helps Cowell to feel even taller. Although we doubt he needs the shoes to feel any more intimidating when he is judging on The X-Factor and the Got Talent franchises.
Mick Jagger is another rockstar who is known to wear lifts and often wears ones in a similar style and fashion to Bono. Mick Jagger is already 5'10. Maybe he liked the extra height when hanging out with a lot of tall supermodels.
Justin Bieber has been seen out and about in stacked heels before and this is how you know that stacked heels are becoming a big trend in men's fashion. Bieber is a little over 5'9 and the same height as Cowell.
A pop star who was discovered by Simon Cowell is another staked heel trendsetter. Harry Styles has been seen out wearing the stylish boots from time to time and he seems to like them in the more western style.
Finally, Kanye West is another wearer of heels men's shoes. He has been spotted on many occasions wearing the shoe style. He has worn black velour ones with a heel of approximately two inches and more modest brown suede ones to name some examples.
Bono really isn't alone in the fashion trend that has been taken up by many different men over the years, whether it be for fashion or to gain height.