The "Bangtan Boys", otherwise known as BTS, is a Korean K-Pop boy band that debuted in 2013 under Big Hit entertainment and now features 7 members. As one of the most popular K-Pop groups, BTS has a major following and has even collaborated with major American artists after reaching number one on Billboard charts.
BTS does have an official TikTok account under the handle @bts_official_bighit with over 27.5 million followers and 511.8 million likes. The popular K-pop group does not seem to be following anyone on the social media platform and is active on the app from time to time.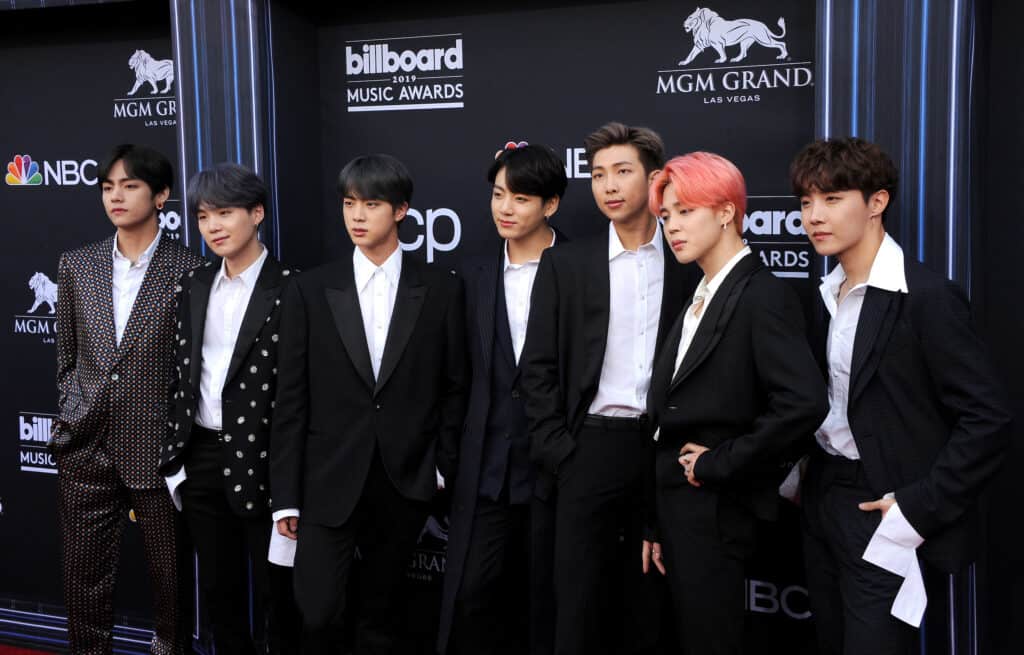 BTS members have become household names among the massive K-pop fan world. It seems as though the boy band had become a global sensation overnight, with their stardom reaching the K-Pop audience very quickly.
How the Popular K-Pop Group Became So Popular
People in the music and entertainment industry have stated that BTS might be the most popular boy group that has ever existed. With over 36.5 million followers on Instagram, BTS has truly transformed the music industry and has reignited the K-Pop flame.
The group technically had its debut in 2013, although the members were discovered three years prior by their management company, Big Hit Entertainment, in 2010. Becoming a member of a boy band group takes a lot of training- from dance and singing lessons to acting and media training.
Because of how many people want to make it big in the industry in South Korea, the process of talent development can take years, and it wasn't any different for BTS members.
Originally, the group was supposed to be more along the lines of hip-hop and rap group, but the management company later decided to shift away from hip-hop and more into pop known as "idol model".
Fans Are Loving The BTS Social Media Strategy & Interactiveness
The group has proved that using social media to interact with fans really is powerful. BTS members don't have their own individual social media accounts, just their one main account on every social media platform does the trick.
The K-pop group has taken the world by storm through its great social media marketing plan and strategies online. It's led them to release chart-topping albums, performing at the Grammy Awards, being nominated for social media awards, winning Teen Choice Awards, and reaching the Billboard chart multiple times.
Their strategy: to just remain active across all platforms.
The pop music industry in South Korea is no joke and BTS's ability to maintain an audience from all over the globe solidifies it. Their management company and record label encouraged the group to reveal more of their personalities online, in order to truly connect with their audiences.
The group has official an official Instagram account, Twitter account, TikTok, Facebook, and YouTube.
BTS' member, Jungkook, posted a video of him lip-syncing to Billie Eilish's "Bad Guy" on Twitter, and the tweet quickly became the most liked post in Twitter history. It now has over 33.3 million views, 1.3 million retweets, and 2.4 million likes.
Not only did they post the most-liked tweet on Twitter, but they were actually the most tweeted about musical performance of the year. They beat top American artists, such as Ariana Grande and Drake!
The members post selfies on social media, share aspects of their lives, live-stream frequently, and make sure to post a variety of videos to keep things entertaining. Fans have said that the fact that BTS members are so transparent and engaging online, makes them seem more personable.
BTS on TikTok
First, they were given the title of kings of Twitter, and then the group quickly hopped on the TikTok train. BTS joined TikTok on September 25, 2019, and has been active on the app ever since.
They announced their arrival on TikTok through a tweet from the Big Hit Entertainment-run BTS account that stated, "BTS TikTok Channel Open!". Fans quickly followed the group on the social media platform, and BTS had over 1 million followers within a day of being on the app.
Consistency really is key in the world of TikTok. The group currently has over 27.5 million followers and 511.8 million liked, and the numbers are only increasing with the more videos they post.