They're one of the biggest names in K-pop, having been around since 2013. Do BTS write their own songs?
BTS do not work as a whole to write their songs, but instead rely mainly on a few of their members. The majority of their tracks are written by the group's rappers: RM, J-Hope and Suga.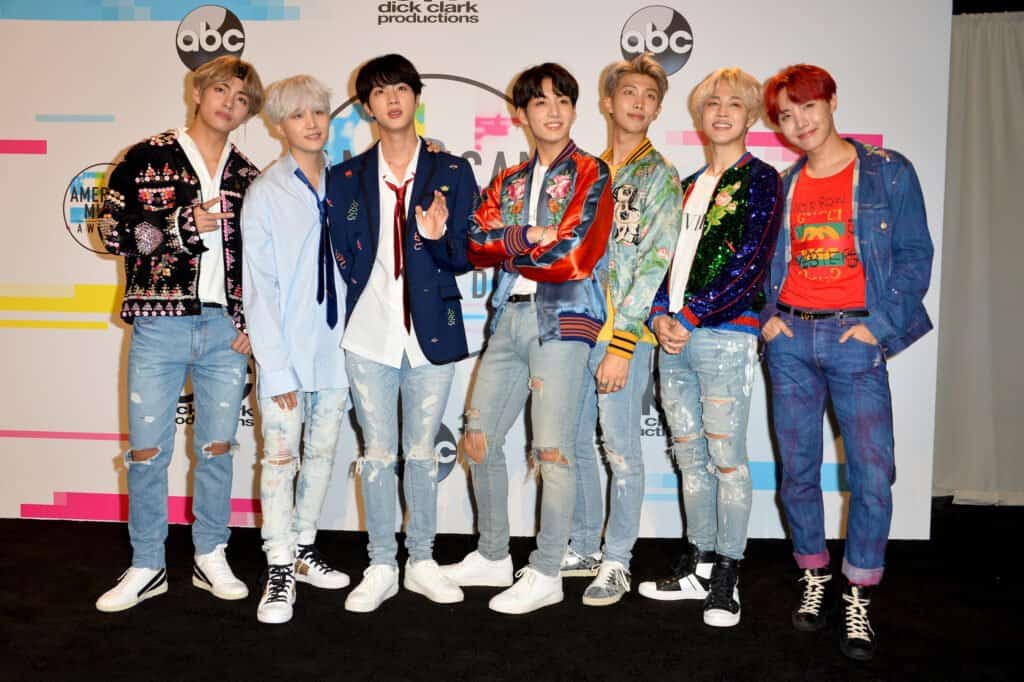 Read on to learn more about BTS and their musical endeavours.
Bangtan Boys
When the seven members of BTS began assembling in 2010, they never dreamed they'd become what they did. They began working together and debuted in 2013 to an overwhelming reception.
In a short time, the septet became one of the biggest names in K-pop. This success and fame expanded outside of their home country of Korea. Within a few rapid years, BTS would expand their fan base globally.
Their success comes majorly from their masterful songwriting skills, and mix of genres. They've dabbled with K-pop, hip hop, R&B and EDM over the years, all successfully. They are one of the most successful entities to exist in Korea, particularly in the entertainment industry.
As of late 2019, BTS boasted a staggering net worth. They were reportedly worth almost four billion dollars to the economy of South Korea – every year. Their image, vocals and stage presence attracted millions of fans all over the world to the country.
They worked as a collaborative effort to create their masterpieces, but most songs were written by three members. The trio: RM, J-Hope and Suga, wrote the majority of BTS' music. However, the group did collaborate on various pieces as a whole.
By 2020, BTS had released four Korean and four Japanese language albums. They'd embarked on five immensely successful tours, and released films and television shows. These latter endeavours showed the backstage reality of being BTS.
Taking Over The World
BTS boasted an enormous value as both a group and as individual efforts. Almost every member of the group pursued independent ventures as well. The key songwriter for the septet, J-Hope, was worth around twelve million dollars by himself in 2020.
J-Hope has written, performed and collaborated on a staggering setlist of tracks. He expanded out of Asia and began working with Western artists relatively quickly. His debut mixtape, Hope World, opened with great success. He had the highest peak on the Billboard 200 for any Korean solo artist at the time.
You can see a video of one of J-Hope's most popular songs, Daydream, on YouTube below.
The stage presence BTS has developed is almost unrivalled. They command the floor wherever they perform and are well known for their expertly choreographed dances. They're deeply respected as the multi-faceted performers that they are.
There has been an extremely positive response to BTS from key industry figures, particularly those collaborating with them. Their Map of the Soul album saw a huge list of artists contribute their vocals and talent.
Among these were Sia, Ed Sheeran and Troye Sivan. Their 'BTS Army' is at their backs at every turn, and the band has enjoyed massive attention on social media. Throughout the late 2010s and 2020, BTS trended on Twitter with extreme regularity. The sheer number of fans supporting them dwarfed every other topic.
An article posted in April of 2020 explored the statistics behind this. In the article, it's revealed that at leasts one hundred and forty BTS related trends occurred throughout March 2020. This is a key indicator of their impression on the world, and of their insane popularity.
BTS also became known for their off-stage endeavours. Their philanthropy especially was heavily publicized. They donated huge sums of money to causes such as Black Lives Matter and COVID-19. Not only were BTS famed for being all-singing, all-dancing, but also for their big hearts and kind nature.