In 'Extraction,' Chris Hemsworth is covered in tattoos – from a giant Viking compass on his back to the four runes from the Elder Futhark runic alphabet on his right bicep – but none of them are real! This leads many to wonder, does Chris Hemsworth have any tattoos in real life?
Chris Hemsworth has five tattoos. He has a geometrical tattoo on his right forearm and a doodle his daughter drew on his left forearm, an 'Avengers' logo on his right ribcage, a Dr. Seuss illustration on his left bicep, and the initials of his family on his right wrist.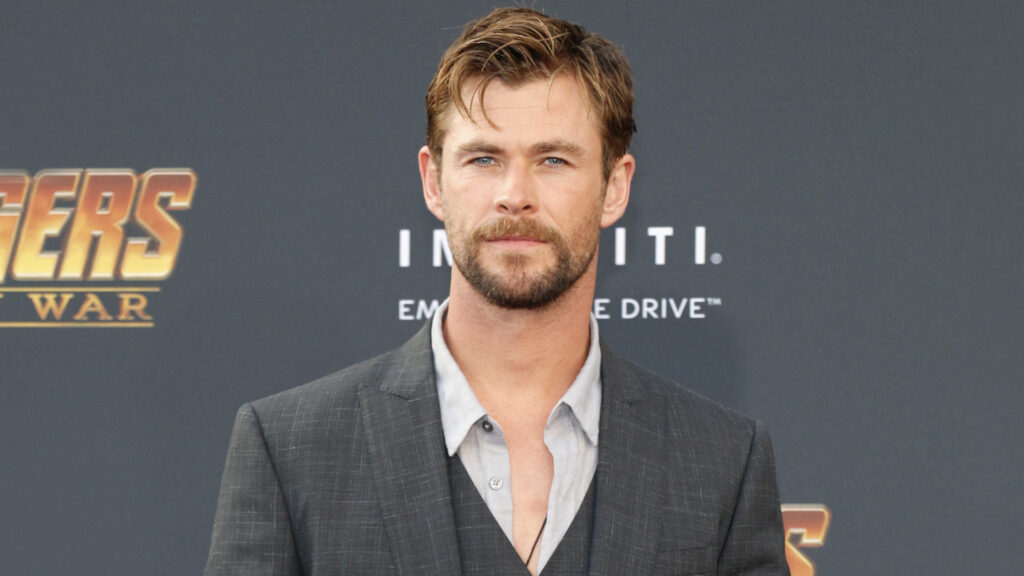 If you've been wondering how many tattoos Chris Hemsworth has, where they are, what they mean, and whether his famous brothers have any ink of their own, wonder no more because this article will answer all of the above – and more!
How Many Tattoos Does Chris Hemsworth Have?
Chris has five tattoos, and he is likely going to get more. He has a tattoo on his bicep, forearms, ribcage, and wrist.
The Aussie actor has a matching wrist tattoo with his wife Elsa Pataky. The tattoo consists of five symbols from the Runic alphabet, with each letter representing a member of the Hemsworth-Pataky household.
Chris has an illustration from a Dr. Seuss story on his left bicep and a tattoo that was inspired by a drawing his daughter created on his left forearm.
In addition, Chris has a tattoo of the 'Avengers' logo on his right ribcage. This tattoo is a matching tattoo that 'Avengers' co-stars Scarlett Johansson, Robert Downey Jr., Jeremy Renner, and Chris Evans all share. Only Mark Ruffalo opted out of getting the matching tattoo.
In April of 2022, Chris got a geometric tattoo on his right forearm. He debuted the new ink on his Instagram page, captioning the black and white image, "Always fun catching up with @dillonforte. What do ya get when ya mix an old mate, couple beers and a tattoo gun…some trippy sacred geometry."
What Do Chris Hemsworth's Tattoos Mean?
All of Chris's tattoos have a deep meaning behind them, except for the geometric tattoo on his right forearm that, as far as the general public is aware, doesn't seem to have any real significance behind it.
The 'Avengers' tattoo on his right ribcage was Scarlett Johansson's idea and was their way of celebrating 'Endgame' and a decade of working together. The tattoo on his wrist consists of the letters 'C, E, I, T, S' and seemingly represents Chris, his wife Elsa, their daughter India, and their twin sons Tristan and Sasha.
The Dr. Seuss tattoo on his left bicep is from the popular book 'Oh, The Places You'll Go.' His tattoo artist, Dillon Forte, shed some light on the ink and told Nicki Swift, "I think it's about his passion for travels and being on sets and those awesome adventures around the world. I'm sure his children had influence on this as well."
Speaking of his children, when discussing the doodle on his left forearm, Dillion revealed that when the pair was coming up with tattoo ideas, "His young daughter was there with him and really liked the design ideas and started sketching out her own little interpretations of them. One of them was this eight pointed Dharma wheel. It just felt right."
Do The Other Hemsworth Brothers Have Tattoos?
As most people know, there are three Hemsworth brothers and all of them are actors. But not all of them have tattoos! Let's find out which of the two remaining Hemsworth brothers is inked like Chris and which one has a blank canvas of a body.
Liam Hemsworth has four tattoos – three of which are matching tatts with ex-wife Miley Cyrus! Liam has a green Mexican sugar skull tattoo and a Vegemite jar on his right ankle, and on his left bicep is a quote from Theodore Roosevelt reading "If he fails, at least he fails while daring greatly," while the rest of the sentence is on Miley's forearm. In 2018, Liam got a tattoo of a geometric dragonfly on his upper right arm.
That means that Luke Hemsworth, who is known for his portrayals of Ashley Stubbs in 'Westworld' and Nathan Tyson in 'Neighbours,' is the only Hemsworth brother that does not have any tattoos. While nobody is sure why the actor hasn't gone under the gun yet, given his brothers' penchant for tattoos this is likely to change in the future.