Thor throws his hammer with his right hand nine times out of ten in the movies and the comic books. However, is the actor who plays the Germanic God, Chris Hemsworth, right-handed?
Chris Hemsworth is right-handed. His character in the MCU, Thor, is also right-handed. In Thor: The Dark World, Thor's hand was chopped off by Loki at one point in the film. Hemsworth's right-handedness also hadn't stopped him from making some spelling mistakes in the past.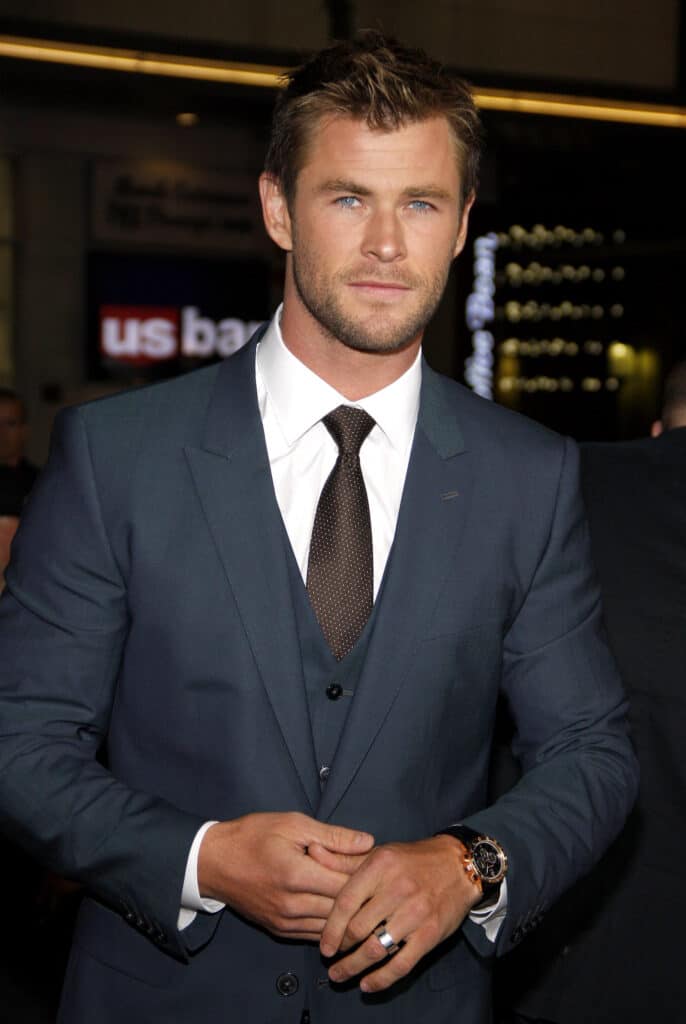 Scroll down to learn more about Chris Hemsworth's right-handedness and the time his character's hand was chopped off.
Chris Hemsworth Is Right-Handed
Like most of the world's population, Chris Hemsworth is a righty. He writes with his right hand and he does pretty much any activity that requires a dominant hand with his right hand.
He uses it to help him surf and work out which are two things that he does a lot. He also has an advantage over lefties when it comes to writing because he doesn't have to worry about his hand smudging ink or getting covered in pencil.
Despite that advantage, it didn't stop him from making a big writing mistake when he was one of the six Avengers who were honored with a handprint ceremony by TCL Chinese Theatre in Los Angeles in 2019. Hemsworth pressed his two hands into the hardening cement but he may have been a little too excited.
That's because when he went to write his name into the cement along with his handprints, he made a spelling mistake. He appeared to spell his last name incorrectly.
Pictures emerged of his handprint online not long after the ceremony and fans were quick to point out the error. It looked like he forgot the "t" in Hemsworth and then tried to fit it in after.
A lot of fans immediately pointed out the error and called Chris Hemsworth out on the mistake. However, looking at the handprint, it looks like he may have started to run out of space and was trying to make his lettering smaller.
Plus, he was trying to write his name into hardening cement with a stick. That's not exactly going to give you fantastic results.
Fans can also be very critical sometimes too. Hemsworth has even been critiqued on the fact that his go-to red carpet move is putting his left hand in his pocket. He does it so much that Buzzfeed wrote an entire piece about it.
You can watch Chris Hemsworth crash a weather report on the Australian Today Show in the below video.
That Time Thor's Hand Was Chopped Off
While Chris Hemsworth has played the character, Thor, for over ten years, the two have shared a characteristic long before he was ever cast to play the hulking hero. They are both right-handed.
Looking back at the Marvel comics that have featured Thor as a character since 1962, he is always right-handed. This has been established because he is always throwing his hammer with his right hand meaning that it is his dominant hand.
So fans were shocked when something crazy happened in the sequel film to the first Thor movie. This was Thor: The Dark World which was released in 2013.
There was a moment in the movie's trailer when Thor comes face to face with Loki (played by Tom Hiddleston). The two are engaged in a battle and when Thor moves to take action with his hammer, Loki manages to cut off Thor's right hand.
Hammer and hand go flying in the footage. While at San Diego Comi-Con ahead of the film's release, Hemsworth told interviewers "Maybe I will have to learn to use the hammer with the left hand, you know? Or I was thinking of maybe just attaching it. I could ram it straight down into the stump. That would be very Game of Thrones in approach."
Like most things with the MCU, not all was as it appeared in the trailer. Spoiler alert now though if you haven't seen the film yet.
It turns out that Loki who is the master of illusion does not actually chop off Thor's hand. He has instead created an illusion as a distraction. So Thor's hand wasn't actually chopped off and he didn't have to then ram the hammer into his hand Game of Thrones style as Chris Hemsworth suggested.
The hammer-wielding hero that everyone loves so much was absolutely fine and continues to kick butt.