Dennis Rodman is a legendary American former basketball player who is known as "arguably the best rebounding forward in NBA history". He's also known for being controversial (both on and off the court) and as a bit of an eccentric basketball bad boy. But is he also known as a loving father when the cameras pan out?
Dennis Rodman is a father to three children. He has two daughters, Alexis and Trinity, and a son, DJ, who shares his name. Dennis has had a rocky relationship with all three of his children but seems to be focused on making amends now that he's retired.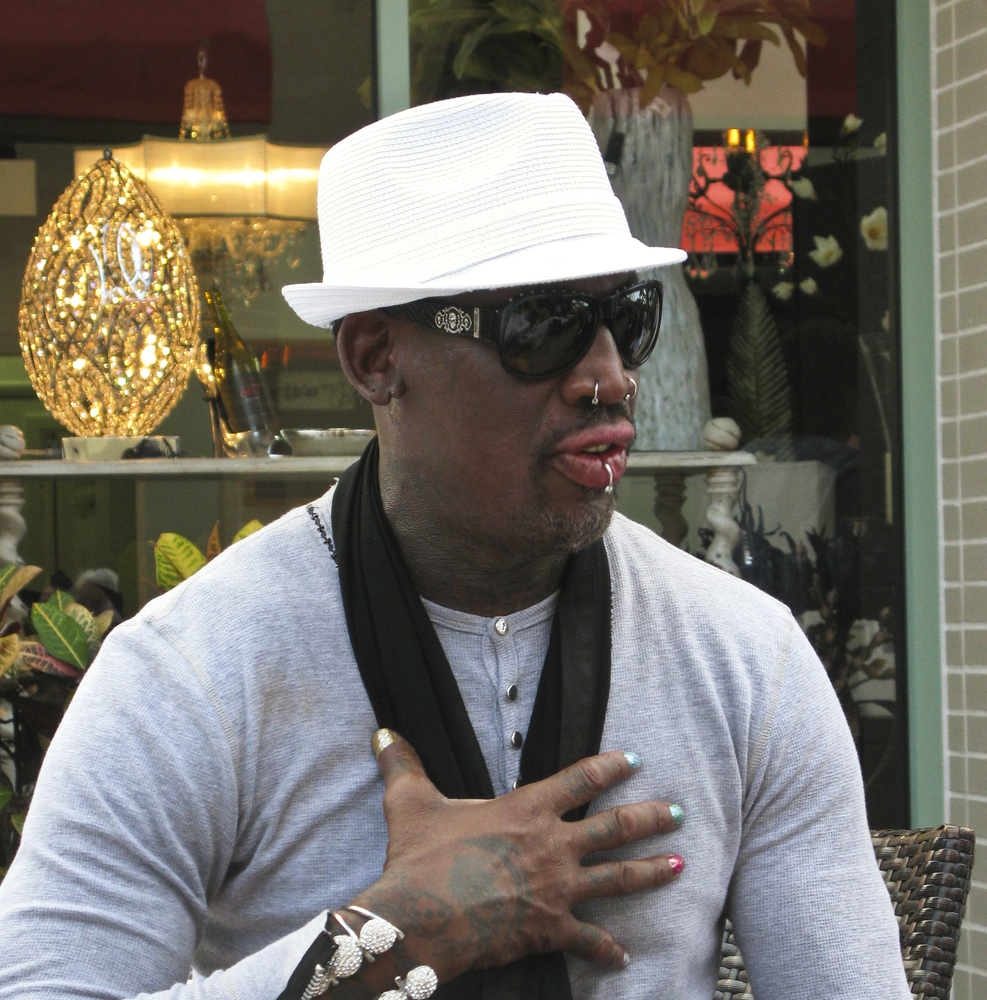 Who are Dennis Rodman's children? What does Dennis think of being a father? And what do his trio of children think of him as a father? Let's find out.
Does Dennis Rodman Have Children?
Dennis has a total of three children, from two different women. No, those women aren't his famous ex-girlfriends Carmen Electra and Madonna – though the latter could have been the mother of his children if she had her way!
Dennis became a father for the first time in 1988 when the woman who would be his wife from 1992 to 1993, Annie Bakes, welcomed a daughter named Alexis Rodman into the world. After his marriage to Annie dissolved after 82 days, Dennis began a relationship with Michelle Moyer.
On 25 April 2001, Dennis and Michelle became parents to Dennis Thayne Rodman Jr., better known as DJ. Just over a year later, on 20 May 2002, the couple had another child, a daughter whom they called Trinity Rodman.
Who Are Dennis Rodman's Children?
Dennis's firstborn, Alexis, has led a life well out of the public eye and nothing is known about her life today other than the fact that she is married and has a son named Vincent with her husband. Unfortunately, plenty is known about her life as a child as Annie shared details about her childhood with Chicago Tribune in 1997.
Annie told the publication that Alexis had to undergo anger management counseling and said "Alexis shows a lot of anger right now and she is holding it against me that I left Dennis. Alexis also keeps saying to kids at school: 'My daddy has girlfriends' and 'My daddy doesn't come to see me.'"
More is known about Dennis's two younger children, DJ and Trinity. Both children have followed in their father's footsteps and are athletically inclined, but try their best to achieve success on the court and field without their father's shadow looming over them.
DJ is a college basketball star for Washington State Cougars. He was raised by his mother and went to Kaiser Elementary School, followed by Ensign Intermediate School, and then Corona Mar High School before transferring to JSerra Catholic High School. He now goes to Washington State University.
Trinity is a professional soccer player who plays for Washington Spirit as well as the national US women's soccer team. Like her brother, Trinity was raised by her mother and attended all of the same schools that DJ went to, though she didn't play soccer in college due to the Covid-19 pandemic and instead chose to go pro at the age of 18, making her the youngest NWSL draft in history.
Is Dennis Rodman A Good Father Now?
There's no way around it: Dennis hasn't always been the best father. But, these days, he seems to be making more of an effort and it is being well received by his children.
In 2018, the sports legend told Page Six, "I want to see my kids grow up. I just need to stop partying, take a step back, and get my life back in order. A lot of people connect with me partying and being a bad boy, but now I am getting up in age, so I felt it was my time to step back and re-evaluate my life."
People report that after a playoff in 2021, Trinity opened up about her relationship with her dad saying "This last game was an extremely emotional one. Yes Dennis Rodman showed up to an Nwsl game, but also my dad, after YEARS surprised me at a big game in my career. I was shocked, overwhelmed, happy, sad, everything."
Trinity continued, "My dad doesn't play a big role in my life at all and most people don't know that we don't see eye to eye on many things. I go months, if not years, without his presence or communication. Being in spotlights has been hard for us, him and me."
She concluded, "We don't have the best relationship, but at the end of the day he's human, I'm human… He's my dad and I'm his little girl that will never change I will improve and look forward to everyday as I hope he does."