Dennis Rodman is a basketball hall of famer and in 2022, was voted in the NBA's 75th Anniversary Team, which is composed of the NBA's top 75 players of all time. He stood alongside NBA legends such as Michael Jordan, Shaquille O'Neal, and Isaiah Thomas.
Dennis Rodman attended Cooke County Junior College (now North Central Texas College) in 1982-1983 and transferred to Southeastern Oklahoma State University in 1983-1986. He was recruited by Southeastern Oklahoma State University coach, Lonn Reisman.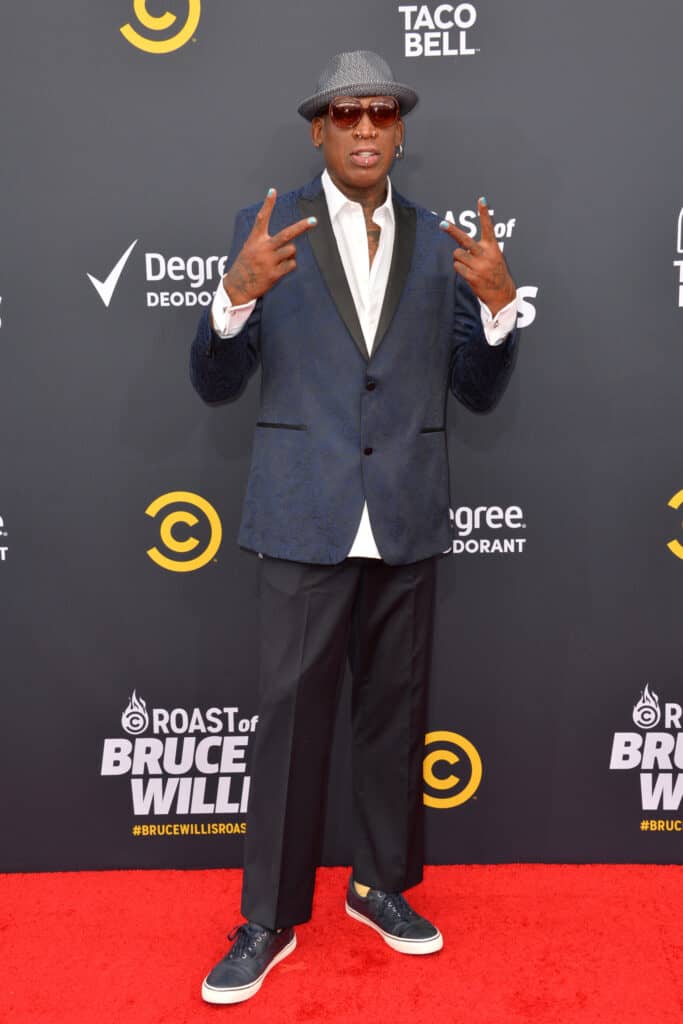 Before reaching such heights in his professional basketball career, let us find out where the Worm got his start.
Early life
Born Dennis Keith Rodman, The Worm came into this world on May 13, 1961 in New Jersey. He is the son of Philander and Shirley Rodman. He is the eldest of his father's 29 children.
When he was three, his father left their family. His mother carried all the load of taking care of young Dennis along with his two sisters, Debra and Kim.
In high school, he stood only 5'11" and could not make the South Oak Cliff High School varsity team.
He got into a bit of trouble while working as a janitor at Dallas Fort Worth International Airport. He was arrested for stealing 15 watches and was jailed for one night. He was released when he told the police where to find the watches.
After the incident, his mother kicked him out after he ignored her pleas to do better by either joining the armed forces, going to school, or finding a job.
Recruitment of a basketball genius
Rodman, now 20 years old, had his growth spurt where he grew to almost 6'8″. Because of his physical gifts, he was given a chance to play for Cooke County Junior College even without any organized basketball experience.
This is when Lonni Reisman, an assistant coach at Southeastern Oklahoma State University, caught wind of a player from Gainesville destroying basketball opponents.
Reisman frequently scouted players in Dallas to be recruited into their NCAA Division II basketball program. He was immediately amazed when he saw Dennis in action and wondered how this supreme athlete was not in a Division I school.
The coach knew it would be a 'very, very long shot to recruit him.' As he left, he wrote Dennis' name down, doubtful of ever getting him although he still had to take his shot at getting this basketball phenom.
"But you always dream about it. He was raw but very athletic and he had a motor that I had not seen," he explained in a NY Times interview.
After a few weeks, Reisman went back to Cooke County to watch one of Rodman's games but Dennis was already gone. He was told that Dennis had gone home to Dallas. He saw this as his only chance.
With the help of Shirley Rodman, he was able to set up a meeting to try to convince the future NBA legend to join their college basketball program. Reisman said the connection was immediate. Dennis then accepted a scholarship to Southeastern on the same day and there his basketball genius was put on full display.
Dennis first thanked Coach Reisman in his basketball hall of fame induction speech decades after that fateful meeting.
A successful college career
In an interview by Joe Musatto, a Southeastern teammate, Kenny Chaffin raved about Rodman's 'superhuman' abilities. Dennis became the main draw for the Bloomer Sullivan Gym–crowds sat excitedly for the athletic spectacle they were about to witness and Dennis always delivered.
Philip Stephens, the starting point guard for the Savage Storm, had an unspoken connection with Rodman on the court. In one unforgettable play, Rodman got the defensive rebound, passed the ball to Stephens and ran the length of the court ahead of everyone.
Philip threw the ball towards the rim. Rodman caught the ball and finished with a 180-degree dunk. This play showcased the Worm's knack for getting a rebound and freakish athleticism to create baskets on the other end.
For his years in Southeastern, he averaged 25.7 points and 15.7 rebounds per game. He was the leading rebounder at the National Association of Intercollegiate Athletics for two years.
As a junior and senior, he averaged 16.1 and 17.8 rebounds per game respectively. His spectacular college play put him on the sights of the Detroit Pistons, who picked him in round 2 of the 1986 NBA draft.