Dennis Rodman is a retired National Basketball Association champion. His professional playing career started in 1986 as a member of the Bad Boy Pistons. He is a basketball hall of famer and member of the NBA's 75th Anniversary Team. His basketball accolades are numerous and deservedly so–he was the epitome of hard work and tenacity on the court and was even called a basketball 'genius' due to his raw talent.
NBA legend Dennis Rodman is currently a motivational speaker imparting to others the precious wisdom he has collected in his colorful life.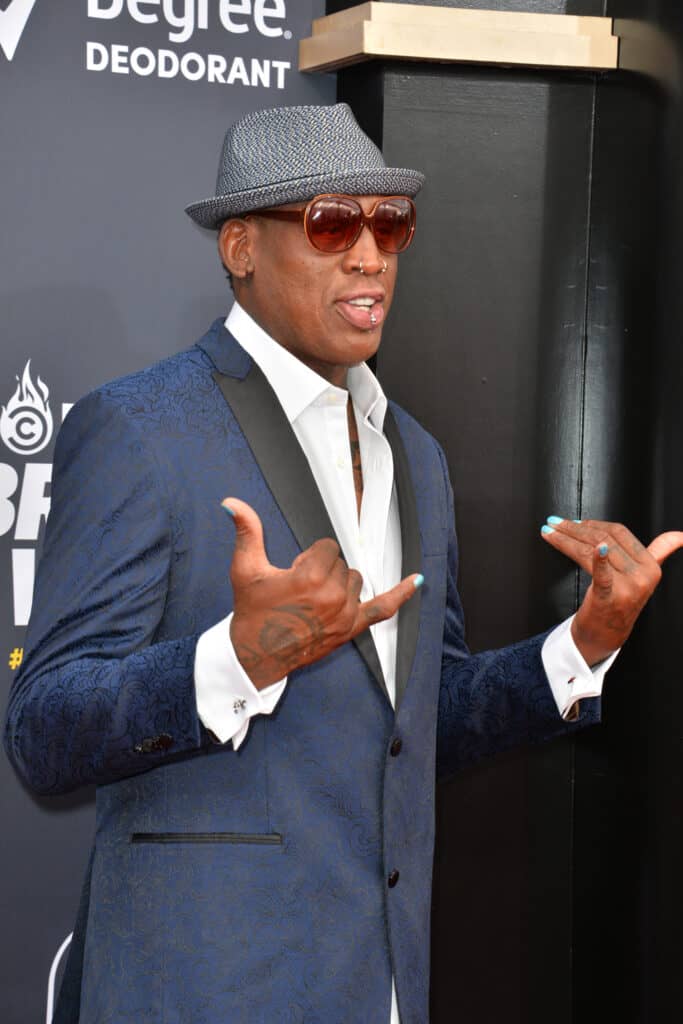 To call Dennis 'The Menace' a celebrity would be an understatement. The Worm has appeared in films, was a pro-wrestler, an author, has made TV appearances in reality shows and was even an unofficial ambassador to North Korea. Let's look into Dennis' journey from "menace" to wise man.
Dennis 'The Menace'
Rodman was the ultimate bad boy of the NBA with his colorful hairstyles, tattoo-covered body, outrageous fashion and his penchant for antagonizing officials, fans and players on the court.
He was the antithesis of the clean image of NBA's face, Michael Jordan. His antics may have been detrimental at times to the goal of his team but it made sure that Dennis would stand out of all NBA players. He became the alternative brand to Jordan's.
His brand represented the misfits–the rule-breaking and rebellious culture boiling up in the 1990s. He came out with his first autobiography in 1996 titled, "Bad As I Wanna Be," where he told everything about his relationship with Madonna, troubles with the law, drug use and his difficult life as a youth.
The tell-all book explained so much. This made Dennis more relatable; he was no longer just a troublemaker but a person needing and deserving acceptance.
Acceptance of his alternative lifestyle
As his celebrity grew because of his flamboyant fashion and lifestyle, Dennis transcended basketball popularity and went deeper into pop culture.
Dennis shocked the world during the release of his book when he dressed in a wedding gown, with full make-up on and escorted by women in tuxedos. He was a hype master at a time when the internet was still an infant and cellular phones were just phones.
This was in 1996. This was the year Dennis joined the Bulls team which finished with the then NBA record 72 wins and 10 losses for a season and ultimately won the NBA Finals against the Seattle Supersonics.
This showed everyone that despite having his flamboyant and sometimes troublesome lifestyle, he was still able to be counted on in the biggest stage of the NBA. He kept this going for two more seasons, helping the Bulls to a three-peat.
An inspiration for the youth 
Since leaving the NBA in 2000 after a very short stint with the Dallas Mavericks, he has remained in the public eye with TV appearances and projects in different media.
In 2013, he co-wrote a children's book, 'Dennis the Wild Bull,' with "the sole purpose of conveying good lessons to children based on Dennis's own experiences as a world-class athlete while overcoming obstacles as a child."
"Ambassador" Rodman to the rescue
Back in 2013, Rodman visited North Korea to host basketball exhibitions. He met North Korean leader, Kim Jong-Un, who was a basketball fan. "I'm sorry my country and your country are not on good terms," he expressed to Kim during their meeting. "But for me, and your country, you're a friend for life."
Dennis visited North Korea again in 2017 and 2018 for basketball diplomacy. Rodman truly believes he is able to bridge the strained relationship of the two nations. He stated in an interview, "I think that I brought awareness to a lot of things around the world. And I think North Korea has given a lot of people this opportunity to do this conference now and I hope it is a success."
It has been speculated that Dennis may have been working with the CIA or that his visits were of a political nature. Improbable? Yes. Impossible? No.
Transformation
Despite his loud lifestyle, he has always been described as a sweet and soft-spoken man. He uses his voice now, not to shock but to inspire through his motivational speeches.
His story relates pretty well to everyone because it hits on a primal level – fighting through adversity in order to win. Dennis' life struggles are all publicized, and normal men would have crumbled under the amount of scrutiny Rodman has been under.
His lesson: survive and succeed despite the villain role through hard work, finding good support, and never giving up.