President Donald Trump is well known for his love of fast food and has discussed his dietary preferences in the past. Does President Trump drink coffee?
It's thought that Donald Trump does not drink coffee, but he was once photographed drinking espresso during a campaign visit to Little Havana in Miami. Trump also avoids tea and has stated his refusal to drink alcohol, largely motivated by his late brother's alcoholism.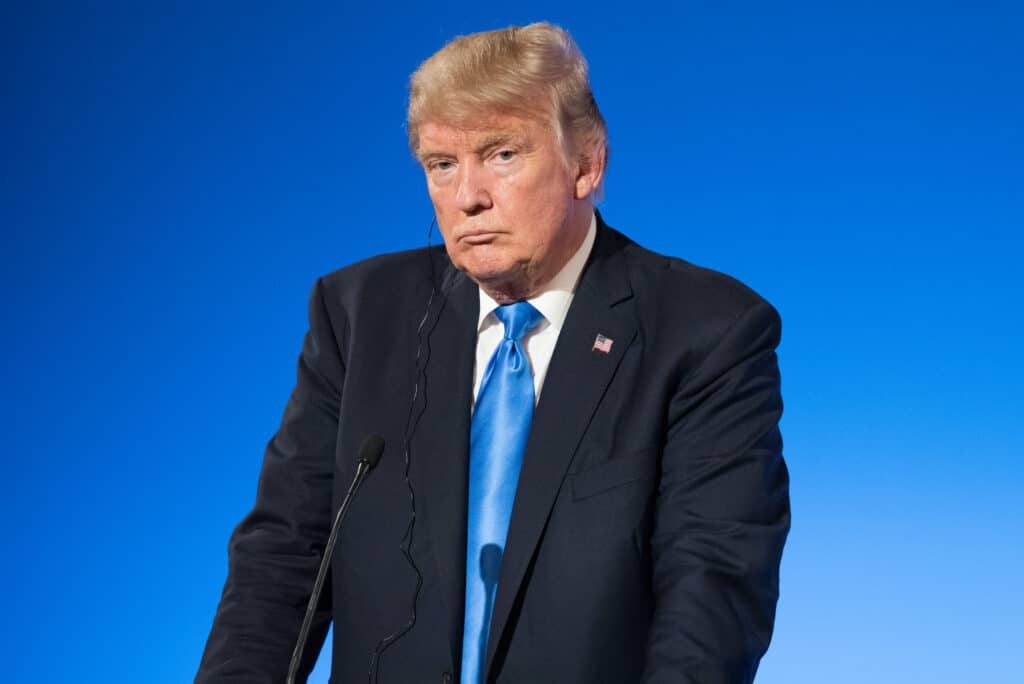 For more on Donald Trump and his eating and drinking habits, read on.
Drinking
Donald Trump is known to have a relatively limited diet and this extends to his drinking preferences. He usually avoids hot drinks, staying away from both coffee and tea.
Despite generally avoiding coffee, it seems that he isn't completely opposed to trying it. During a visit to Little Havana in Miami, Trump visited a local restaurant and tasted a cafecito espresso, calling it "strong".
It seems likely that this was simply a photo opportunity and a way of engaging with the local public rather than a sign of Trump embracing coffee. He is usually never seen drinking coffee or tea.
Trump is teetotal and has said that he was never a drinker, though it is possible that he used to consume alcohol during his younger days in the 1970s. He has explained that his motivation for not consuming alcohol was his older brother, Fred Trump Jr., who was an airline pilot.
Fred, an alcoholic, died in 1981 when he was just 43 years old. After US Supreme Court nominee Brett Kavanaugh's drinking habits became a hot topic, Trump stated that he had never personally been a beer drinker.
Trump's distaste for alcohol is known to extend to his appointments as United States President, with sources stating that being a drinker did not mean a person was immediately disqualified. It does, however, make it more difficult to win Trump's favor, given his personal dislike of alcohol.
He does make one exception to his refusal to drink alcohol: when he accepts wine while taking communion. He has also stated that his abstinence from alcohol is one of his "only good traits".
His avoidance of alcohol and the two most popular hot drinks, coffee and tea, begs the question of what Trump actually drinks. His preference is Diet Coke, as evidenced when Trump toasted his peers at the United Nations General Assembly using a wine glass filled with the fizzy fluid.
It has been reported that President Trump consumes in the region of 12 cans of Diet Coke per day, a remarkable amount. Despite the absence of sugar in Diet Coke, drinking such a large amount does mean that Trump would be far above the daily recommended amount of caffeine.
It is also believed that the artificial sweeteners used in diet drinks might activate a person's appetite, encouraging them to eat more food, and increasing the risk of obesity.
Eating
Much like his drinking habits, Trump's diet has been a topic of discussion since his arrival at the White House.
Former presidential physician Ronny Jackson discussed his attempts to make Trump eat more healthily, saying that he had resorted to sneaking cauliflower into the President's mashed potatoes.
Trump has been nicknamed "The Fast Food President" due to his preference for fast food over more traditionally prepared options. Corey Lewandowski, Trump's former campaign manager, stated that the President had four main food groups: McDonald's, KFC, pizza, and Diet Coke.
In 2016, during Trump's election campaign, a photo of him sitting on his private plane next to a bucket of Kentucky Fried Chicken drew attention to his eating habits. A former butler has said that Trump's favorite food is a well-done steak with ketchup.
In his lives as both a businessman and politician, Trump has had an extremely busy schedule and appreciates takeaway food for how quick and convenient it is.
He has also explained that he prefers visiting large chain restaurants and takeaways because they are subjected to more scrutiny than smaller, independent establishments.
In Trump's words, "one bad hamburger can destroy McDonald's". He is, in his words, a very clean person.
During a visit by King George VI of Great Britain, President Franklin D Roosevelt served his royal guest hot dogs to present a sense of relaxed and friendly democracy.
When Trump welcomed the NCAA Football Champion Clemson Tigers, he served 300 hamburgers on the White House's collection of silver.