As the 45th President of the United States of America, there's no denying that Donald Trump is known by nearly everyone throughout the world. Some love him, some hate, and while there seem to be few in the middle ground, many are wondering who he is and what makes Donald Trump the person he is. For example, does he even have something as basic as a driving license?
Donald Trump does have a driving license. A copy of one of his most recent driver's licenses was discovered after POLITICO filed an open-records request, showing that the license was issued in 2012.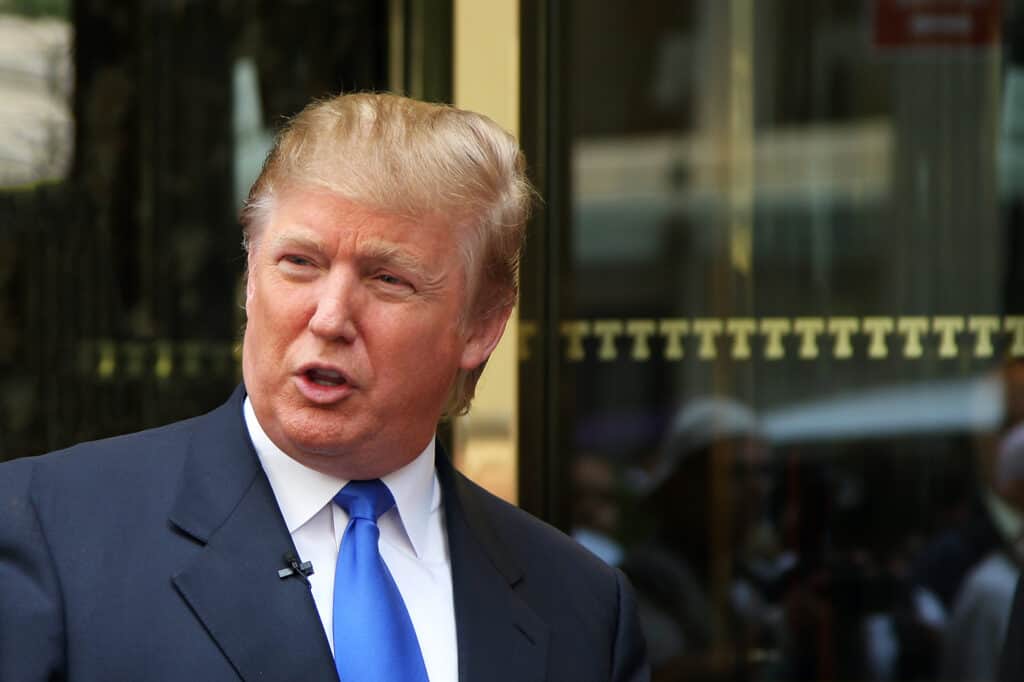 While Trump does seem to have his own license, even something like this hasn't come without controversy. To find out more on these controversies, and some more details on what Trump drives, just scroll down!
The Driving License Controversy
There's no denying that Trump is no stranger to controversy, and even before he ran and secured the presidency through his political campaigns, controversy followed him around like a shadow.
The controversy around his driving license happened back in 2016. POLITICO, which is a political news website, managed to get a hold of a copy of the driving license from the Virginia Department of Alcoholic Beverages Control via an open-records request after investigating a winery both Trump and his son Eric owned and ran.
POLITICO then released a copy of the image that showed Trump's height to be 6-foot-2, a height media outlets jumped on from the moment of release.
The reason this is so controversial is the fact that Trump had previously described himself as being 6-foot-3, and even had a letter from his gastroenterologist that was shared on the Dr. Oz show that stated he was 6-foot-3. Even Trumps's Google entry at the time stated he was 6-foot-3, but this has since been updated to 6-foot-2.
Now, there's definitely a ton of people who would argue that it's only an inch, but there are some topics to discuss here.
An article posted on the Slate website discussing why Trump may have lied about the extra inch. They claimed that Trump was lying about his height because he weighs 236 pounds, which meant that being an inch shorter put him very close to the official obese weight rating – the BMI Index.
Adding the extra inch meant that he was closer to an average rate, rather than being obese. An article in Times magazine mentioned this discrepancy, in which Trump responded that 'it very much irritates him that media outlets have to lie about his height being 6-foot-2.'
Many people will probably believe that there are more important things to worry about than Trump's actual height or theoretical weight issues, but it's interesting that even on something so small, there is still controversy to be found.
Does Trump Drive Himself?
It's kind of common knowledge that when you become President, for the time you're in office, you don't really drive yourself around but instead need chauffeurs and security who handle everything on your behalf. That being said, Trump does adore driving and actually has one of the most impressive car collections there is.
This, and some of the cars featured on this list will probably come as a shock to many.
Of course, in true Trump fashion, Donald is known for describing his car collection as one of the best in the world. Of course, but there's no denying there are some stunning cars here.
The collection includes a 1997 Lamborghini Diablo VT, a Tesla Roadster, a golden motorcycle, a Rolls-Royce Phantom, a Rolls-Royce Silver Cloud, a Cadillac Allante, an Indy500 Pace Car, a Mercedez Benz SLR McLaren, and during the time of his Presidency, his fleet of limouses.
That's right, in true billionaire style, Trump had a motorbike plated with 24-karat gold, and some of his cars may even resemble something you would see in a James Bond movie.
For example, on his presidential limousines, they came equipped with bulletproof armor plating, 8-inch thick doors, biochemical protection, run-flat tires, tear gas dispensing, smokescreen guns, and even oil slick dispensers to throw whoever may be following the cars off the road.
All in all, his fleet of limos cost around $15.8 million to produce, which is a pretty staggering figure once you think about it. However, this is probably the kind of collection you'd expect from a billionaire like Donald Trump.
In case you were wondering, Trump doesn't just stick with cars and motorcycles. He also owns a Boeing 757 plane, a Cessna Citation X plane that can hold up to 12 passengers, and a Sikorsky S-76 Helicopter. Phew. We don't think Trump is going to have any trouble getting around any time soon.