With over $170 million records sold, Drake is one of the world's best-selling music artists. But while the rapper is widely recognized for his songs like 'God's Plan' and 'Started from the Bottom', rumours have been persistent that Drake uses ghostwriters to help him write his music. So does Drake actually write his own songs?
When rapper Meek Mill accused Drake of not writing his own music, Drake openly admitted that he uses help from other songwriters in writing his songs. He maintains that his songwriting is a collaborative process, and says he stands by the help he receives from fellow artists.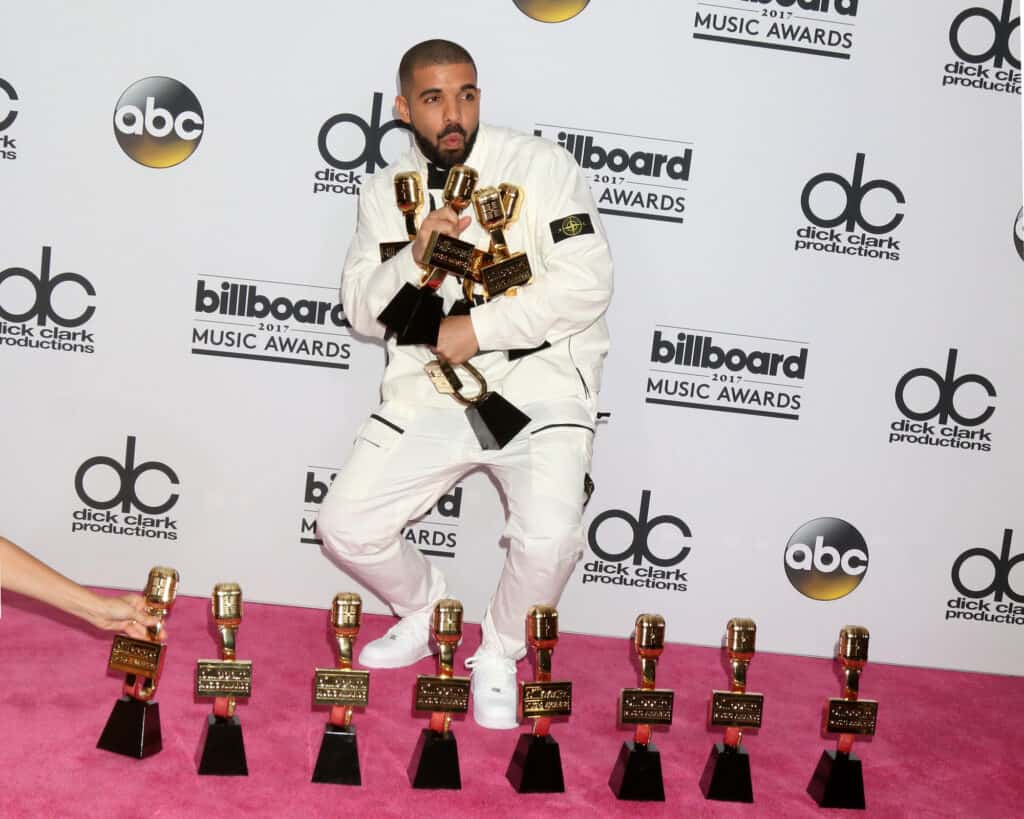 Read more about the feud between Meek Mill and Drake, and about how Drake is proud of the fact that he collaborates with many other artists in his songwriting.
Meek Mill vs Drake
Drake's catchy songs have not only made him one of the best-selling artists in the music industry, but also gained him worldwide popularity and a number of awards such as four Grammys and a record of 27 Billboard Music Awards.
But while Drake's influence and success in popular music is undeniable, a series of rumours have surfaced which not only question, but openly call the rapper out for his alleged use of ghostwriters.
At the forefront of these allegations sits fellow American rapper 'Meek Mill', who Drake has collaborated with on Mill's album 'Dreams Worth More Than Money.'
In 2015, the rapper published a tweet in which he openly attacked Drake for allegedly not writing his own music: 'He ain't even write that verse on my album and if I knew I woulda took it off my album… I don't trick my fans! Lol.'
With this tweet, Meek Mill was widely seen as criticizing Drake for not being the sole responsible for his chart-topping music.
Meek Mill has widely said that he writes all of his own music and lyrics. With his tweet he thus implicitly suggested that the fact that Drake allegedly uses help to write his songs makes him a less talented and less hard-working rapper than himself.
Mill's allegations caused an uproar in the music industry and sparked a debate over the question whether artists like Drake, who are widely renowned and famed for their music, should be allowed to use help from other creatives in their songwriting.
Drake's collaborations
Following the allegations that were leveled at him, Drake initially decided to address Meek Mill's tweets using his music and released two songs 'Charged Up' and 'Back to Back.'
When his detractors however refused to engage in a discussion with him, Drake decided to openly address his songwriting process and the allegations leveled at him in an interview with Neyfakh.
He first expressed his discontent over Mill's crass allegations. Then, he went on to explain that to him, music has always been a 'collaborative effort.'
He said: 'I need, sometimes, individuals to spark an idea so that I can take off running'
'And those recordings — they are what they are. And you can use your own judgment on what they mean to you.'
Firmly standing by the fact that he does collaborate and work with with other artists when writing his music, Drake rejected Mill's claims that he only uses ghostwriters or doesn't write his own songs at all. As Drake expressed, he sees songwriting as a process that can involve multiple parties.
By responding to his allegations in such a firm manner, Drake not only dissolved any questions about the legitimacy of his songwriting but also made a case for the collaborative involvement of other artists in his music.
And ultimately, regardless of what rumours may be circulating about him, Drake remains a highly influential and successful artist with a chart-topping array of songs that others can dream of.