As a member of One Direction and a successful solo artist, Harry Styles is one of the most successful young musicians in the world. Does he write his own songs?
Harry Styles has written all of his own songs since becoming a solo artist in 2016. While he was a member of One Direction, Styles received writing credits for his contributions to the band's lyrics but this was not the majority of their music.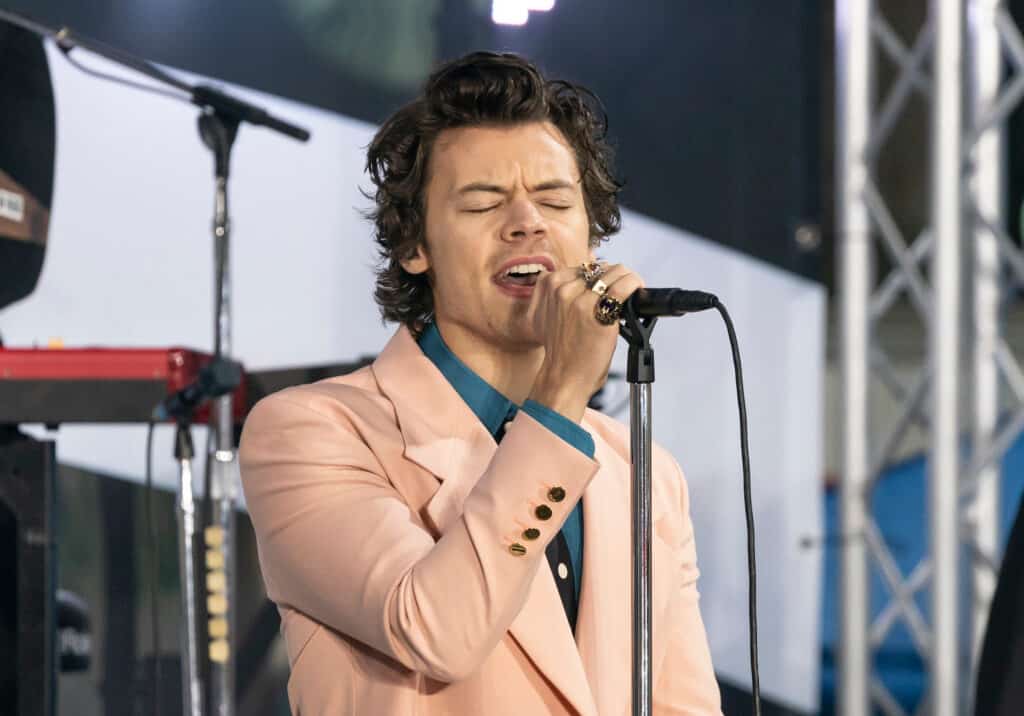 For more on Harry Styles and his songwriting, read on.
Harry Styles
Harry Edward Styles was born in Redditch, England on February 1, 1994. He joined his first music group while in high school, forming a band called White Eskimo.
In 2010, Styles entered the seventh season of "The X Factor", where he was placed together with four other young singers: Zayn Malik, Louis Tomlinson, Niall Horan, and Liam Payne. The five teenagers had entered the competition as individuals but were all rejected.
"X Factor" had a number of different categories and it was felt that the groups category was too weak, so the five boys were asked to form a group. Styles suggested the group's name and One Direction was born.
The brand new group was given a fortnight to become properly acquainted and practice before the competition began. Simon Cowell, who has said that the group's formation was his idea, was their most vocal supporter from among the judging panel.
One Direction ultimately placed third in the competition. They had recorded a song, "Forever Young", which would have been released if they won the competition.
One Direction
Despite failing to win the competition, "Forever Young" apparently leaked online. This coincided with the announcement that Cowell had signed One Direction to a Syco Records contract.
They began recording their debut album, "Up All Night", in January 2011. The album was written by numerous songwriters but, given their youth and the manner in which the band was formed, it's unsurprising that the members received few songwriting credits.
Still, they did collaborate on a number of the album's songs. Styles has credits on "Taken", "Everything About You" and "Same Mistakes", with most of these songs coming towards the end of the album.
This dynamic remained the same for the rest of the band's run before their indefinite hiatus. While each album featured songwriting contributions from most of the band's members, they were not the majority and it's unclear how much creative input they truly had.
Solo Career
In 2016, following Zayn Malik's departure from the band, the remaining four members announced that the band would be taking an indefinite hiatus. Styles launched his own record label and signed with Columbia Records as a solo artist.
He began working on his debut solo album, including a two-month writing retreat in Jamaica. Always a keen songwriter, with credits for other artists including Michael Bublé, Styles could more meaningfully assert himself now that he was a solo performer.
Styles paid homage to his musical heroes in his solo work, moving away from the boy band pop of One Direction and showing more soft rock and Britpop influences. The album displayed influences from Queen, Elton John, and David Bowie.
Unlike his One Direction work, "Harry Styles" has Styles listed with a writing credit on all of the album's ten songs.
Styles would continue writing his own songs on his second album, "Fine Line", which was released on December 13, 2019. He again has a writing credit on every song, working with various co-writers.
Both albums were generally positively reviewed, with "Fine Line" receiving slightly stronger praise than its predecessor. They also performed very well commercially, with both "Harry Styles" and "Fine Line" reaching the top of the Billboard 200 albums chart.
It's clear that Harry Styles has been able to move out of the enormous shadow of One Direction's success.