Kendrick Lamar has been dubbed 'the new king of hip hop' on more than one occasion due to his genuine use of concept albums. His lyrics are also overtly political so does he write them?
Kendrick Lamar writes his own songs. He is credited as the main writer of every song on his four studio albums. Looking at the credits though, he is not listed as Kendrick Lamar but instead uses his last name, Duckworth. He has been the subject of more than one controversy and criticism surrounding his lyrics.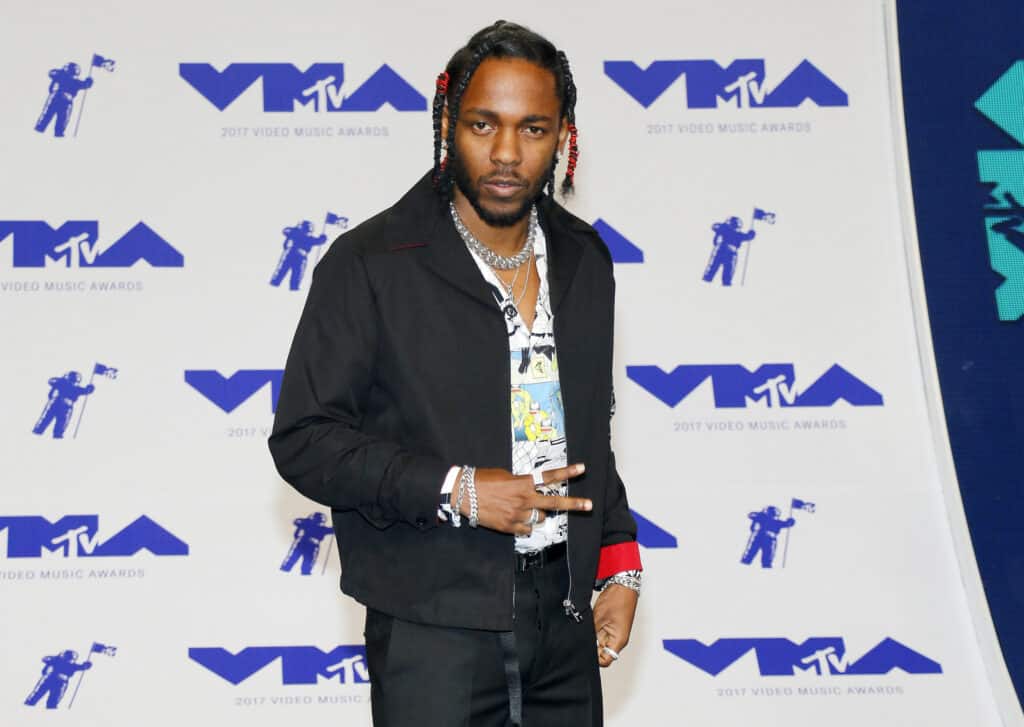 You can read more below about Kendrick Lamar's writing process, his influences, and the controversies surrounding his music.
Kendrick Lamar's Writing Process
In 2018, Kendrick Lamar won the Pulitzer Prize for music for his 2017 album Damn. He was only thirty-years-old and was the very first non-classical and non-jazz musician to win the award.
That's a massive achievement for someone so young and it speaks to the fact that Kendrick Lamar is essentially a genius when it comes to music. Even growing up, Kendrick proved his intelligence as a straight-A student all throughout high school.
When he was only 16, he released his very first full-length project which was a mixtape that landed him his first recording contract and his career took off from there. He has created four full-length albums, five mixtape albums, one compilation album, one EP, and he wrote the entire soundtrack for the Black Panther film.
So what does his writing process look like?
Well, in 2018 he was on the cover of Vanity Fair and he discussed his writing process with interviewer Lisa Robinson. He said the following about how he creates his music:
"I spend 80 percent of my time thinking about how I'm going to execute, and that might be a whole year of constantly jotting down ideas, figuring out how I'm going to convey these words to a person to connect to it. What is this word that means this, how did it get here and why did it go there and how can I bring it back there? Then, the lyrics are easy."
On top of his writing process, many of Kendrick Lamar's collaborators have stated that his creative process is the same as a jazz musician's. Many say that the specific chord combinations he uses are formatted in the same way jazz is.
Like many other artists, he uses his personal life experiences and infuses those into his lyrics and music in order to create huge hits like his song 'Humble.'
You can watch the music video for Kendrick Lamar's song 'Humble' below.
Main Influences on His Art
Even though he is considered the 'new king of hip-hop,' Kendrick Lamar has been heavily influenced by some of rap and hip-hops greatest. After all, he did grow up in Compton on welfare and living in Section 8 housing.
When he was only eight-years-old, Kendrick watched his biggest idols, Tupac Shakur and Dr. Dre, shoot the music video for 'California Love' the remix.
In terms of his biggest influences, you would have to expect the two listed above to be the ones he has listed as his top five favorites of all time. That's exactly what he did too when asked by the radio station Power 106 in Los Angeles.
Out of all of the choices that he had, Kendrick Lamar's top five are a group of probably the top five most recognizable rappers as well. He listed Jay-Z, Eminem, Notorious B. I. G., Tupac Shakur, and Snoop Dogg.
In a Twitter Q&A in 2015, he also pointed out some other big influences. When a user asked him for his opinion on Lil Wayne, he responded that Lil Wayne is one of the most influential artists of this generation.
Controversies Surrounding Kendrick Lamar's Lyrics
While he is clearly a talented lyricist and musician, Kendrick Lamar has not been immune to controversy and criticism surrounding his lyrics. As mentioned above, his lyrics can be overtly political which is cause for anyone to get wound up.
There was a huge controversy surrounding his 2015 song 'The Blacker the Berry' where lyrics referenced the killing of Trayvon Martin. Many thought this was him judging the black community.
Lamar also came under fire for his 2017 song 'Humble' which criticized women for using photoshop to make themselves look better.
On both occasions, Lamar defended himself and his views with many other celebrities swooping in to back him up.