Pro athletes seem to be at the forefront of the movement of tattoos into the mainstream. Does the Baltimore Ravens quarterback, Lamar Jackson, have any?
Lamar Jackson has tattoos covering a lot of his body. He has two sleeves and a tattoo that covers his chest. He told Steve Smith Sr. of the NFL series Art in the Game that he runs all of his tattoo ideas by his mom before getting them.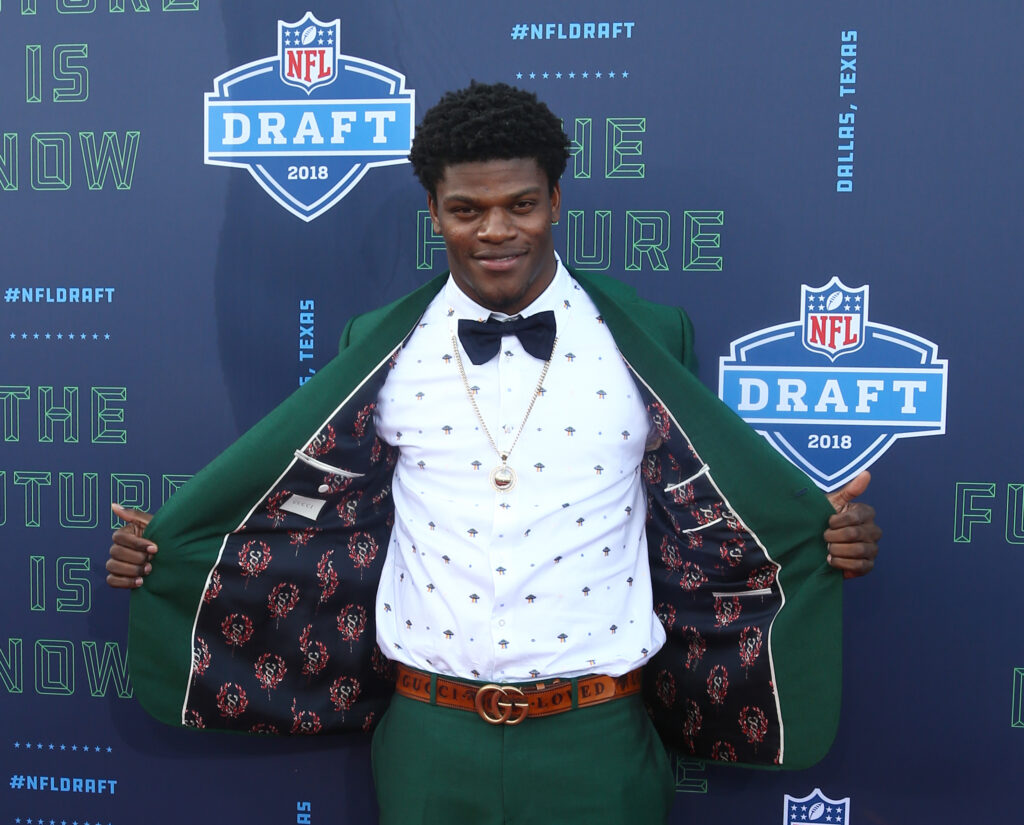 You can read more below about the different tattoos that cover Lamar Jackson's body.
Lamar Jackson's Sleeves
In the realm of tattoos, having a combination of tattoos that cover your full arm is called a sleeve. If that tattoo only covers half of your arm then it's called a half sleeve.
In the case of Lamar Jackson, he has two sleeves. On these sleeves, there are some very meaningful tattoos.
As mentioned above, Lamar Jackson was featured on the NFL Network special series Art in the Game that was hosted by the Ravens former wide receiver Steve Smith Sr. In the series, Jackson goes into detail about some of the tattoos that cover his arms.
He tells Smith that he has his grandmother's name tattooed on his left forearm. Her name is Doris Denkins.
Jackson also has his mother's favorite scripture from The Bible tattooed onto his left bicep. The scripture is Mark 6:4 which says "A prophet is not without honor except in his own town, among his relatives, in his own home."
Also on his left forearm are the words 'My Brother's Keeper.' This tattoo is about his younger brother, Jamar, to who he is really close.
When he was asked how he chooses his tattoos, Jackson said that he actually goes to his mother and asks for her opinion on what he is thinking about getting. Then with her go-ahead and creative input, he gets inked.
Lamar Jackson also has a tattoo of the words 'Living Legend' that he said his mother was the creative genius behind.
Another tattoo that sits on his right bicep is a lion that he says represents his lionheart. The lion also wears a crown like a king.
You can watch Lamar Jackson as well as other NFL rookies discussing their tattoos with Steven Smith Sr. in the below Art in the Game video from the NFL Network.
Lamar Jackson's Chest Tattoo
The Ravens QB had only his sleeves done for the longest time, however, a big reveal showed that Jackson got a massive tattoo on his chest. On April 12, 2020, it was revealed by the tattoo artist known as ace_no_buggy on Instagram.
He had the tattoo created at the Ace of Spades Tattoo Studio in his hometown of Pompano Beach, Florida. Scrolling through the pictures that ace_no_buggy has posted to Instagram reveals that this tattoo artist helps a lot of people heal by covering up scarring with tattoos.
The artwork is incredible so it is no wonder why Lamar Jackson chose to get inked by this talented artist.
In terms of Jackson's chest tattoo, it is a bold and colorful piece that features a football with wings and the word family in the center and scrolled across his collarbone. To the right corner at his shoulder, there is a white dove and many have speculated that the feathers surrounding the football are raven wings.
At the bottom of the tattoo, there are three different words: Felicia, Truzz, and Lamar. Felicia Jackson is Lamar's mother and Lamar is clearly his name.
As for 'Truzz', it's a slang version of the word trust. Jackson started saying truzz when he started playing for the Baltimore Ravens and it has been a widely used word on the team since.
At the very top, across his trapezius muscles are the words 'God' and 'Send'. This is a pretty obvious reference.
You may also think that a man with the words 'God Send' tattooed on his body is full of himself, however, Jackson's faith keeps him humble.
During a press conference, Jackson was asked what keeps him humble. He replied "The Lord. The Lord. I give him all his praise, the glory, the honor because you know without him, I could have been doing anything you know."
It's also clear that he honors the Lord with his many tattoos. There are certainly more tattoos to come that honor Lamar Jackson's family and his unwavering faith.