As a college prospect in football, you need to do anything that you can to stand out from the rest of the opportunity-hungry players in the pack. One good way to do it is to have an exceptional 40-yard dash, and if your time is anywhere close to that of Baltimore Ravens player Lamar Jackson, you've definitely made a good first impression.
Lamar Jackson is able to run the 40-yard dash in 4.34 seconds. Jackson himself has stated that his time is potentially faster and that on the occasion he ran 4.34 it was not in optimal conditions.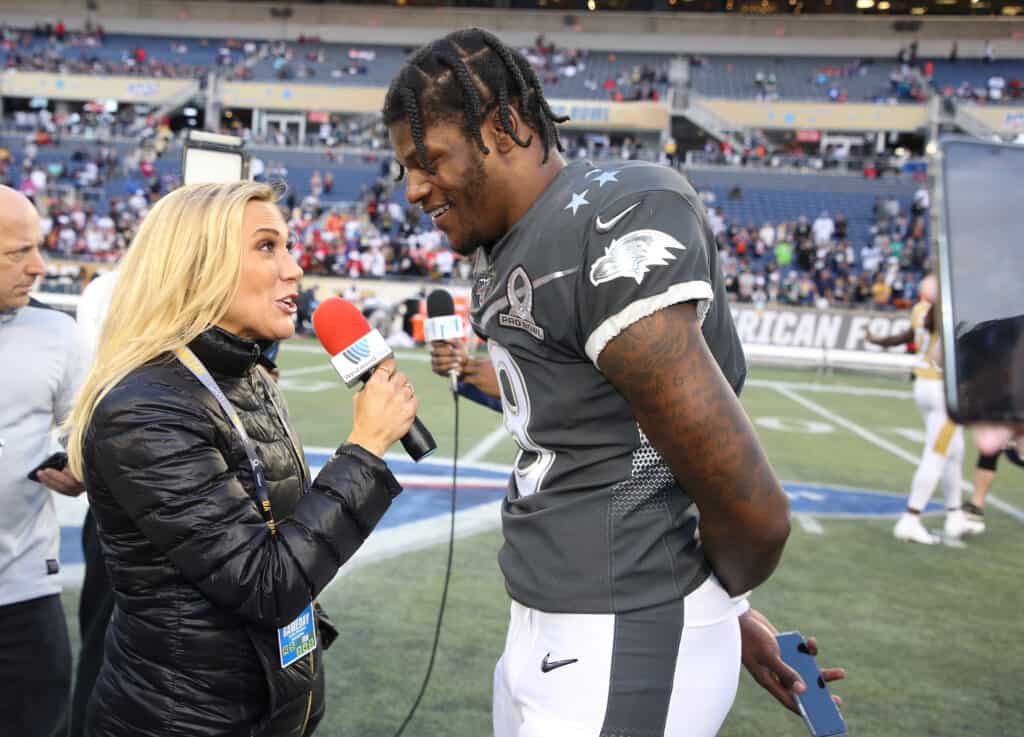 Even for a wide receiver, the time that Jackson is able to post on the 40-yard dash is something considered by most to be a lightning-fast time. For the quarterback position that he plays, it's more than a lightning-fast time, it's a time that puts him second to almost no other quarterback.
Turf Lightning
It's perhaps a little difficult to fully comprehend Jackson's speed without first setting up a baseline for how fast a player can complete the 40-yard dash. Football is a sport that is thankfully replete with statisticians that have spent decades compiling exactly this kind of information.
Taking a look at some of those stats, helpfully published by Mile High Report here, we can get a good feel for exactly what is considered fast by professional standards. In a way, it's a fairly narrow window of time, but even the slight differences are significant.
The average time, taking into account all positions on the field falls anywhere between 4 and 5 seconds for the 40-yard dash. Before we actually talk about Jackson's time and how it compares against the data, let's look at the average speed of a quarterback, the position that Jackson plays.
Blink And You'll Miss It
Quarterbacks typically run the 40-yard dash in around 4.9 seconds. That's a difference of almost 0.6 in comparison to how fast Jackson can do the 40.
If you've never competed in sports at a high level, whether it be football or any other sport, then it might not seem like a significant difference. The thing to remember is that at a professional level, everything becomes a game of inches, and being almost an entire second faster than any other quarterback is a tremendous achievement.
Jackson's average 40 is closer to that of a wide receiver, the position that posts the fastest average times doing the dash. With that in mind, it's perhaps no surprise that it's the position Jackson was initially being considered for by teams.
This was no small issue for Jackson, who was determined to play quarterback no matter what. Ironically, the sheer unmatched athleticism and skill which had separated him so far from the rest of the competition was also the reason that he was putting himself at risk of being shut out of his favorite position.
You can't really blame the coaches and scouts, either, as seeing a talent as raw as Jackson's likely had them chomping at the bit to recruit him into a position that could more traditionally take advantage of his blazing speed.
Taking a look at some of his running highlights, you don't even need to know the times he was posting to see why the scouts wanted him for the wide receiver position. Jackson wasn't going to be cornered into a specific role and held fast to his determination to play quarterback.
Quarterback Only
In order to defuse and derail some of the attempts to pigeonhole him, Jackson did something that many players might see as being unthinkable. During the scouting combine, an event where players are able to showcase themselves to scouts for various teams, Jackson outright refused to participate in any activity that might leverage his athleticism.
Instead, he only did drills and practice that lent itself well to the idea of him playing the quarterback position. It was almost insulting in a way that Jackson was forced to not participate in much of the combine, especially as he had won the Heisman Trophy as a quarterback.
Ever since eschewing the recruitment model and following his own heart, Jackson has proved beyond all doubt that he belongs in the quarterback position, firmly establishing himself as one of the top quarterbacks.