The Baltimore Ravens quarterback, Lamar Jackson, is already making waves on the field since his 2018 debut. Is this highly talented QB right or left-handed?
Lamar Jackson is right-handed. Like many quarterbacks, he is adaptable on the field and has thrown with his left hand before. The left-handed quarterback appears to be going extinct in the NFL as there aren't really any on any team's rosters these days.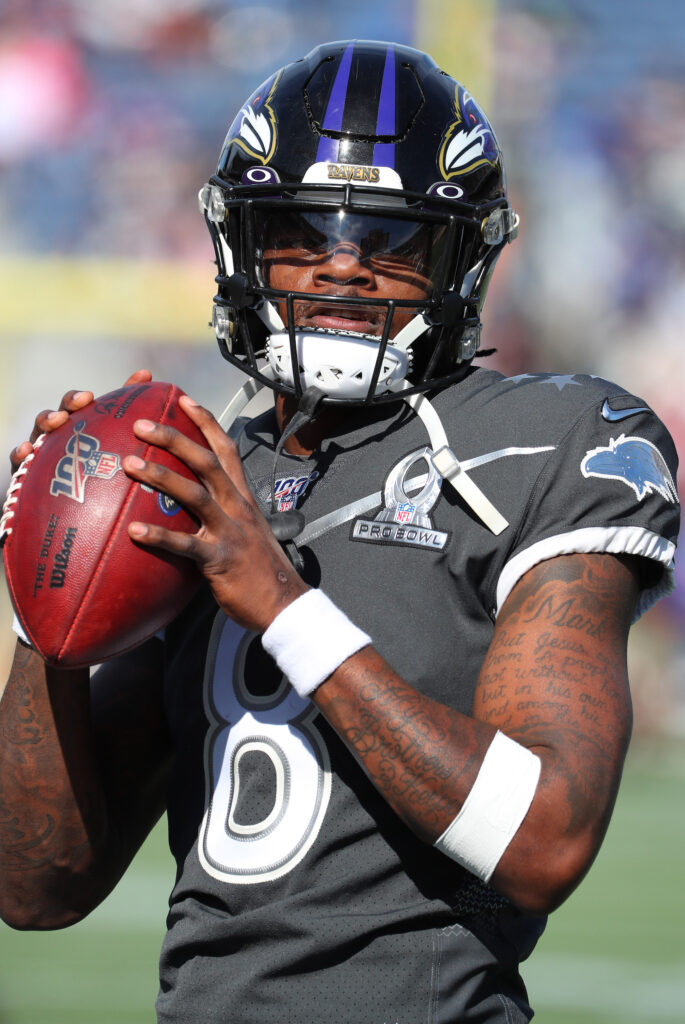 Scroll down to read more about Lamar Jackson's best plays and why the left-handed quarterback is a dying breed.
Lamar Jackson's Most Epic Plays
As mentioned above, Lamar Jackson is right-handed. He uses his right-hand to throw and he uses his right hand to write with. It's also the hand he has uses to complete some of his most epic plays.
In 2019, Jackson was named as the regular season's MVP, and for good reason. That season he became one of only two Quarterbacks in the history of the NFL to rush over 1,000 yards. The other QB to do it was Michael Vick an NFL legend and Hall of Famer.
That play was against the Buffalo Bills and he rushed only 7 yards to complete the achievement. However, he also broke both of Matt Milano's ankles in the process. Milano is a linebacker for the Bills.
That same 2019 season saw Jackson make two insanely long passes to Marquise Brown. The first was a 41-yard pass against the Cardinals with only minutes left to the game. It was completed and the Baltimore Ravens secured their win.
The other long pass was 38-yards against the Tennessee Titans which Brown managed to secure with a one-handed catch. Jackson has completed even more epic plays though.
One of those has to do with him experiencing arm cramping during the 2020 season's game against the Cleveland Browns. He left the game right at the beginning of the fourth quarter for the locker room.
His departure from the game and hurried disposition had many people wondering if he left to use the bathroom. Jackson was gone for 30 minutes before returning to the game with only two minutes left.
In the time he was gone, the Cleveland Browns had taken the game lead by one point. However, Jackson proved his talent once again.
Baltimore was on their fourth down at the five-yard line. Jackson waltzes out onto the field cold and manages to throw a pass to Marquise Brown who then runs the ball for the game-winning touchdown.
It's this level of talent that also helped him to tie football legend Dan Marino for having the best start by a quarterback. This was the first time it had been accomplished since Marino did in 1966.
You can watch Lamar Jackson sit down and talk with Campus Lore about what makes a great QB in the below video.
Are There Any Left-Handed Quarterbacks?
Lamar Jackson is right-handed and so are almost all of the quarterbacks in the NFL. Historically, there have been quite a few amazing left-handed QBs, like Michael Vick who we mentioned above.
However, these days there are barely any left-handed quarterbacks. In fact, there seems to be a huge bias towards lefty QBs by the NFL.
This piece from The Washington Post pointed out that of the 90 active quarterbacks in the NFL in 2019, there were no left-handed throwers. They point out that since the Dallas Cowboys coach Kellen Moore retired in 2017, the number of lefty's dropped drastically.
The WaPo article does go on to point out that many theorize that baseball steals away all the strong lefties to pitch, but that in reality accommodating a left-handed QB can be a pain for a team's staff.
This is because they have to change up schematics, the receivers have to change how they catch, and QB coaches often have trouble adapting to a left-handed QB. This simple lack of accommodation is causing the left-handed QB to become a dying breed.
However, the ability to throw left-handed has proven to be extremely useful. The Kansas City Chiefs QB, Patrick Mahomes, has done just this in order to secure game-winning touchdowns.
The newest QB for the Miami Dolphins, Tua Tagovailoa, is also proving that throwing left-handed can help make or break a game. He trained from a young age to be able to throw switch.
In fact, being a switch thrower could be the new direction that NFL recruiters look for in quarterbacks. Either way, none of that affects Lamar Jackson and his right-handed throwing.